Corinthian Colleges Earnings: Revenue Drops for First Time in Five Quarters
Corinthian Colleges, Inc. (NASDAQ:COCO) reported its results for the third quarter. Corinthian Colleges, Inc. is a post-secondary education company in North America. The Company's mission is to prepare students for careers in demand or for advancement in their chosen field.
Don't Miss: Wall St. Cheat Sheet's newest Feature Trades of the Month!
Corinthian Colleges Earnings Cheat Sheet for the Third Quarter
Results: Net income for Corinthian Colleges, Inc. fell to $16.1 million (19 cents/share) vs. $39.8 million (45 cents/share) a year earlier. A decline of 59.6% from the year earlier quarter.
Revenue: Fell 3.3% to $462.3 million YoY.
Actual vs. Wall St. Expectations: COCO reported adjusted net income of of 21 cents/share. By that measure, the company fell in line with the mean estimate of 21 cents/share. Estimates ranged from 19 cents per share to 22 cents per share.
Quoting Management: "During the third quarter we made progress in several areas, including student outcomes, compliance, and operational and financial management," said Jack Massimino, Corinthian chairman and chief executive officer. "In the area of outcomes, we continue to review our programs to ensure that students are well-served in terms of completion, placement and overall value. In calendar 2010, a record 60,000 students graduated from our programs, and in spite of a weak economy, we expect approximately 42,000 of these graduates to obtain employment in their fields of study."
Key Stats:
A year-over-year revenue decrease last quarter snaps a streak of four consecutive quarters of revenue increases. The best quarter in that span was the third quarter of the last fiscal year, which saw revenue rise 38.1%.
Competitors to Watch: Apollo Group, Inc. (NASDAQ:APOL), Career Education Corp. (NASDAQ:CECO), American Public Education, Inc. (NASDAQ:APEI), National American Univ. Hldgs., Inc. (NASDAQ:NAUH), DeVry Inc. (NYSE:DV), Grand Canyon Education Inc (NASDAQ:LOPE), Education Management Corp (NASDAQ:EDMC), Strayer Education, Inc. (NASDAQ:STRA), Bridgepoint Education, Inc. (NYSE:BPI), and Lincoln Educational Services Corp. (NASDAQ:LINC)
Stock Performance: Shares of COCO are up 4.5% from a previous close of $4.44.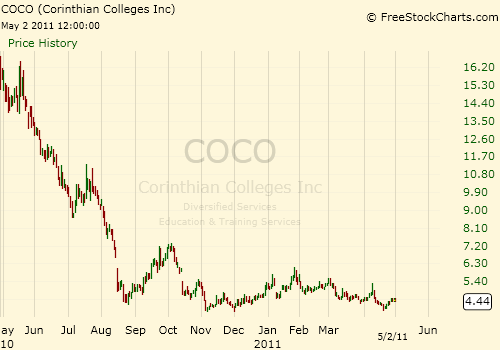 Don't Miss Wall St. Cheat Sheet's newest Feature Trades of the Month!