Cost-Cutting Pays Off: Bank of America Beats Second-Quarter Expectations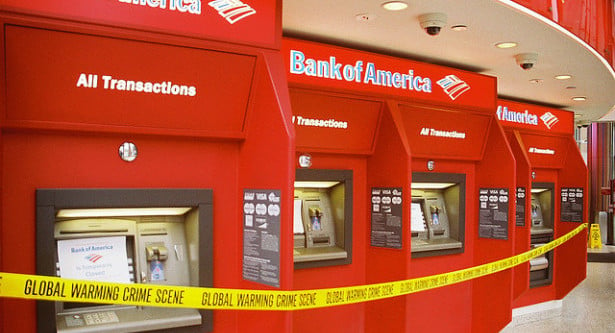 Bank of America (NYSE:BAC) hit the ground running on Wednesday. The firm reported an incredible 68.4 percent year-over-year increase in adjusted earnings to 32 cents per share, handily beating the average estimate of 25 cents per share. The firm also reported a net revenue decrease of 13.13 percent on the year to $22.95 billion, but still beat average analyst estimates of $22.79 billion.
Shares climbed as much as 1.5 percent in early morning trading in response to the beat, and the good news didn't stop there. Bank of America reported record revenue, pre-tax margin, net income, fees, and loan balances in global wealth and investment management.
"We are doing more business with our customers and clients and gaining momentum across every customer group we serve," CEO Brian Moynihan said. "We must keep improving, but with the consumer recovering and businesses strong, we have lots of opportunity ahead."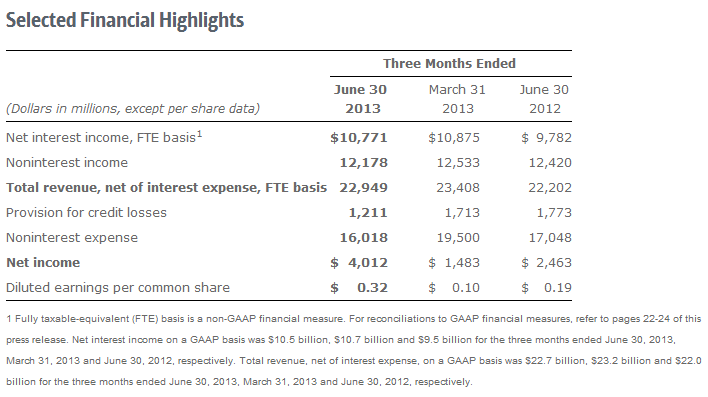 A positive sign from the report is a reduction in net charge-offs across nearly all major portfolios. This signals improving credit quality and is reflective of a stronger economy. Net charge-offs fell from $2.5 billion in the first quarter to $2.1 billion in the second quarter and are down from $3.6 billion in the year-ago period. Charge-offs are expected to fall to $2 billion in the third quarter.
Bank of America has spent more than $45 billion in the wake of the financial crisis in order to settle disputes tied to defective mortgages and foreclosures. As part of its strategy to survive — and thrive — in the new environment, Moynihan has made the bank one of the most aggressive cost-cutters on Wall Street. However, in his plan to save $8 billion a year, the bank dropped from being the biggest U.S. mortgage lender in 2008 to the fourth biggest last year. While cost-cutting is still a goal, Bank of America and lenders around the world, are now looking to boost revenue as a means to compensate for sluggish loan growth and finance new capital requirements.
To accomplish that mission, Bank of America is expanding its mortgage operations. Moynihan said in March that the bank has finished paying the "lion's share" of costs tied to faulty mortgages, which tied up a large percentage of its resources. The second-quarter report shows first-lien mortgage production up 40 percent on the year to $25 billion.

Investing Insights: Does Goldman Sachs Stock Support Rising Prices?