Costco Earnings Cheat Sheet: Third Consecutive Quarter of Profit Growth
S&P 500 (NYSE:SPY) component Costco Wholesale Corporation (NASDAQ:COST) reported its results for the third quarter. Costco Wholesale Corporation operates membership warehouses, which offer a selection of nationally branded and selected private-label products at low prices. The company sells products across a variety of merchandise categories, including snack foods, beverages, appliances, electronics, sporting goods and automotive supplies.
Don't Miss: Wall St. Cheat Sheet's newest Feature Trades of the Month!
Costco Wholesale Earnings Cheat Sheet for the Third Quarter
Results: Net income for Costco Wholesale Corporation rose to $324 million (73 cents/share) vs. $306 million (68 cents/share) in the same quarter a year earlier. A rise of 5.9% from the year earlier quarter.
Revenue: Rose 16% to $20.62 billion YoY.
Actual vs. Wall St. Expectations: COST reported net income of 77 cents per share. By that measure, the company fell in line with the mean analyst estimate. Estimates ranged from 73 cents per share to 79 cents per share. It beat the average revenue estimate of $20.09 billion.
Key Stats: The company has now seen net income rise in three-straight quarters. In the second quarter, net income rose 16.4% and in the first quarter, the figure rose 17.3%.
Gross margin shrunk 0.5 percentage point to 12.4%. The contraction appeared to be driven by rising costs as the figure rose 16.6% from the year earlier quarter while revenue rose 16%.
Revenue has risen the past four quarters. Revenue increased 11.4% to $20.88 billion in second quarter. The figure rose 11.2% in first quarter from the year earlier and climbed 7.8% in fourth quarter of the last fiscal year from the year-ago quarter.
Competitors to Watch: Wal-Mart Stores, Inc. (NYSE:WMT), Target Corporation (NYSE:TGT), Dollar General Corp. (NYSE:DG), BJ's Wholesale Club, Inc. (NYSE:BJ), Family Dollar Stores, Inc. (NYSE:FDO), Gordmans Stores, Inc. (NASDAQ:GMAN), Dollar Tree, Inc. (NASDAQ:DLTR), Amazon.com, Inc. (NASDAQ:AMZN), eBay (NASDAQ:EBAY), Best Buy (NYSE:BBY), Bed, Bath & Beyond (NASDAQ:BBBY), Apple Inc (NASDAQ:AAPL) and Fred's, Inc. (NASDAQ:FRED).
Stock Performance: Shares of COST are down almost 2% this morning from the previous close of $81.35.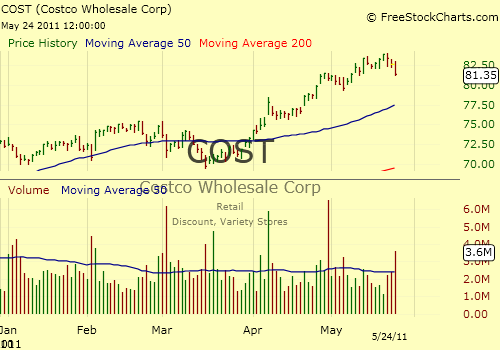 Don't Miss Wall St. Cheat Sheet's newest Feature Trades of the Month!
(Sources: YahooFinance, Xignite Financials)