Costco Is Still the Big-Box Favorite After Underwhelming Earnings
Shares of Costco Wholesale Corp. (NASDAQ:COST) fell as much as 2.6 percent in premarket trading after the big-box retailer reported underwhelming fiscal first-quarter results.
Net sales increased 5 percent on the year to $24.47 billion, and membership fees increased 7.4 percent to $549 million. Total revenue was up 5.5 percent on the year at $25 billion, below the mean analyst estimate of $25.35 billion. Net income per diluted share climbed 1 cent on the year to 96 cents, below the mean analyst estimate of $1.05.
Perhaps the most important thing to keep in mind is that Costco's fiscal first quarter ended November 24, before Black Friday on November 29. While it's unclear that normalizing for Black Friday sales would fill the expectations gap, the timing makes year-over-year comparisons a little dubious.
For the 12 weeks ended November 24, though, Costco reported net sales growth of 3 percent and comparable sales growth for 5 percent (excluding negative impacts from gasoline price changes and foreign exchange). The company reported 648 operating warehouses.
Costco stock began to slide at the beginning of December, apparently in anticipation of the first-quarter results. Expectations for the next quarter are for earnings to grow 8.2 percent on the year to $1.19 per share and for revenue to climb 7.8 percent to $26.81 billion.
Performance has been a little rocky this year on the stock chart, but shares of Costco have outpaced shares of other major retailers such as Wal-Mart Stores (NYSE:WMT) and Target (NYSE:TGT) over the past 12-month period. Costco has performed particularly well since about August, when bad economic mojo appeared to condense around Walmart and Target, dragging their stock down to a monthlong rut in September while Costco's soared.
Costco also appears to be the market favorite in the long run. Over the past five-year period, Costco stock is up more than 120 percent, compared to about 76 percent for Target and just over 44 percent for Walmart. Overall bullish sentiment for Costco is perhaps best captured by its relatively high price-to-earnings ratop: 25.93 on a trailing basis, compared to 16.91 for Target and 15.20 for Walmart.
Analysts hold an mean price target of $123.14 on Costco stock, which is only about 2.6 percent higher than its trading price after releasing earnings on Wednesday morning. Analysts lean toward a bullish position on the stock, though.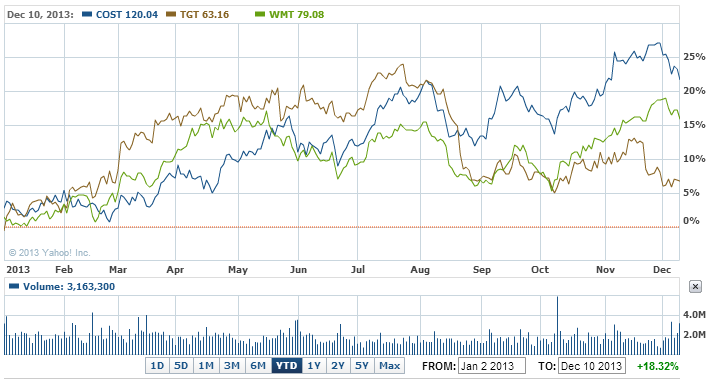 Don't Miss: Costco Earnings Disappoint Without Black Friday Boost.