Costco Employees Will Be At Home on Thanksgiving — Weird, Right?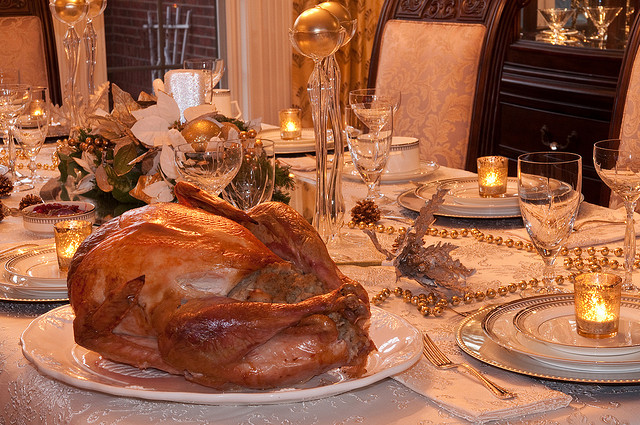 Many big-name retailers have made headlines in the weeks leading up to Thanksgiving as it becomes evident that for some, it's a full-out race to see which can open earliest. This year, it's not about how early shoppers can wake up on Black Friday, nor is it even how late they can stay awake on Thanksgiving. Rather, it's quickly becoming who can bow out of Thanksgiving dinner earliest?
Some consumers are celebrating the retailers that open as early as 6 a.m. on Nov 28 — what up Kmart (NASDAQ:SHLD) — while others have blasted them, criticizing them for ruining a holiday that is supposed to be reserved for spending time with family. Interestingly enough, this year, it's the retailers that don't open on Thanksgiving that stand out, rather than those who do. Costco (NASDAQ:COST) is one such company that proudly keeps its doors locked on Turkey Day, and it explained its reasoning to the the Huffington Post via email, saying, "Our employees work especially hard during the holiday season, and we simply believe that they deserve the opportunity to spend Thanksgiving with their families. Nothing more complicated than that." B.J.'s Wholesale Club, too, won't be opening its 201 stores on Thanksgiving Day, and its CEO Laure Sen told the Post, "Maybe call me old-fashioned, but I feel that it's an easy decision to make [to stay closed on Thanksgiving]."
Now, both companies' employees can enjoy Thanksgiving at their dining room tables instead of behind their cash registers, and executives at the retailers hope that consumers will recognize their commitment to their workers. Though it is likely that Sen really does want her employees to get a "nice holiday with their families" like they deserve, it is also impossible to neglect the obvious PR benefit both B.J.'s and Costco get for holding out.
The thing about Costco and B.J.'s, as well as other retailers like Nordstrom (NYSE:JWN), is that their businesses aren't as geared toward the average Black Friday shoppers like those of Wal-Mart (NYSE:WMT) and Target (NYSE:TGT). According to the Post, both wholesalers, along with the high-end department store, rack up their most business during annual anniversary sales or other yearly events, and thus, they don't feel as badly not opening on Thanksgiving because shoppers likely wouldn't respond even if they did. Nordstrom, too, won't be open on Thanksgiving, and it believes its customers appreciate it.
So yes, some retailers aren't crazy enough to value shopping over turkey, but to be fair, places like Wal-Mart, Target, and Kmart do have some reasoning for opening so early, and they also have the consumer base to support it. If they didn't, they simply wouldn't do it. As aforementioned, Kmart will open at 6 a.m. Thanksgiving (and stay open for 41 straight hours), and Wal-Mart will open at 6 p.m. with Target at 8 p.m. The start time for Black Friday sales has inched earlier and earlier with each new year, but this is one of the first times that major sales have moved to Thursday, and online deal expert Brad Wilson calls it a "big move" explaining, "We saw even in the last two years, when stores were opening Thursday, they weren't necessarily kicking off their promotions on Thursday — the best deals wouldn't necessarily start at 6 p.m. and 8 p.m. This really shifts the focus."
In response to these reported start times, some consumers have already moved theirs meal earlier, or set their post-turkey-nap alarm clocks, but others have taken to the companies' Facebook (NASDAQ:FB) pages and criticized them for forcing consumers to leave their dinner tables early if they want to score Black Friday deals. Since the holiday shopping season is six days shorter this year, retailers argue that they have no choice but to open early, especially when holiday shopping can account for as much as 40 percent of annual sales, but some shoppers still accept no excuse.
Don't Miss: Wal-Mart Warned Us: Weak Consumers Mean Weak Sales.