Costco's Soft Quarter, Alcoa's Earnings Surprise, and 3 More Hot Stocks
Costco Wholesale (NASDAQ:COST): Costco has reported earnings per share of $1.40, missing by 6 cents, with revenue of revenue of $31.77 billion, as its net profit  grew 1.3 percent to $617 million. Comparable sales rose 5 percent, with the U.S. up 5 percent and international up 4 percent (7 percent excluding forex). Membership fees grew 3.2 percent, to $716 million. Costco hopes to open 11 new warehouses before the end of the calendar year.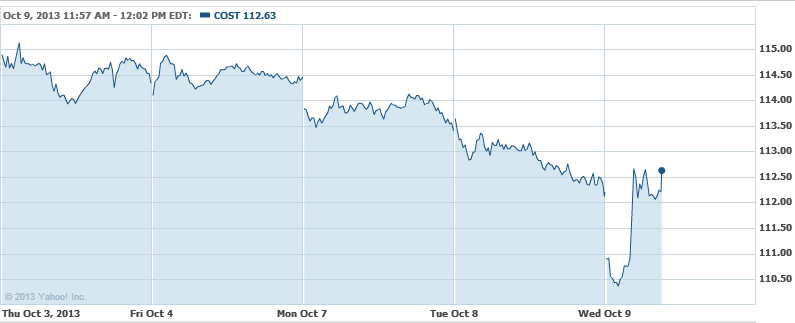 Alcoa (NYSE:AA): Alcoa has reported earnings per share of 11 cents, beating by 5 cents, while revenue of $5.8 billion beat by $0.14 billion. The company managed the beats despite lower aluminum prices, boosted greatly by demand from automakers and by further cost-cutting initiatives. Operating income from Alcoa's engineered products and solutions division grew 22 percent, to $192 million, as the primary metals division reported a profit of $8 million against last year's loss of $14 million.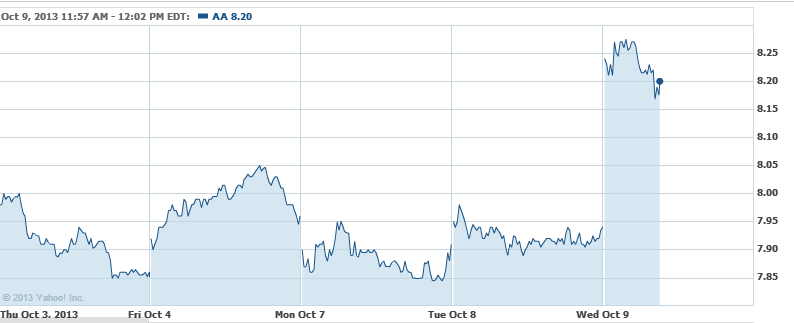 Yum Brands (NYSE:YUM): Yum shares are tanking nearly 9 percent, as its Chinese same-store sales fell 11 percent over last year for September, even worse than August's 10 percent fall. Perhaps more importantly, the company now thinks it's "unlikely China Division same-store sales will be positive for the fourth quarter."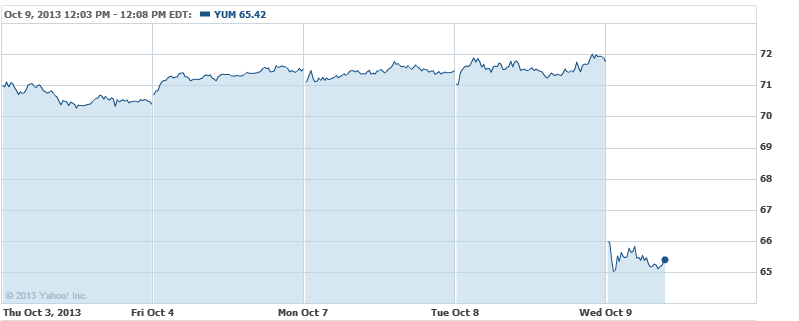 Chevron Corp. (NYSE:CVX): Chevron will be withdrawing its interest after winning a tender to explore for shale gas in Lithuania, and it is blaming modifications made to laws which have made it less attractive since it submitted its offer back in January to explore at the Silute-Taurage prospect. However, Chevron says it will stay in Lithuania, instead focusing on the exploration of conventional hydrocarbons at its existing Rietavas location.

SolarCity Corp. (NASDAQ:SCTY): SolarCity will be purchasing Zep Solar for $158 million in an all-stock deal. Zep provides mounting systems for solar installations and is one of SolarCity's primary suppliers. "Zep Solar's product allows each of our crews to install significantly more solar every day, and it looks better on the roof than any comparable product we've seen. By acquiring Zep Solar, we can deliver solar electricity at a lower cost than was previously possible," the company said in a statement.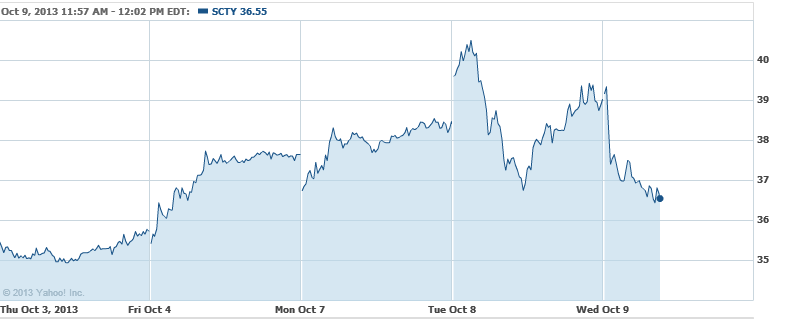 Don't Miss: Surging North American Shale Production Shouldn't Discount OPEC.