Costco's Solid Quarter, Google Partners with Flextronics For Moto X, and 2 More Hot Stocks
Costco (NASDAQ:COST): Third quarter earnings of $1.04 narrowly beat expectations by $0.01, although an 8 percent leap in revenue to $23.3 billion fell $0.68 billion shy of projections. Membership income rose 11.8 percent, net profit increased by 19 percent, and comparable sales rose by 5 percent for an all around solid quarter made more impressive by the lackluster industry performance.

Google (NASDAQ:GOOG): The search giant's Motorola arm will be releasing a new phone come October, dubbed the Moto X. Though no indication as to what the specs will look like was offered, the new phone will be American-made, at a Flextronics (NASDAQ:FLEX) facility in Texas. Motorola Mobility CEO Dennis Woodside said the initiative will create about 2,000 jobs. Also revealed, the phone will use two processors to conserve battery life, and will include sensors to help it better understand what a user needs, Woodside said. For example, the phone will know when it's turned on or being used in a vehicle.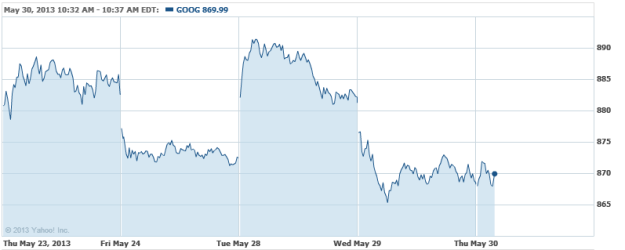 Monsanto (NYSE:MON): Fears over genetically modified foods in Asia have generated concerns over imported foods, so much so that Japan has canceled an order of wheat after U.S. government found genetically engineered wheat sprouting on a farm in the state of Oregon. South Korea, China and the Philippines said they were closely monitoring the situation. Monsanto, the company responsible for the engineered wheat, could find itself holding the bag for compensation if the boycott gains traction.

EMC Corp. (NYSE:EMC): The company has increased the size of its buyback program to $6 billion, authorized over three years through December of 2015, and says it plans to repurchase $3.5 billion worth of common stock by the end of the second quarter of 2014. The company has also initiated a quarterly dividend of $0.10 per share, and says it plans to alter its capital structure to include more debt while still "maintaining a strong investment-grade profile."

Don't Miss: Apple's Mobile Devices Are Still Advertisers' Best Friends.