Could Airbus Replace Boeing in Washington State?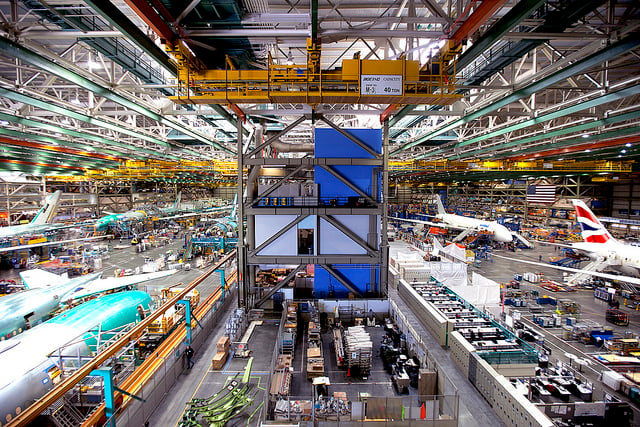 The ongoing conflict between Boeing (NYSE:BA) and union machinists in Washington state over the construction of the planemaker's new 777X jets appeared to reach a breaking point last week when Boeing announced it was soliciting bids from over a dozen locations. But, a recent mistake in a full-page ad by the Washington Aerospace Partnership aimed at keeping Boeing in the state has raised some interesting questions, even if it was a "cringe-worthy error," as a spokeswoman for the group admitted.
The error in question revolved around a full-page ad that mistakenly superimposed a photo of a European-made Airbus A319 with the text "The Future of Washington." A hugely ironic oversight by the group members, the mistake has had the unintended consequence of imagining what a future without Boeing might consist of — and more importantly, imagining a future with Boeing rival Airbus.
Stan Sorscher, one of 13 members of the Washington Aerospace Partnership who also works for SPEEA, the union for Boeing's engineers, said that while his first reaction was "That's embarrassing," it certainly got him thinking. "Seriously, why not? Why not woo Airbus?" he asked.
For Washington state, that idea is a radical one. Seattle Times staff columnist Westneat confirms that the widespread mode of thought in the state has long been a case of Boeing being "us" and Airbus being "them," but that sentiment is changing. "People still instinctively think of Boeing as our company," says Sorscher. "But it isn't anymore."
According to the Seattle Times, this rational is made clear by internal documents revolving around Boeing's attempts to shift production to plants in South Carolina. Documents show that while such a move would cost Boeing years in delays along with billions in profits, the move would give Boeing "leverage" over the Puget Sound workforce and political leadership. The recent conflict between Boeing and Washington comes as the state passed the largest corporate-tax break in U.S. history — $8.7 billion — for the planemaker to build its 777X in the state.
But Westneat points out that because the corporate tax legislation doesn't specify one specific company, and can't because doing so would be unconstitutional, the question remains as to why Washington shouldn't try to woo Airbus with those same tax breaks originally meant for Boeing. An engineer with a Mukilteo-based company tells the Seattle Times, "I remember a time when business owners here viewed Boeing as the customer and everyone else as the enemy." But this is no longer the case, as his company now sells airplane parts to both Boeing and Airbus.
So, if loyalty is the one thing holding Washington back from making aggressive moves towards rival aerospace companies, it appears that such loyalty may be disappearing — especially in the wake of recent moves by Boeing. As Westneat points out, discussions with Airbus could give Washington the leverage it has been lacking in current discussions with Boeing and perhaps position the state to win back the planemaker when all is said and done.
Don't Miss: Bitcoin Black Friday: Alternative Shopping.