Could the U.S. Reach Energy Independence By 2035?
U.S. commercial crude oil inventories declined by 1.2 million barrels during the week ended April 12, according to the Energy Information Association. At 387.6 million barrels, U.S. crude oil inventories are well above the upper limit of the average range for this time of year.
Refineries operated at 86.3 percent capacity, with gasoline production kicking up to 8.9 million barrels per day as the U.S. enters driving season.
The EIA also reported on Wednesday about various projections for net U.S. imports of petroleum and other liquids as a share of product supplied. This metric can be used as a proxy for demand, and has been a highly-watched indicator as the global energy market evolves at an increasingly rapid rate.
Thanks to advances in technology, a case has been built around the idea that net imports of liquid fuels can be eliminated by 2035 (the EIA points out that this idea is articulated in its Annual Energy Outlook 2013). The case assumes that more petroleum can be recovered from tight-oil formations, shale rock, and even offshore sites than was feasible before advancements such as horizontal drilling. Such cases assume that domestic oil production will approach 10 million barrels per day by 2020 and remain there through 2040…
What's more, as domestic production increases, demand growth is assumed to be limited. Technological, economic, and behavioral efficiencies are expected to lead this charge.
Wednesday's data showed that crude oil imports for the week ended April 12 declined by 289,000 to 7.4 million barrels per day. Imports have averaged 7.8 million barrels per day over the past four weeks, about 1.3 million below the year-ago period.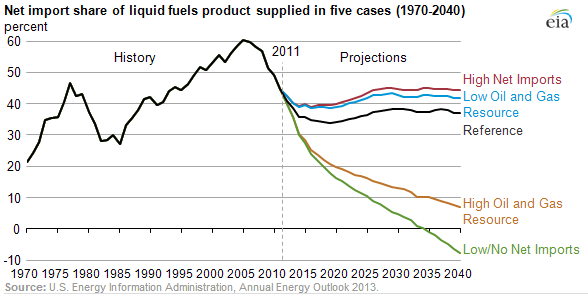 Don't Miss: Here's More Good News for the Housing Market.