Coventry Health Care Earnings: Net Income Up Three-Straight Quarters
S&P 500 (NYSE:SPY) component Coventry Health Care Inc. (NYSE:CVH) reported net income above Wall Street's expectations for the first quarter. Coventry Health Care, Inc. operates health plans, insurance companies, network rental and workers' compensation services companies.
Don't Miss: Wall St. Cheat Sheet's newest Feature Trades of the Month!
Coventry Health Care Earnings Cheat Sheet for the First Quarter
Results: Net income for Coventry Health Care Inc. rose to $110.2 million (74 cents/share) vs. $97.3 million (66 cents/share) in the same quarter a year earlier. A rise of 13.3% from the year earlier quarter.
Revenue: Rose 5.9% to $3.05 billion YoY.
Actual vs. Wall St. Expectations: CVH beat the mean analyst estimate of 53 cents/share. Estimates ranged from 40 cents per share to 73 cents per share.
Quoting Management: "We are pleased to report a strong start to the year with performance across all seven of our core businesses meeting or exceeding our expectations," said Allen F. Wise, chairman and chief executive officer of Coventry. "In addition, today we are increasing our 2011 EPS guidance driven by an improved revenue outlook coupled with SG&A leverage."
Key Stats:
The company has now seen net income rise in three-straight quarters. In the fourth quarter of the last fiscal year, net income rose 37.8% and in the third quarter of the last fiscal year, the figure rose more than twofold.
A year-over-year revenue increase last quarter snaps a streak of four consecutive quarters of revenue declines. The worst quarter in that span was the first quarter of the last fiscal year, which saw a 19.9% decrease.
Competitors to Watch: UnitedHealth Group Inc. (NYSE:UNH), Aetna Inc. (NYSE:AET), Health Net, Inc. (NYSE:HNT), WellCare Health Plans, Inc. (NYSE:WCG), Universal American Corp. (NYSE:UAM), WellPoint, Inc. (NYSE:WLP), CIGNA Corporation (NYSE:CI), Humana Inc. (NYSE:HUM), Centene Corporation (NYSE:CNC), and Magellan Health Services, Inc. (NASDAQ:MGLN).
Today's Performance: Shares of CVH closed down 6%.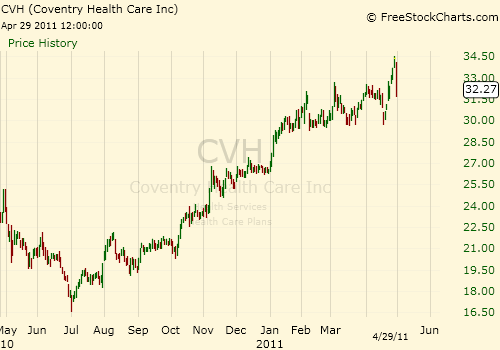 Don't Miss Wall St. Cheat Sheet's newest Feature Trades of the Month!