Dallas Fed: Manufacturing Can Recover, It Just Hasn't Yet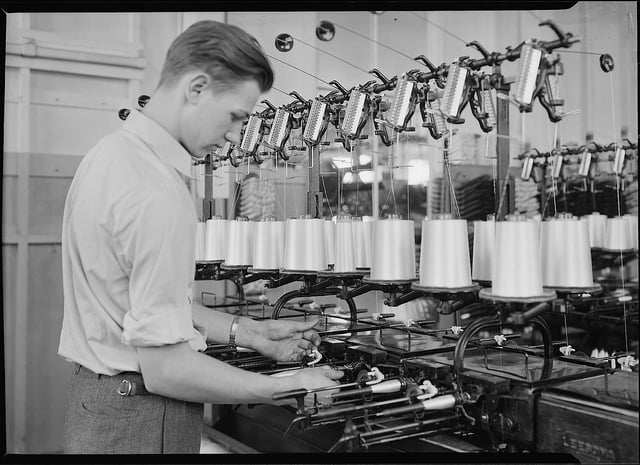 The manufacturing sector has consistently flirted with contraction in the wake of the crisis and will need to experience a longer period of more robust growth in order to fully heal and once again become a driving force in the broader U.S. economy.
Recent manufacturing data fit well within that framework. Two separate readings of the sector's August growth — Markit's Flash U.S. Manufacturing PMI and the Federal Reserve Bank of Dallas's Texas-area manufacturing survey — put factory output on differently trajectories. The Dallas Fed's report is much more localized than Markit's Purchasing Managers' Index, but the difference between the two readings is enough to suggest that weakness still lingers in the manufacturing sector.
Business activity among Texas-area manufacturers expanded during August, but growth slowed for the second consecutive month. The Dallas Fed said that the headline production index — an important measure of factory activity — dropped to 7.3 in August from July's 11.4. The new orders, capitalization, and shipments index also remained in positive territory but showed a similar decline from July levels. Still, the index of prices for finished goods was positive for the first time since March.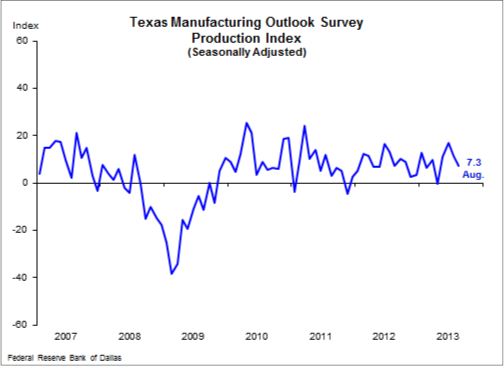 For Fed policymakers, who have made no secret of the possibility that tapering could begin as early as this year, the employment figures will have particular significance. The employment index rose to its highest reading in a year even though the hours worked index fell 11 points to -9.9, the lowest reading in nearly four years, and wages edged down.
But despite the fact that production expansion slowed for the second straight month and wages for factory workers dropped, manufacturers' expectations regarding future business conditions remained optimistic in August. While the indexes of future activity and future company outlook did show mixed sentiment, both remained strongly positive.
For the August report, data was collected from 82 Texas manufactures from August 13-21. Their responses are used to calculate each indicator, and some of their comments are even included to give insight on how manufacturing differs between industries. In general, the common sentiment was that business has remained "stable and steady."
In particular, one chemical manufacturer expressed concern about the upcoming Affordable Care Act-related changes. "With health care reform coming around, we are focused on reducing manpower wherever possible, particularly in the temporary and part-time areas," the company noted. "We will try not to change anything with our regular employees, but they will ultimately pay more for their insurance."
Texas manufacturers produce more than 9 percent of all United States-made goods, the most of any state except California, making the Dallas Fed's survey a key gauge of economic growth. Investors like to see strong growth in manufacturing because it translates to higher corporate profits, while economists look at manufacturing growth in terms of its implications for employment, wages, and inflation.
Markit had a much stronger take on the manufacturing sector. On Thursday, the firm said that its index rose 0.2 points to a five-month high of 53.9 in August, signaling that the manufacturing sector is expanding at an even faster rate than before. Additionally, the indexes for output, new orders, employment, output prices, and quantity of purchases all expanded at a faster rate in August than in July.
"Hopefully the faster growth of new orders seen during August will translate into increasingly strong production gains in coming months, and also boost hiring," Markit chief economist Chris Williamson said in a press release. "Job creation was the strongest for four months in August, but the sector is still barely contributing to non-farm payroll growth."
Also on Thursday, at a U.S. Manufacturing Summit, Dallas Fed President Richard W. Fisher gave a speech aimed at "placing manufacturing in context." While he said it was time for the United States to once again become a successful manufacturer, he explained there are also significant obstacles in the way of a manufacturing revival. "If our manufacturing sector is to experience a lasting renaissance, significant changes in fiscal policy and regulation that emanate from Washington are sorely needed," Fisher said.
During the 2007 through 2009 recession, U.S. manufacturing declined about 20 percent, the worst setback for the American economy in history excluding the the defense-related decline following the Second World War and the 54 percent decline during the Great Depression. Manufacturing weakness has also lingered: Output currently remains about 5 percent below the 2007 business-cycle peak.
Naturally, the declines in manufacturing have been felt in employment. Since the end of the post-WWII recession, manufacturers' share of the country's payrolls has been in continual decline. As of 2013, manufacturing payrolls were 12.9 percent below where they stood five-and-a-half years ago.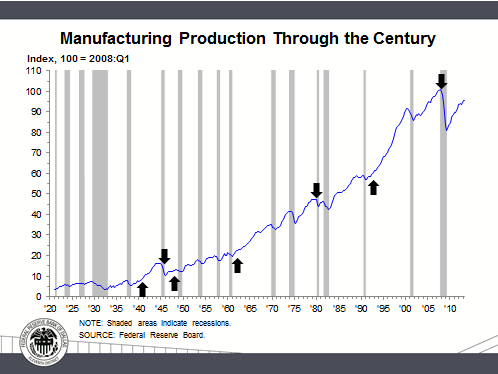 But Fisher believes that the U.S. can revitalize and bring "back to our shores a greater amount of the world's manufacturing, regaining what was lost since the recession and — perhaps — bending upward the long-term manufacturing employment curve." In his estimation, the key is  "mastering new technology, new methodologies, and new techniques."
It is important to remember that the revitalization of which Fisher spoke is a prediction, not a reality. "Policymakers will be encouraged by the sustained recovery and signs of strengthening demand, which add further weight to the possibility of the Fed starting to taper its asset purchases as soon as September," Williamson said in the Markit release. "However, the Fed will also be wary of how fragile growth both at home and abroad is looking, and will therefore be keen to ensure policy is not tightened too much too fast."
Follow Meghan on Twitter @MFoley_WSCS