Darden Restaurants, Inc. Earnings: Revenue Increase Helps Margin, Net Income Climbs
S&P 500 (NYSE:SPY) component Darden Restaurants, Inc. (NYSE:DRI) reported its results for the fourth quarter. Darden Restaurants, Inc operates in the United States in the full-service dining restaurant industry.
Don't Miss: Wall St. Cheat Sheet's newest Feature Trades of the Month!
Darden Restaurants Earnings Cheat Sheet for the Fourth Quarter
Results: Net income for the restaurant rose to $137.4 million (99 cents per share) vs. $115.6 million (80 cents per share) in the same quarter a year earlier. This marks a rise of 18.9% from the year earlier quarter.
Revenue: Rose 6.8% to $1.99 billion from the year earlier quarter.
Actual vs. Wall St. Expectations: DRI fell short of the mean analyst estimate of $1 per share. Estimates ranged from 98 cents per share to $1.05 per share. Analysts were expecting revenue of $1.99 billion.
Quoting Management: "Our strong fourth quarter completes a very successful year for Darden," said Clarence Otis, Chairman and Chief Executive Officer of Darden. "It is success that's grounded in talented teams in our restaurants and restaurant support center who work diligently every day to deliver on our promises to guests and shareholders alike. These teams have built a powerful portfolio of brands whose sales are growing at a rate much faster than our industry – extending our already significant market share leadership position. Our teams are translating that sales growth into consistent margin improvement and strong earnings growth by embracing the many opportunities we've identified to make our operating platform even more cost effective."
Key Stats:
The company has now seen net income rise in three straight quarters. In the third quarter, net income rose 12.6% and in the second quarter, the figure rose 23.5%.
Revenue has risen the past four quarters. Revenue increased 5.5% to $1.98 billion in the third quarter. The figure rose 5.2% in the second quarter from the year earlier and climbed 4.2% in the first quarter from the year-ago quarter.
The company fell short of estimates last quarter after beating the mark the quarter before with net income of $1.08 versus a mean estimate of net income of $1.05 per share.
Gross margins grew 0.4 percentage point to 23.9%. The growth seemed to be driven by increased revenue, as the figure rose 6.8% from the year earlier quarter while costs rose 6.2%.
Competitors to Watch: Ruth's Hospitality Group, Inc. (NASDAQ:RUTH), Bravo Brio Restaurant Group, Inc. (NASDAQ:BBRG), Granite City Food & Brewery Ltd. (NASDAQ:GCFB), O'Charley's Inc. (NASDAQ:CHUX), Ark Restaurants Corp. (NASDAQ:ARKR), Morton's Restaurant Group, Inc. (NYSE:MRT), Red Robin Gourmet Burgers, Inc. (NASDAQ:RRGB), and McCormick & Schmick's Seafood Restaurant (NASDAQ:MSSR), Wendy's Arby's Group Inc. (NYSE:WEN), Starbucks Corporation (NASDAQ:SBUX), Sonic Corporation (NASDAQ:SONC), Yum! Brands Inc. (NYSE:YUM), Chipotle Mexican Grill (NYSE:CMG), and Jack in the Box Inc. (NASDAQ:JACK).
Stock Performance: Shares of DRI are down over 1% after hours..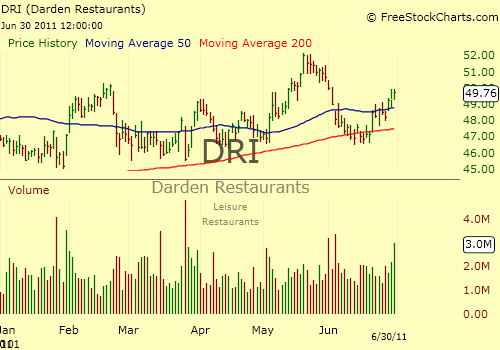 Don't Miss Wall St. Cheat Sheet's newest Feature Trades of the Month!
(Source: Xignite Financials)