David Einhorn: BP Is a Slick Deal for Investors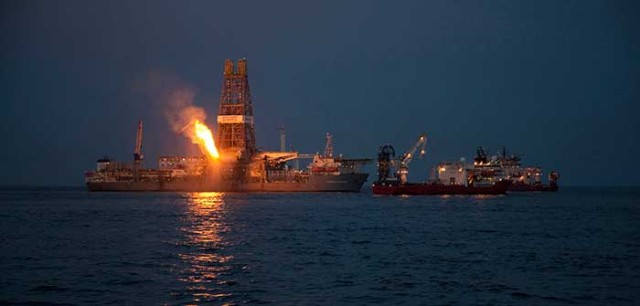 While energy giant BP (NYSE:BP) may be one of the most-hated companies in the market since the disastrous Deepwater Horizon oil spill, at least one popular hedge fund manager believes the energy giant will be friendly to shareholders going forward.
David Einhorn, president and founder of Greenlight Capital, recently issued his latest quarterly letter to investors. His funds returned 6.5 percent in the fourth-quarter of 2013, bringing the full year net return to 19.1 percent. Einhorn highlighted several winning trades for the fourth-quarter, but he also disclosed a new long idea in BP, one of the world's leading international oil and gas companies.
Greenlight Capital established a "medium-sized" position in BP at an average price of $47.39, relatively close to where shares trade today. He believes investors are not paying attention to the company's core business and value. In fact, he explains that the company's net asset value is nearly $70 per share, which represents 48 percent upside from his average purchase price.
Einhorn explains that, "The Deepwater Horizon oil spill was nearly four years ago. Since then, investors have focused on the ensuing legal cases regarding clean-up and restitution efforts, while overlooking BP's improved return on capital in its core businesses. Allowing for more negative legal outcomes than BP has currently provisioned, we believe the company's net asset value is nearly $70 per share."
Einhorn adds that, "It can therefore create substantial value by selling assets at or above NAV and using the income to repurchase stock at a significant discount. This is exactly what BP has been doing. Further, BP has restricted capital expenditures and increased dividends — all evidence of a more shareholder-friendly approach. As the legal issues subside, we expect the market to appreciate BP's portfolio value and its improved capital allocation. In the meantime, we own an industry leader at 9x earnings with a 5 percent dividend yield. BP shares ended the quarter at $48.61."
At the end of October, BP announced that it was hiking its dividend 5.6 percent to 9.5 cents per share and that it would be selling off another $10 billion in assets before the end of 2015, with most of the proceeds going toward share repurchases. BP previously announced an $8 billion share repurchase program — this program was funded largely by the $12 billion sale of BP's stake in TNK-BP — of which $3.8 billion had been completed by October 25.
BP's Gulf of Mexico disaster was the worst offshore spill in U.S. history. It began on April 20, 2010 when an undersea well exploded 50 miles off the Louisiana coast, killing 11 workers and spewing millions of barrels of crude oil into the ocean. Marshes, fisheries, and beaches stretching from Louisiana to Florida were polluted, harming local tourism and fishing. The oil producer has acknowledge responsibility for the oil spill, spending more than $25 billion on cleaning up the marshes, fisheries, and beaches along the coast and compensating victims. Furthermore, that spending is just the tip of the company's spill-bill iceberg; $42.4 billion has been spent or earmarked for spending on clean-up, compensation, fines, and other costs.
More From Wall St. Cheat Sheet:
Follow Eric on Twitter @Mr_Eric_WSCS