David Einhorn Closed These 5 Positions in the First Quarter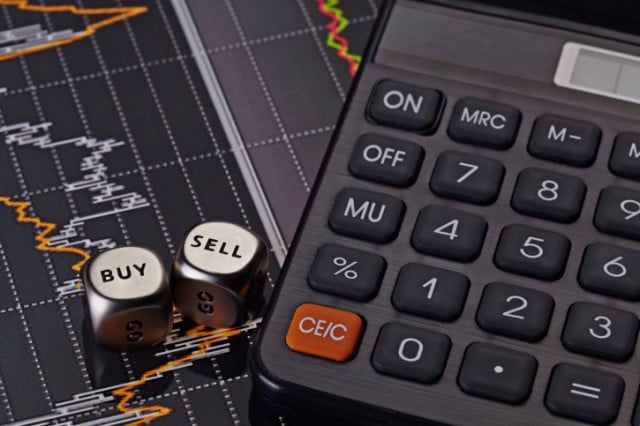 David Einhorn, the president and founder of Greenlight Capital, recently issued his latest quarterly letter to investors. The hedge fund superstar had a quiet quarter from a profit and loss perspective, but still made several notable changes to his funds.
The Greenlight Capital funds posted a 1.5 percent decline in the first-quarter, net of fees and expenses. That comes after a 4.9 percent decline in the previous quarter. Einhorn said Micron Technology (NASDAQ:MU) was the only significant winner, while Green Mountain (NASDAQ:GMCR) was the only significant loser. Since inception in 1996, Greenlight Capital has returned about 19 percent on an annualized basis.
New long positions included SunEdison (NYSE:SUNE) and Conn's (NASDAQ:CONN), but Einhorn also sold several names and provided a stern warning to investors. "Now there is a clear consensus that we are witnessing our second tech bubble in 15 years. What is uncertain is how much further the bubble can expand, and what might pop it. In our view, the current bubble is an echo of the previous tech bubble, but with fewer large capitalization stocks and much less public enthusiasm."
Let's take a look at five positions that Greenlight Capital closed during the first-quarter.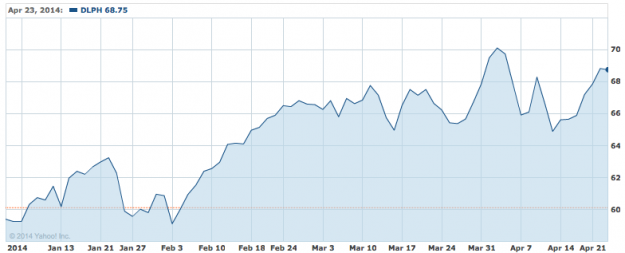 1. Delphi Automotive (NYSE:DLPH)
Delphi Automotive is a leading global supplier of technologies for the automotive and commercial vehicle markets. The company is headquartered in England and operates major technical centers, manufacturing sites, and customer support services in 32 countries.
Greenlight Capital built a position in Delphi Automotive at an average entry price of $20.18, and sold at an average exit price of $50.28, leading to an impressive 47 percent gain. "The business outperformed fundamental expectations, the management proved to be good stewards of excess capital, and the stock re-rated as we had hoped," explained Einhorn in the quarterly letter.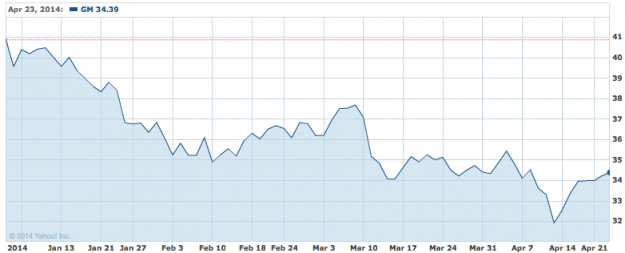 2. General Motors (NYSE:GM)
At the end of the fourth-quarter, GM was one of Greenligh Capital's largest positions. However, the firm closed its position in the American automaker for a 25 percent gain once it appeared that earnings would be weaker than expected.
"GM went through a successful product refresh cycle, pared losses in Europe, and bought back stock from the government," explained Einhorn. "We expected 2014 to be an earnings break out, and exited early this year when earnings guidance revealed it would not be."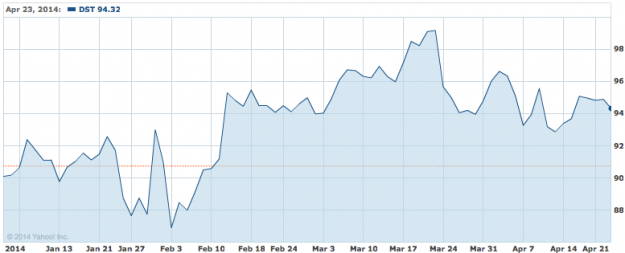 3. DST Systems (NYSE:DST)
DST Systems is a world-known provider of technology-based service solutions that enable clients to grow their business and provide exceptional customer experiences. The company process, communicates, and safeguard critical customer information.
After a strong rally amid asset sales, Einhorn's thesis on DST Systems was fully played out. "The company sold non-core assets, improved operations, repurchased stock, and reached our sum of the parts valuation." Greenlight Capital closed its position in DST Systems for a 36 percent gain.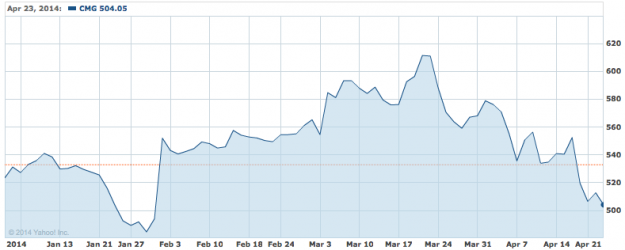 4. Chipotle Mexican Grill (NYSE:CMG)
Founded in 1993, Chipotle is known as the ultimate fast-casual dining experience for health-conscious consumers. In fact, Chipotle has more than 1,600 restaurants, including 17 Chipotle restaurants outside the U.S., six ShopHouse Southeast Asian Kitchen restaurants, and is an investor in an entity that owns and operates one Pizzeria Locale.
Shares of Chipotle have screamed higher in recent years. Unfortunately, Greenlight Capital thought shares would decline and shorted Chipotle at an average entry price of $320.29. The firm closed its position at an average price of $417.56, leading to a 33 percent loss. In March, Chipotle made fresh all-time highs above $600. Einhorn simply noted: "This short gave us gas."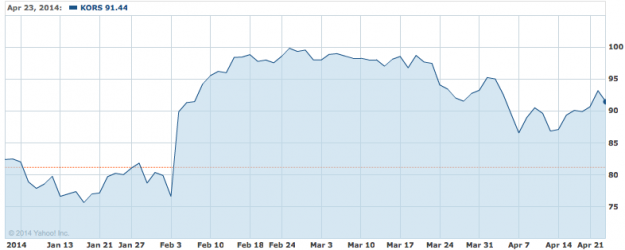 5. Michael Kors Holdings (NYSE:KORS)
Greenlight Capital also shorted Michael Kors at an average entry price of $80.98. The retail environment has been difficult for many companies, and Einhorn thought they would miss year-end earnings. However, Michael Kors did not miss earnings and Einhorn exited the position at an average exit price of $91.54 for a loss of 114 percent.
More From Wall St. Cheat Sheet:
Follow Eric on Twitter @Mr_Eric_WSCS