David Einhorn's Take on Apple and Vodafone, and 3 More Hot Stocks
Apple (NASDAQ:AAPL): Apple bull David Einhorn of Greenlight Capital stood behind his optimistic position behind the company. "Our thesis is that [Apple] has a terrific operating platform, engendering a loyal, sticky, and growing customer base that will make repeated purchases," he wrote. "Unfortunately, there have been a series of disappointments," he added, given the 17 percent decline that the company experienced in the first quarter. Einhorn is also bullish on Vodafone (NASDAQ:VOD), indicating that there could be "substantial value" if the Verizon (NYSE:VZ) deal were to materialize. Check out Apple's latest bash with Google (NASDAQ:GOOG).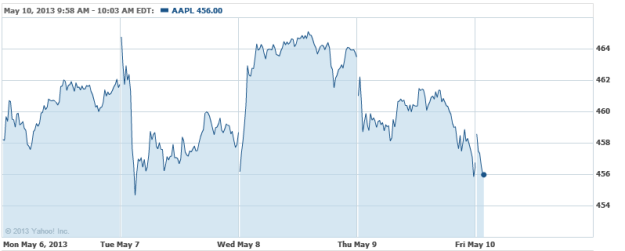 Nexstar Broadcasting Group (NASDAQ:NXST): Though the company boasted a beat in revenue but fell short on earnings, Wells Fargo says the real story lies behind the "$5 per share FCF number that Nexstar threw out," building on its acquisition of CCA Group. Once the details of the consolidation are ironed out, Wells Fargo "wouldn't be surprised  to see NXST increase its capital return payout ratio significantly."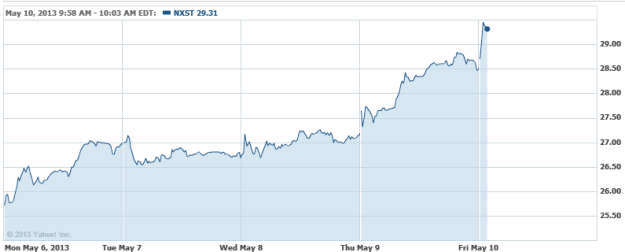 Dunkin' Donuts (NASDAQ:DNKN): Dunkin' is shaking up its board, and has put CEO Nigel Travis to take on the additional role of becoming the company's chairman, in place of John Luther, who is stepping down. The change will become fully effective on May 15.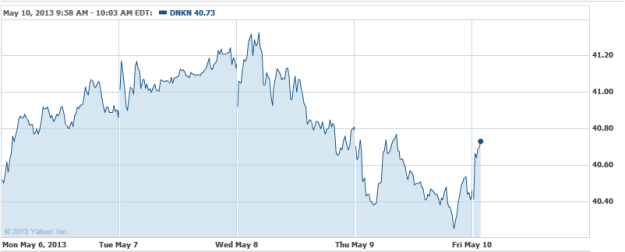 Splunk Inc. (NASDAQ:SPLK): FBR Capital remains very bullish on the company, noting that Splunk "remains in the very early stages of a fertile growth story." Investments in hiring and growth may negate near-term margins, but "nevertheless, we believe that from both a secular and product perspective, Splunk is in the right place at the right time and will begin to show positive operating margins on an annual basis with its red-hot growth rates over the coming years."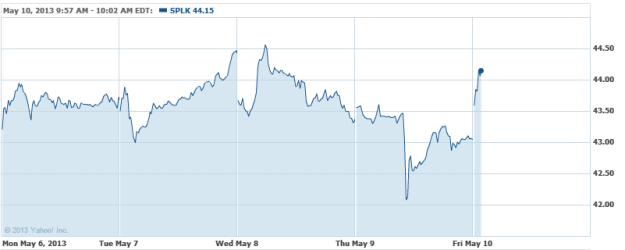 Don't Miss: Will Record Labels Kill The Apple iRadio Goose?