David Einhorn's Vodafone Call is Getting Louder
David Einhorn made the case in his most recent quarterly letter to investors that the market was placing no value on Vodafone's (NASDAQ:VOD) stake in Verizon Wireless. However, due to the increasing dependence on the wireless business, the Greenlight Capital founder explained it would not be surprising if Verizon Communications (NYSE:VZ) decided to buy all of Vodafone to gain total control of Verizon Wireless. "Maybe there is an investment banker with time on their hands reading this letter," he wrote. And Einhorn's call to action has not gone completely unanswered.
While a complete buyout of Vodafone does not appear to be on the table, speculation is rising about Verizon making a move. Sources have told Reuters that Verizon is considering an offer to purchase the 45 percent stake of Verizon Wireless it does not already own. Nothing is in stone at this point, but Verizon is reportedly talking to advisers and lawyers about a possible $100 billion deal. The sources claim Verizon hopes to start friendly discussions soon, but is prepared for a public bid if necessary.
The $100 billion deal would be comprised of a roughly even split between cash and stock. It would also be the third-largest acquisition ever, according to Thomson Reuters data. However, many analysts said the $100 billion figure is too low, and $120 billion to $135 billion is more realistic.
"This is a good time for both sides to think seriously about a transaction. Vodafone's probably never going to get a better multiple than now," New Street analyst Jonathan Chaplin told Reuters. "The growth rate [for Verizon Wireless] probably has to slow over time, particularly as Sprint (NYSE:S) and T-Mobile USA and AT&T (NYSE:T) improve."
Last month, Citigroup also called for Verizon to purchase the 45 percent of Verizon Wireless it does not already own from Vodafone. Analysts at the bank believe a leveraged deal is possible and would increase Verizon's earnings and cash almost immediately. A deal would likely place a value of the Vodafone stake between $106 billion and $137 billion, and take between $70 billion and $80 billion in debt to accomplish.
Verizon tried to buy Vodafone's stake in 2006 but failed. Einhorn is not the only person talking about another deal. Earlier this year, Verizon CEO Lowell McAdam said he would "love to own all of that asset" when referring to Verizon Wireless. Shortly thereafter, Vodafone CEO Vittorio Colao said his company has an open mind "on everything."
Amid the buyout speculation, Citigroup upgraded shares of Verizon to Buy from Neutral, and hiked its price target to $54 from $46. In fact, Citigroup notes that Verizon may avoid any capital gains tax on the deal if it is conducted offshore, making the move even more attractive. The bank also upgraded shares of Vodafone to Buy from Neutral.
As the chart below shows, it has been a strong year for Verizon and Vodafone. Shares of Verizon have surged more than 22 percent year-to-date, while Vodafone shares have gained 20 percent. On Wednesday, both companies jumped nearly 3 percent to make fresh 52-week highs.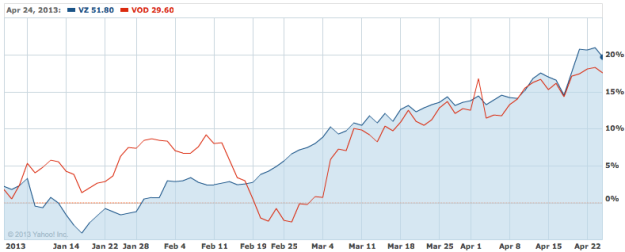 Along with Apple (NASDAQ:AAPL), Vodafone is one of Einhorn's largest positions, and he even added shares in the fourth quarter as the stock price fell from $29 to $25. While waiting for a buyout to occur, investors can enjoy a solid dividend yield in an industry that is poised for strength with new products from Apple and Samsung (SSNLF.PK) driving demand.
Don't Miss: Warren Buffett Takes Coca-Cola CEO to History 101