Dealmaking and Stock Speculation Buzz: M&A Weekly Recap
Here's your Cheat Sheet to this week's M&A headlines:
Are these stocks a buy or sell? Let us help you decide. Check out our Stock Picker Newsletter now >>
Flowers Foods (NYSE:FLO): Current price $25.12
Knowledgeable sources say that Flowers Foods and Grupo Bimbo are in talks regarding the purchase of the bread unit of Hostess Brands, as the latter divests assets and liquidates. The sources also said that Hostess could specify these potential bidders as early as the coming week, in an imminent bankruptcy-court auction. The bread brands include Nature's Pride, the iconic Wonder Bread, Home Pride, Merita and Butternut. Hostess is reportedly still deciding how to split up assets and package them for buyers.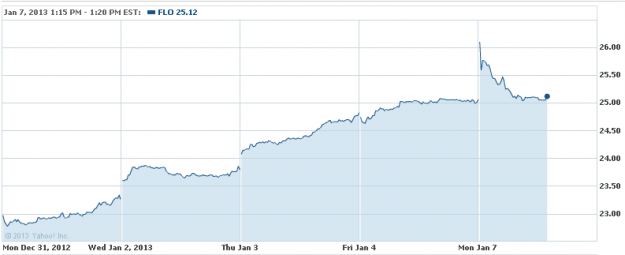 Sprint Nextel Corporation (NYSE:S): Current price $5.91
The wireless service provider Clearwire Corporation (NASDAQ:CLWR) is slated to be acquired by its majority owner, Sprint, but not if a large shareholder group of Clearwire's has anything to say about the matter. Not only has Crest Financial filed a class action lawsuit on behalf of Clearwire investors, but it will also request that the United States  Federal Communications Commission block Sprint's intent to sell 70 percent of itself to Softbank Corp for $20 billion, which would greatly complicate Sprint's plans for Clearwire. Crest owns roughly 8 percent of the latter and has characterized Sprint's offer of $2.97 per share for the approximate 50 percent of Clearwire it does not currently own, saying that it "grossly undervalues Clearwire."

Are these stocks a buy or Are these stocks a buy or a sell? Let us help you decide.  Check out our Wall St. Cheat Sheet Stock Picker Newsletter now>>
Rovi Corporation (NASDAQ:ROVI): Current price $16.63
The company said late in the week that it intends to divest its Rovi Entertainment Store division as part of its strategy to concentrate on growth opportunities linked to its core enabling tech and services. To this effect, Rovi  has retained GCA Savvian Advisors as its financial adviser in the pursuance of a suitor for a potential sale.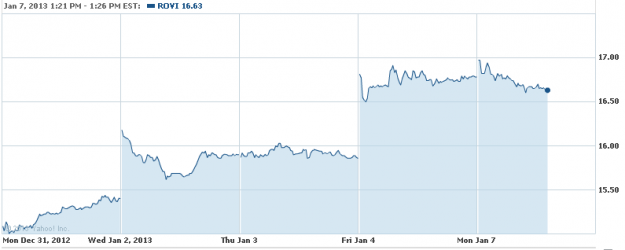 Illumina (NASDAQ:ILMN): Current price $50.51
According to Chairman Franz Humer of the Swiss pharmaceutical group Roche, his firm is no longer mulling an offer for the American gene-sequencing company Illumina. Quoted in SonntagsZeitung on Sunday, Humer said that "Illumina is definitely off the table. They were not willing to abandon the totally unrealistic price they were asking for. Roche does not do acquisitions that don't create value." The firm had offered $6.8 billion for Illumina, but shareholders of the latter blocked an attempt by the would-be buyer to obtain seats on its board, and Roche then walked away from the situation. However, the same newspaper reported in December that Roche might extend a fresh offer.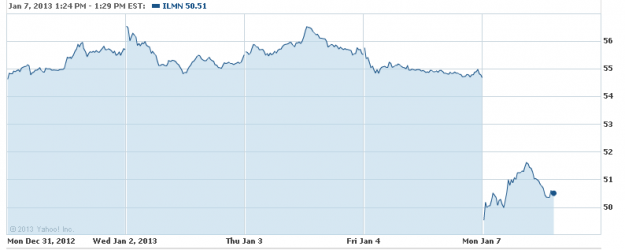 IAC/InterActiveCorp (NASDAQ:IACI): Closing price $46.03
On Monday, IAC reported that it has purchased the online tutoring solution Tutor.com. The latter was founded in 1998, and links up students at any time, any place, with more than 2,500 screened and qualified tutors for immediate one-to-one sessions. Financials of the transaction were not disclosed.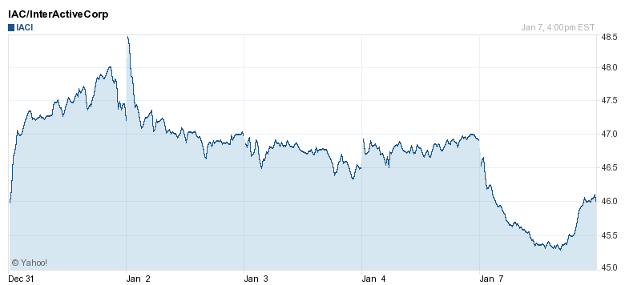 athenahealth (NASDAQ:ATHN): Closing price $77.99
It was announced that athenahealth will purchase Epocrates (NASDAQ:EPOC), a mobile health pioneer that  developed the most-widely adopted point-of-care medical application among American physicians. The boards of each party agreed to the cash price of $11.75 per share, for a total amount of roughly $293 million. The aggregate marks a 22 percent premium over the close of Epocrates on NASDAQ on January 4th. The buyer is a leading provider of cloud-based electronic health record, practice management, and care coordination services to medical groups and health systems.
Shutterfly (NASDAQ:SFLY): Closing price $32.45
On Monday, Shutterfly said that it has bought ThisLife, which is a cloud-based solution that offers intuitive photo and video organization, storing, and sharing. Financial terms were not mentioned in the release. The combination of ThisLife with the buyer's multi-channel platform, seamless creation paths, and robust cloud, which can store 18 billion images, supplies a unified, end-to-end solution for customers to intelligently organize, store, share and create physical and digital products across web and mobile devices.

Sony Corporation (NYSE:SNE): Closing price $10.97
Sony partners with BMG to bid for Parlophone and other EMI labels that are being divested by Universal Music, a move that brings Sony and Bertelsmann back together some four years after they unhooked their Sony BMG joint venture. The linkup should raise the competition for the auction of labels that regulators forced Vivendi's Universal to sell off, to gain approval for its acquisition of EMI in 2012.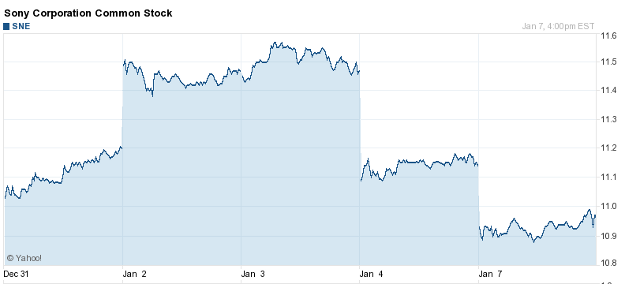 Priceline.com Incorporated (NASDAQ:PCLN): Current price $655.73
On Tuesday, Federal Trade Commission okayed Priceline's $1.8 billion acquisition of Kayak Software Corporation (KYAK) which was first announced in November. The latter offers a website, along with and mobile applications to assist consumers in comparing prices for airlines, hotels and rental cars. Kayak went public in July with shares priced at $26.
Are these stocks a buy or sell? Let us help you decide. Check out our Stock Picker Newsletter now.
Autodesk (NASDAQ:ADSK): Current price $36.23
Autodesk finalizes its purchase of the privately-held German software firm PI-VR, in a transaction for which terms were not disclosed. PI-VR specializes in sophisticated real time visualization tech used mostly in the automotive industry; the company's  cutting-edge visualization solutions should strengthen and enhance Autodesk's expertise in and offerings for high-end automotive visualization.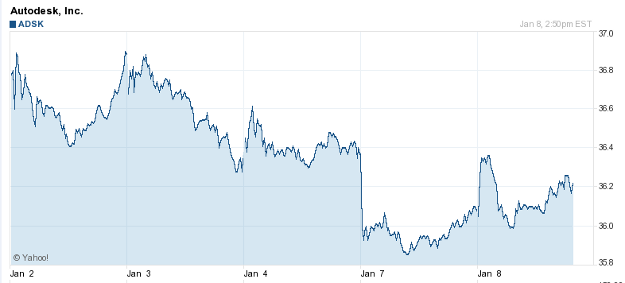 Shire (NASDAQ:SHPG): Current price $95.46
Shire will purchase the privately-held biotech firm Lotus Tissue Repair, located in Cambridge, Massachusetts. Lotus is presently  developing the first and only protein replacement therapy currently being examined for the treatment of dystrophic epidermolysis bullosa which is a devastating orphan disease for which there is no approved treatment option other than palliative care. Shire will purchase the firm for an upfront payment and certain contingent payments based on the achievement of particular safety and development milestones.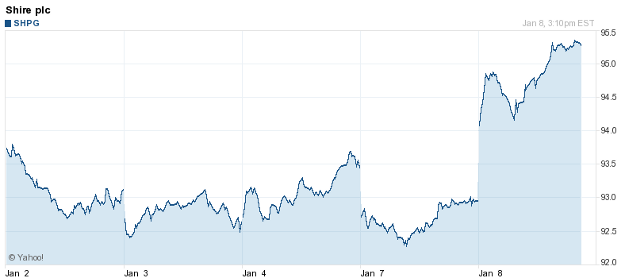 Crestwood Midstream Partners (NYSE:CMLP): Current price $23.31
Crestwood Midsteam reported Tuesday it has acquired the remaining 65 percent interest in Crestwood Marcellus Midstream  from Crestwood Holdings Partners, at a price of $258 million. The transaction should be 7 to 8 percent accretive to the firm's 2013 distributable cash flow on a fully diluted basis, and was funded with $129 million of cash drawn on Crestwood's current revolving credit facility, along with roughly 6.2 million new Crestwood Class D units that were issued to Crestwood Holdings.
Analogic Corporation (NASDAQ:ALOG): Closing price $74.60
Analogic has agreed to purchase the privately-held Ultrasonix Medical Corporation, which is based in Vancouver, at a cash price of $83 million. Ultrasonix provides advanced ultrasound systems for point-of-care and general imaging applications, with more than 5,000 systems installed globally. The buyer enables worldwide medical imaging and aviation security tech. The transaction should close in late February.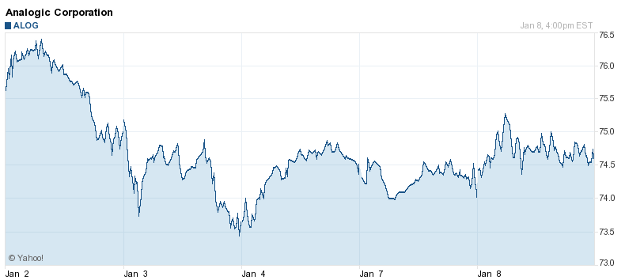 Barrick Gold Corporation (NYSE:ABX) Closing price $33.51
The Canadian miner Barrick Gold terminates discussions about divesting an interest in majority-owned African Barrick Gold to a Chinese buyer,  ending the hope of a potential $3 billion deal for the underperforming division. The company holds a 74-percent stake in the  London-listed African Barrick, and had reported in August it was in early-stage negotiations with state-owned China National Gold about the possible sale of all or part of its stake.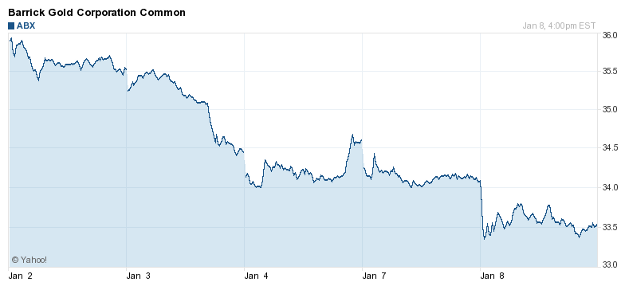 Are these stocks a buy or a sell? Let us help you decide.  Check out our Wall St. Cheat Sheet Stock Picker Newsletter now>>
Acadia Healthcare Company (ACHC): Closing price $24.94
On Tuesday, Acadia reported its acquisition of Greenleaf Center, a 50-bed acute inpatient psychiatric facility in Valdosta, Georgia, in a transaction that was finalized January 1st, from South Georgia Medical Center, which is a non-profit health system. The Chairman and Chief Executive Officer of Acadia, Joey Jacobs, expects that, with annual revenues of about $7 million, this facility will have an accretive impact on the firm's 2013 earnings per share.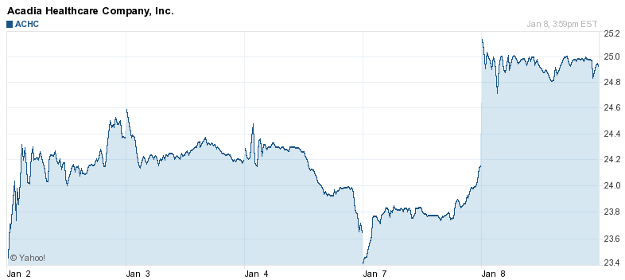 Sanofi-Aventis (NYSE:SNY): Closing price $48.58
Sanofi announced that its United States Consumer Healthcare Division, Chattem, has finalized its purchase of the global rights to the Rolaids brand from McNeil Consumer Healthcare Division of McNEIL-PPC. Chief Executive Zan Guerry of Chattem commented that "The addition of Rolaids represents a rare opportunity to obtain an iconic brand that we believe will respond positively to our proven approach of growing brands through innovation and advertising. We are primed to leverage the Rolaids market opportunity to drive incremental growth and take the brand to a new level."
Apollo Global Management (NASDAQ:APO): Current price $18.85
Apollo is collaborating with the veteran food executive C. Dean Metropoulos on a potential offer for bankrupt Hostess Brands' snacks division, which includes the iconic Twinkies, Ding Dongs and lest we forget, Ho Hos. Presently, Hostess is selling off its brands and liquidating the company, subsequent to devastating strike by its bakers union, which forced it to shut down in November. Meanwhile, Hostess remains days away from choosing a stalking horse bidder for its bread brands, among which include Wonder Bread, Nature's Pride and Butternut.
Are these stocks a buy or sell? Let us help you decide. Check out our Stock Picker Newsletter now.
First Solar (NASDAQ:FSLR): Current price $31.91
On Wednesday, First Solar and Fundación Chile said that the former has purchased Solar Chile, a solar development firm in which Fundación Chile was an early investor. The acquisition culminates a strategic working partnership that the parties created in October of 2011. Solar Chile holds a series of early- to mid-stage utility-scale photovoltaic power projects that total around 1.5 gigawatts (GW) in Regions I, II, III, and XV in northern Chile, including the Atacama Desert area, which offers the highest solar irradiance on Earth.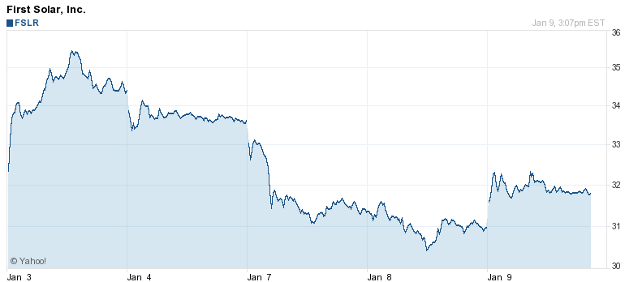 Foster Wheeler (NASDAQ:FWLT):  Current price $24.78
Foster Wheeler has purchased Yonkers Industries, a company which is mainly focused upon in the management of construction and commissioning of pharmaceutical and biotech facilities which has the capabilities to also oversee the full engineering, procurement and construction management of such facilities. Yonkers has offices in North Carolina, California, and Puerto Rico staffed with around 200 professionals.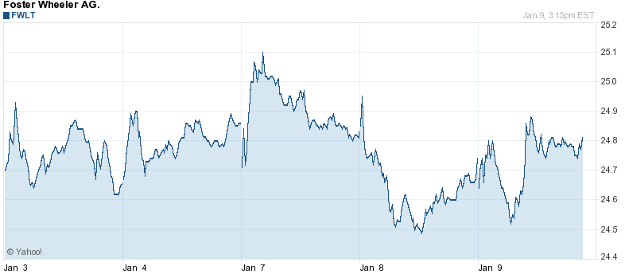 BlackRock (NYSE:BLK): Current price $214.84
BlackRock wins the race for the exchange-traded fund division of Credit Suisse (NYSE:CS), says a knowledgeable source, who added that the acquisition should be officially announced in short order. The value of the transaction has not yet been divulged, with neither party ready to comment. However, sources to Reuters said that Credit Suisse had place its $17.6 billion ETF unit on the block in October and in November, the firm reported that it was joining its private banking and asset management divisions into a new wealth management business.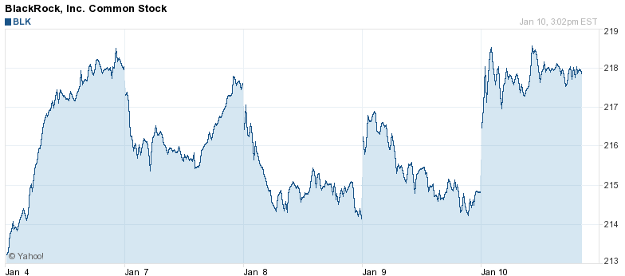 Legg Mason (NYSE:LM): Current price $26.96
The asset manager Legg Mason could go private in the near term, if some sources are correct in their assertions that the firm has been approached in recent months by a number of its senior managers and private equity firms, with plans to take the struggling company private. However, its board has decided against looking into that option until the company has a new chief executive, according to the sources.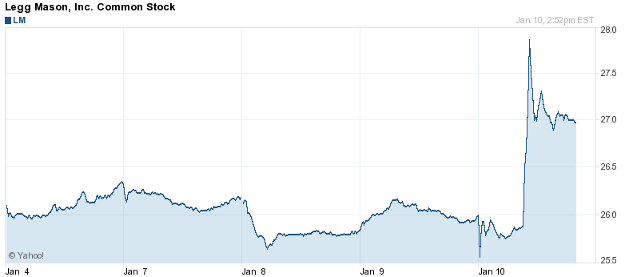 Are these stocks a buy or sell? Let us help you decide. Check out our Stock Picker Newsletter now.
Nuance Communications (NASDAQ:NUAN): Current price $23.14
Looks like another purchase for the speech and natural language tech major Nuance, as TechCrunch has a copy of a memo showing that the company acquired VirtuOz, which develops intelligent virtual assistant services for online sales, marketing and support. The company originated in France and is now co-headquartered in the Bay Area. Thus far, no financial terms have c0me forward.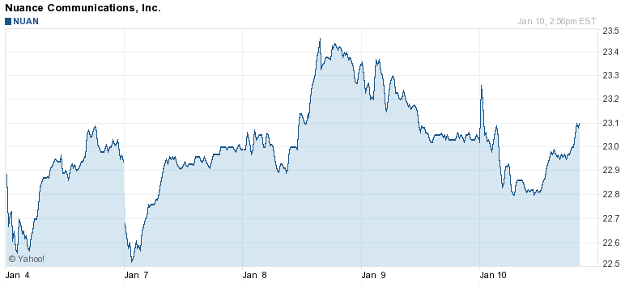 Alcatel-Lucent (NYSE:ALU): Current price $1.63
The vendor major Alcatel has purchased the Wavelength Selective Switch expert Capella Photonics in a transaction for which the terms were undisclosed. According to the buyer to Light Reading, the move was made "late last year… to add to our overall optical capabilities." Capella is based in San Jose and produces WSS products for use in reconfigurable optical add/drop multiplexers and optical cross connects.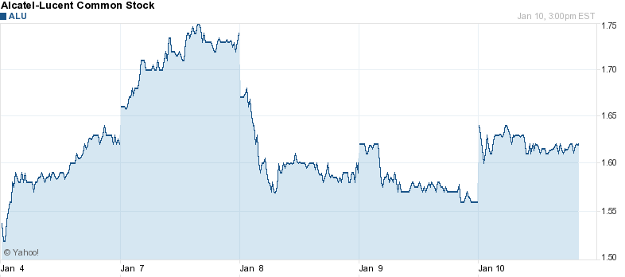 BlackRock (NYSE:BLK): Current price $218.13
The world's biggest asset manager has acquired a $17.6 billion exchange-traded funds business from Credit Suisse Group. The purchase of the unit is meant to reinforce its footprint in Switzerland and should close by the end of the second quarter. The purchase price was not disclosed.
.Leap Wireless International (NASDAQ:LEAP): Current price $7.12
Back in August, the Guggenheim Securities analyst Shing Yin predicted that there was a 70-percent probability that a combined  MetroPCS Communications and T-Mobile USA would bid for Leap, subsequent to their merger completion, and that such a deal would "make sense." Since then, Leap shares have soared after six straight years of declines. Meanwhile, MetroPCS had leaked in a November 16th filing that it previously discussed a transaction with a third party.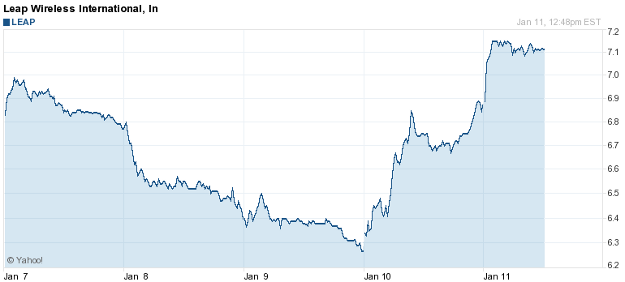 3D Systems Corp. (NYSE:DDD): Current price $60.44
On Thursday, 3d reported that  has purchased the Paris-based startup COWEB, which creates consumer customized 3D printed products and collectibles. Upon completion of the deal, 3D Systems intends to offer these personalized figures through its proprietary content hosting and publishing platform, Cubify, which includes full Digital Rights Management. Financial terms of the transaction were not divulged.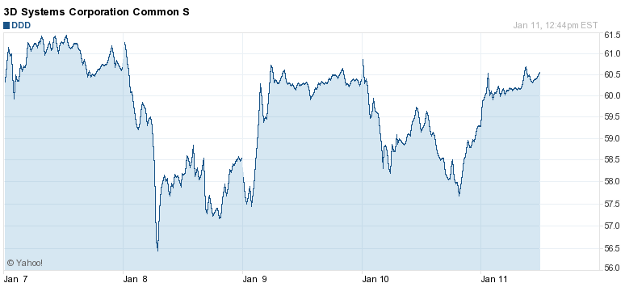 Netsuite  (NYSE:N): Current price $68.72
NetSuite purchases Retail Anywhere, which provides multi-channel retail management solutions created to enhance the retail customer experience. The move builds on NetSuite's SuiteCommerce platform.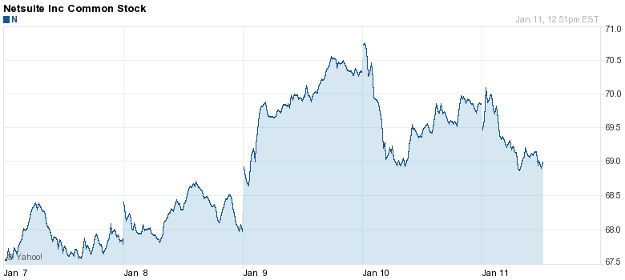 Mohawk Industries (NYSE:MHK): Current price $94.12
Mohawk has finalized its acquisition of Pergo, which is a maker of premium laminate flooring. The aggregate value of the cash transaction was $150 million. In 2011, Pergo's sales were about $320 million in the United States and in Europe.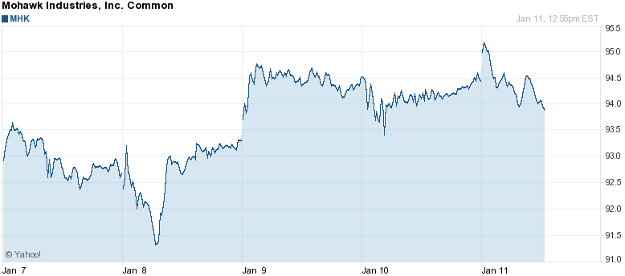 Are these stocks a buy or sell? Let us help you decide. Check out our Stock Picker Newsletter now.