Dear Congress: Americans Don't Approve of the Job You're Doing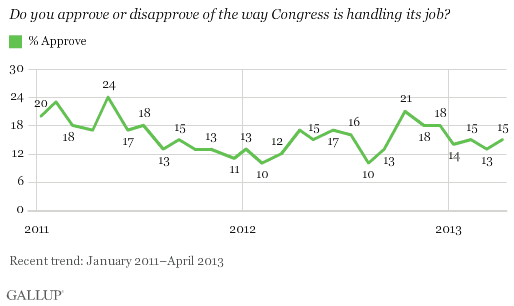 Nearly four in five Americans (78 percent) disapprove of the job that Congress is doing, according to a Gallup survey conducted at the beginning of June. This marks the 45th consecutive month that more than two-thirds of Americans have disapproved of the job that Congress is doing, and paints a pretty depressing picture of the political situation in the United States.
According to the survey, Americans are more concerned about what Congress isn't doing than what it is doing. Or to put it another way, what Congress is doing is nothing. A net 59 percent of responses indicated that some form partisan gridlock and an overall failure to get things done was a major reason why people disapproved. Within that bucket, 28 percent of responses indicated that a failure to compromise contributed to the disapproval rating.
A net 19 percent of responses indicated that Congress' performance on a specific issue contributed to their disapproval, while a net 9 percent of responses indicated that poor ethics or bad behavior was a major factor.
It's interesting to see that more responses didn't indicate fiscal or budget issues as a primary reason for the disapproval rating. This may be because budget issues do truly pale in comparison to gridlock — financial problems are understandable, but a failure to cooperate is not — or because Americans are placing responsibility for the economic problems facing the country somewhere else, such as the Treasury, the President, or the Federal Reserve.
Breaking down the results of the survey by party alignment, Democrats are more concerned with gridlock, while Republicans are more concerned with specific issues.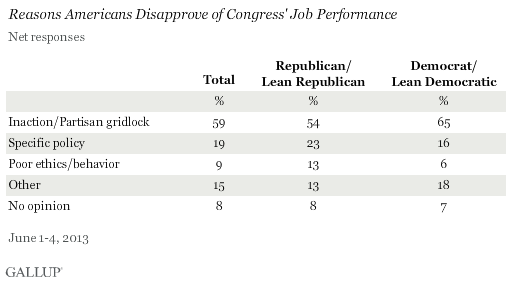 The difference seems to emerge from a focus on specific policies regarding the budget and healthcare.
Meanwhile, President Barack Obama's approval rating currently sits at 47 percent — not great, but way better than Congress. Gallup tracks a three-day rolling average of the President's approval rating, which has edged down 2 percentage points in the wake of the NSA situation.
Here's how the market traded on Wednesday: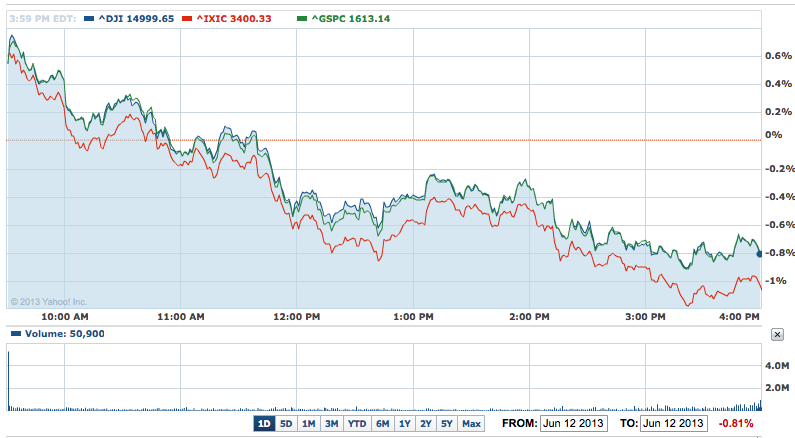 Don't Miss: 3 Ways Baby Boomers Are Redefining Retirement.