Dear Main Street: The Recovery Has Left You Behind
In 2012, the average CEO of a large public company made about 242 times more money than the average U.S. worker.
An analysis of CEO compensation data by the Associated Press showed that the typical CEO of a large company made $9.7 million, while the average U.S. worker earned $39,900. CEO compensation has never been higher, fueled — like most things these days — by the insane rally in stock prices. The majority of this net increase in compensation over the past few years has come from gains in total stock compensation (+17 percent last year to 44.3 percent of total compensation), and increases in the value of that compensation (+15.83 percent for the S&P 500, including dividends).
That CEOs earn an exorbitant amount of money for their services is common knowledge. The boards of directors of top public companies have repeatedly argued that in order to retain top talent, they must offer top pay packages. Leslie Moonves, CEO of CBS (NYSE:CBS) was awarded a compensation package worth $60.3 million in 2012, no doubt as a reward for leadership that helped increase the company's stock value 44 percent for the year. Under his stewardship, earnings at CBS have grown at an average rate of over 100 percent per year over the past four years.
However, where the argument starts to fall apart is when the CEO fails to make good on their promise to lead a company to success. A glaring example of this is with former J.C. Penney (NYSE:JCP) CEO Ron Johnson, who received a compensation package worth $53.3 million — 1,795 times the annual pay of an average worker at the company — for his one failed year at the company.
An interesting factoid revealed by the Associated Press analysis is that the median pay for a female CEO was $11.2 million, while the median pay for a male CEO was $9.6 million. As far as misleading stats go, this is pretty high up the list, given that only 3 percent of the companies in the report were led by females and that the highest-paid female CEO was Irene Rosenfeld of Mondelez International (NASDAQ:MDLZ) at $22 million (which compares to CBS's Moonves at $60.3 million).
What is probably most concerning to the average worker is that average pay for U.S. workers increased between just 1 and 2 percent over the past three years. Not only did CEO pay growth leave the average worker in the dust, but corporate growth has been fairly robust as well. AP showed that the median profit increase at the companies surveyed was 6.1 percent, while the median revenue increase was 7.6 percent.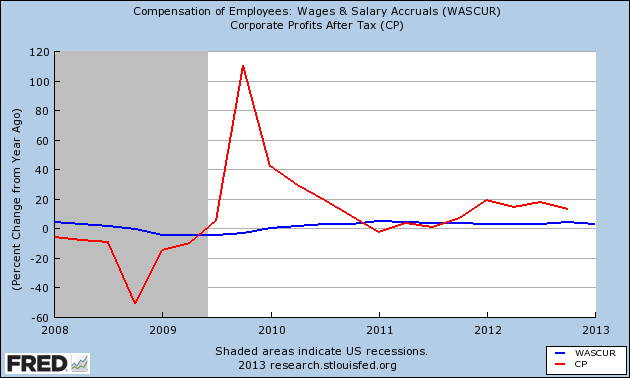 Income inequality is a growing problem in America, and has been a defining characteristic of the post-crisis economic recovery. The National Employment Law Project showed that while low-wage occupations accounted for 21 percent of recession-era job losses, they accounted for 58 percent of recovery job gains — and while mid-wage occupations accounted for 60 percent of recession losses, they accounted for just 22 percent of recovery growth.
What this means is that post-recession job growth is characterized by Americans taking lower-paying jobs, moving out of the middle class and into the lower class. Low-wage industries such as food services, retail, administrative support, and waste management services, constituted 43 percent of net job growth during the recovery. Within these industries, 76 percent of job growth occurred at the low end of the wage scale.
If inequality is defined by a shrinking middle class and growth at opposite ends of the spectrum, then the past decade can certainly be defined its inequality. Since the first quarter of 2011, employment has grown by 8.7 percent in lower-wage occupations and by 6.6 percent in higher-wage occupations. Meanwhile, employment in mid-wage occupations has fallen by 7.3 percent.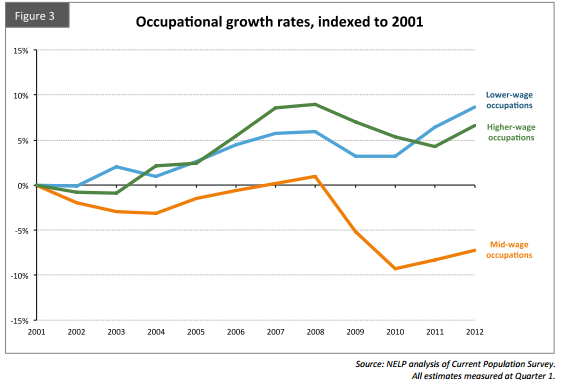 At the same time as mid-wage job growth is contracting, corporate profits are breaking records. Corporate profits accounted for 14.2 percent of the total national income in the third quarter of 2012, the largest portion since 1950. Comparatively, the percentage of income distributed to employees was 61.7 percent, near the lowest level since 1966.
As Barclay's chief United States economist Dean Maki told The New York Times in March, the widening gap accelerated during the financial crisis and subsequent recession. Corporate earnings have increased at an annualized rate of 20.1 percent since the end of 2008, he added, but disposable income has only grown by 1.4 percent annually over the same period, with inflation taken into account.
Don't Miss: 8 Worst States for the Unemployed.