December Retail Sales: Shoppers Ignore Fiscal Cliff
Despite the fiscal cliff drama and economic headwinds facing consumers, retail sales in the United States increased more than projected in December.
According to the Commerce Department, retail sales last month rose 0.5 percent to a seasonally adjusted $415.7 billion. December sales were higher than an upwardly revised 0.4 percent gain in November, and 4.7 percent above December 2011 levels. Economists surveyed by Bloomberg and Dow Jones Newswires expected a 0.2 percent rise last month.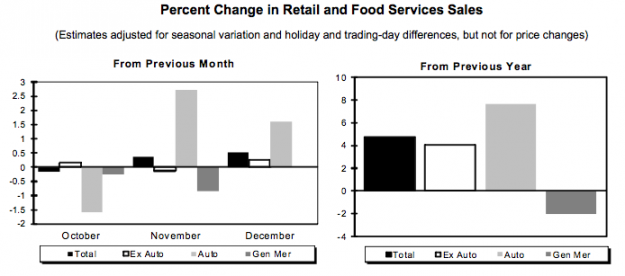 Start 2013 better than ever by saving time and making money with your Limited Time Offer for our highly-acclaimed Stock Picker Newsletter. Click here for our fresh Feature Stock Pick now!
Consumers spent more on autos, furniture and dining out, but less on gasoline. Core sales, which remove automobiles, gasoline and building materials, increased 0.6 percent in December, compared to a 0.5 percent rise in November.
"Consumers continue to spend at a decent pace," said Russell Price, senior economist at Ameriprise Financial, according to Bloomberg. "The payroll tax will have a modest impact on spending. We need faster job and income growth to allow the consumer to shift into higher gear."
The payroll tax, which funds Social Security, was raised two percentage points as the fiscal cliff deal allowed the 2 percent payroll tax holiday to expire in 2013. It is estimated to raise taxes on someone making $50,000 a year by $1,000. Economists also predict it will decrease first quarter gross domestic product by around 1.4 percent on an annualized basis.
Retailers such as Gap (NYSE:GPS), American Eagle Outfitters (NYSE:AEO) and Limited Brands (NYSE:LTD) all climbed higher on the positive retail sales report. Express (NYSE:EXPR), which raised fourth quarter and full-year guidance, surged nearly 20 percent.
Investor Insight: Tablets Deliver Another Blow to the PC Industry