Deckers Estimate Raised and 3 Stock Analyses to Note
Deckers Outdoor Corp. (NASDAQ:DECK): Current Price: $40.99
According to Jefferies, the drop in temperatures during January most likely provided a buying catalyst for Deckers Outdoor's UGG brand. The firm predicts that the company's trends will stabilize and inventories will be better controlled after the holiday quarter. Jefferies decided to increase its earnings estimates for Deckers Outdoor, as it also raised its price target to $60 on the stock. The firm says that its conviction in the name has never been higher and reiterates its Buy rating on the stock.

True Religion Apparel Inc. (NASDAQ:TRLG): Current Price: $23.87
Benchmark Co. has stated that it believes that a sale of True Religion is being negotiated and that private equity is the most likely buyer. In October, the company announced that it intended to explore strategic alternatives, and Benchmark Co. is convinced that investors continue to be more concerned with the possible sale than True Religion's Q4 results. The firm reiterates its Buy rating and $32 price target on the stock.

PetSmart, Inc. (NASDAQ:PETM): Current Price: $64.65
The company has been added to Bank of America Merrill Lynch's U.S. 1 List due to a favorable product cycle, buybacks, and low expectations. Shares have a Buy rating and a $85 price target.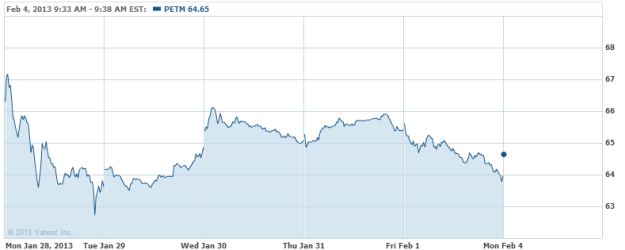 FedEx Corporation (NYSE:FDX): Current Price: $103.43
Bank of America Merrill Lynch has added FedEx to its U.S. 1 List considering the improving freight data out of Asia and stabilization in Europe, along with upside from its profit improvement plan among other reasons. Shares have a Buy rating and a $122 price target.

Don't Miss: Can Apple Clean Foxconn's Labor Image?