Deckers Outdoor Earnings: Bad Day for Stock, Worse After Hours
Deckers Outdoor Corporation (NASDAQ:DECK) reported net income above Wall Street's expectations for the first quarter. Deckers Outdoor Corporation is a designer, producer, marketer, and brand manager of innovative, high-quality footwear and accessories.
Don't Miss: Wall St. Cheat Sheet's newest Feature Trades of the Month!
Deckers Outdoor Earnings Cheat Sheet for the First Quarter
Results: Net income for Deckers Outdoor Corporation rose to $19.2 million (49 cents/share) vs. $17.9 million (46 cents/share) in the same quarter a year earlier. A rise of 7.2% from the year earlier quarter.
Revenue: Rose 31.4% to $204.9 million YoY.
Actual vs. Wall St. Expectations: DECK beat the mean analyst estimate of 46 cents/share. Estimates ranged from 44 cents per share to 53 cents per share.
Quoting Management: "We delivered a good start to the year," said Angel Martinez, President, Chief Executive Officer and Chair of the Board of Directors. "We believe that our strategies to diversify our merchandise assortments and extend the global reach of our brands are being executed successfully. The favorable response to the UGG brand's spring line of fashion sandals, sneakers, slippers and boots drove gains in our domestic wholesale, consumer direct, and international distribution channels. We achieved solid results with the Teva brand as well, with our new collection of closed toe footwear and expanded sandal offerings resonating with consumers. The first quarter was also highlighted by the commencement of our conversion to wholesale operations in our largest international market, the United Kingdom, and expansion of our existing business in our second largest market, Benelux. For the most part, these transitions have gone smoothly, and in addition to the immediate financial benefits, we are optimistic about the long-term growth opportunities these conversions will create for our Company. Furthermore, we are also optimistic that the brand investments we are currently making will also fuel domestic and international market share gains in the years ahead."
Key Stats:
The company has enjoyed double-digit year-over-year revenue growth for the past five quarters. Over that span, the company has averaged growth of 25.3%, with the biggest boost coming in the second quarter of the last fiscal year when revenue rose 33.7% from the year earlier quarter.
The company has now seen net income rise in three-straight quarters. In the fourth quarter of the last fiscal year, net income rose 31.7% and in the third quarter of the last fiscal year, the figure rose 24.6%.
Competitors to Watch: Crocs, Inc. (NASDAQ:CROX), NIKE, Inc. (NYSE:NKE), The Timberland Company (NYSE:TBL), Skechers USA, Inc. (NYSE:SKX), Steven Madden, Ltd. (NASDAQ:SHOO), The Global Housing Group (GLHO), LaCrosse Footwear, Inc. (NASDAQ:BOOT), Wolverine World Wide, Inc. (NYSE:WWW), and Phoenix Footwear Group, Inc. (AMEX:PXG).
Today's Performance: Shares of DECK are trading down over 7% after hours.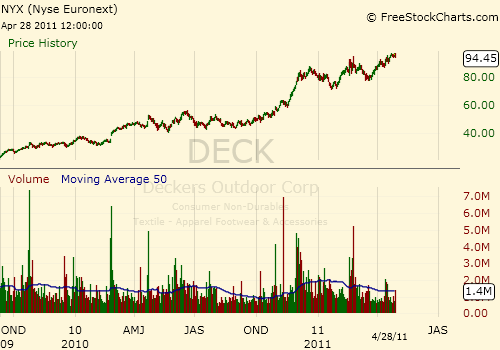 Don't Miss Wall St. Cheat Sheet's newest Feature Trades of the Month!