Deere Earnings Cheat Sheet: Revenue and Net Income Grow
S&P 500 (NYSE:SPY) component Deere & Company (NYSE:DE) reported higher profit for the second quarter as revenue showed growth. Deere & Company provides products and services for agriculture, forestry, construction, landscaping and irrigation.
Don't Miss: Wall St. Cheat Sheet's newest Feature Trades of the Month!
Deere & Company Earnings Cheat Sheet for the Second Quarter
Results: Net income for the farm and construction machinery company rose to $904 million ($2.12/share) vs. $547.5 million ($1.28/share) in the same quarter a year earlier. A rise of 65.1% from the year earlier quarter.
Revenue: Rose 27.2% to $8.33 billion YoY.
Actual vs. Wall St. Expectations: DE beat the mean estimate of $2.06/share. Estimates ranged from $1.90 per share to $2.45 per share.
Quoting Management: "With our record second-quarter performance, John Deere is well on its way to a year of exceptional results," said Samuel R. Allen, chairman and chief executive officer. "Our success reflects strong demand for our innovative lines of equipment and the continued skillful execution of our business plans. Deere's actions to expand its global competitive position are attracting new customers worldwide and making a major contribution to our results."
Key Stats: Revenue has risen the past four quarters. Revenue increased 30.1% to $5.51 billion in first quarter. The figure rose 38.9% in fourth quarter of the last fiscal year from the year earlier and climbed 17.8% in third quarter of the last fiscal year from the year-ago quarter.
Competitors to Watch: AGCO Corporation (NYSE:AGCO), Caterpillar Inc. (NYSE:CAT), Arts-Way Manufacturing Co. Inc. (NASDAQ:ARTW), The Toro Company (NYSE:TTC), Lindsay Corporation (NYSE:LNN), Kubota Corporation (NYSE:KUB), CNH Global N.V. (NYSE:CNH), Bucyrus (NASDAQ:BUCY), Alamo Group, Inc. (NYSE:ALG), Cummins (NYSE:CMI), General Electric (NYSE:GE) and Manitowoc Company, Inc. (NYSE:MTW).
Stock Performance: Shares of DE are down 1.5% this morning from the previous close of $86.96.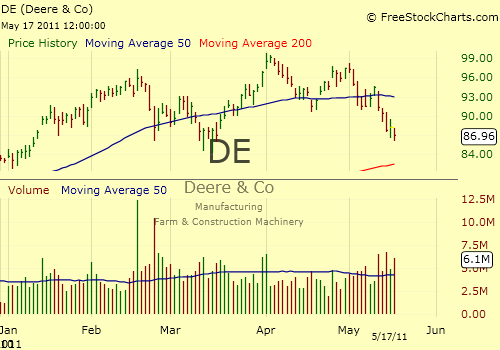 Don't Miss Wall St. Cheat Sheet's newest Feature Trades of the Month!