Defense Attorney Drops Out of Chevron Lawsuit and 2 More Dow Movers To Watch
Chevron Corporation (NYSE:CVX): Closing price $123.10
Attorney John Keker has been representing Steven Donziger for two years in a case brought by Chevron, claiming that he fabricated a long-running lawsuit alleging that the company polluted an Ecuadorian rainforest. Keker has filed a motion to withdraw as counsel, in an 11-page motion that blamed New York federal court Judge Lewis Kaplan for Donziger's financial predicament. The attorney's request to drop out of the case is concurrent with Chevron aggressively pushing to overturn the $19-billion judgment that it polluted the rainforest.

Alcoa (NYSE:AA): Current price $8.65
Officials in Stanly County, North Carolina, which is the location of  closed Alcoa aluminum smelter, are considering an agreement that could take away a hurdle to the corporation renewing a license for dams that once powered the plant, and now generate electricity for sale. County commissioners met on Monday to examine a deal that could make an Alcoa lawsuit pressing officials for more information go away. For their parts local officials could end their efforts to disallow a state water-quality certification the company requires to win a federal operating license for as much as 50 additional years.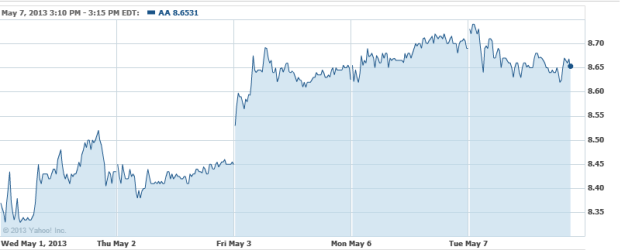 American Express Co. (NYSE:AXP): Closing price $70.29
Subsequent to a modest first-quarter earnings, the company announced a 15-percent raise in its dividend payout last week. The hike is an endeavor to return excess wealth to investors, thus raising their confidence in the stock. Accordingly, AmEx elevated its regular quarterly dividend by 3 cents to 23 cents per share from 20, payable on Aug 9th to the shareholders of record as on July 5. This move represents the second dividend hike since November of 2007.

Investing Insights: Where Will Schlumberger Go Next?