Dell Board in Favor of Proposed Transaction and 3 Heavily Traded Shares Moving Today
Bank of America Corp (NYSE:BAC):  Closing price $11.85
The negative fourth-quarter gross domestic product reading of -0.1% caught most Wall St. analysts and economists by surprise. This unforeseen number was skewed by a huge decrease in government spending. Most now expect the number to be revised to a positive reading, and the first quarter to show 1% to 2% growth. This slow growth scenario is just the right playing field for Bank of America Corp.'s secular growth stock picks.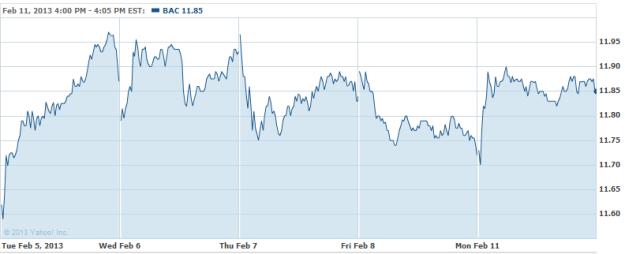 Dell Inc. (NASDAQ:DELL): Closing price $13.69
In a regulatory filing, Dell said, "In the course of its deliberations, the Special Committee of Dell's Board considered an array of strategic alternatives. In addition to working through financial and capital allocation issues with its independent financial advisors, the Committee retained a prominent management consultant to help it assess the Company's strategic position. Based on that work, the Board concluded that the proposed all-cash transaction is in the best interests of stockholders. The transaction offers an attractive and immediate premium for stockholders and shifts the risks facing the business to the buyer group."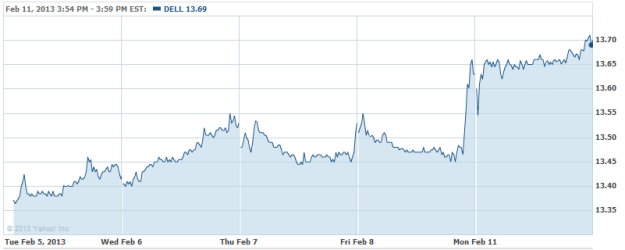 Sirius XM Radio Inc (NASDAQ:SIRI):  Closing price $3.14
Sirius XM Radio's challenge is to eliminate more of last year's 7,610,259 million deactivations (the numbers taken from the company's Form 10K filing of the Security and Exchange Commission), and to build on the 9,617,771 gross activations.

Annaly Capital Management, Inc. (NYSE:NLY):  Closing price $14.82
Annaly Capital Management had their target price cut by Compass Point from $17.00 to $16.50. Compass Point currently has a Buy rating on the stock.

Don't Miss: Here's How Dell's Shareholder Battle Is Heating Up.