Dell Demonstrates Oracle Enterprise Manager Integration and 2 More Heavily Traded Stocks to Follow
Dell Inc. (NASDAQ:DELL): Current price $13.86
Dell demonstrated its integration capabilities with Oracle Enterprise Manager at Oracle OpenWorld, enabling customers to oversee the full infrastructure stack and applications from a single management console. The firms reaffirmed their services accord, providing customers with the ability to buy and renew Oracle software support services for Oracle Linux and Oracle VM, directly from Dell. The latter also debuted Dell Active Infrastructure for Oracle, which represent newly-optimized reference architectures based on Oracle Linux and Oracle VM.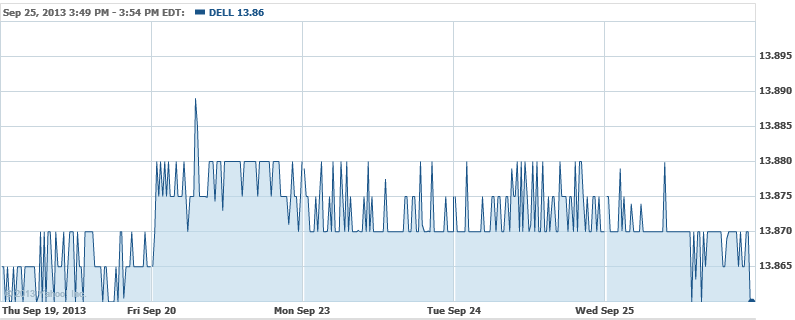 Intel Corp. (NASDAQ:INTC): Current price $23.73
Intel's board of directors has declared a quarterly dividend  of 22.5 cents per share (90 cents per share on an annual basis) on its common stock. The dividend will be payable on December 1, to stockholders of record as of November 7.

Oncothyreon Inc. (NASDAQ:ONTY): Current price $2.20
On Wednesday, Oncothyreon said that Merck Serono, the biopharmaceutical arm of Merck KGaA, has elected to continue clinical development of the investigational MUC1 antigen-specific cancer immunotherapy tecemotide (also known as L-BLP25 and formerly known as Stimuvax). Merck Serono is developing tecemotide under a license agreement with Oncothyreon and will run a new Phase 3 trial named START2 for patients with unresectable, locally advanced Stage III non-small cell lung cancer. This decision was based upon the outcome of the prior START trial.

Don't Miss: 3 Telecom Stocks Seeing Action: AT&T Looks to Europe, Verizon Introduces its New Internet Router, and T-Mobile US CFO Sees Consolidation in the Future