Dell Denied By Dell, Facebook Wants More Ads: Market Recap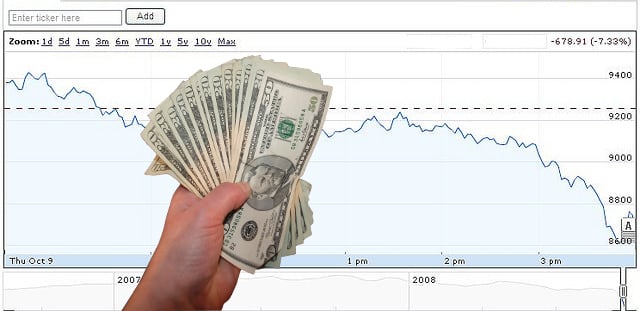 U.S. stocks had a volatile session today, but ended nearly flat after the Federal Reserve didn't give any hints as to when it would end qualitative easing after its two-day policy meeting. The Fed reiterated a previous statement that it would end stimulus when the labor market's outlook has improved. The labor market did show some improvement today, as the ADP report showed companies created 200,000 jobs in July, beating analyst expectations.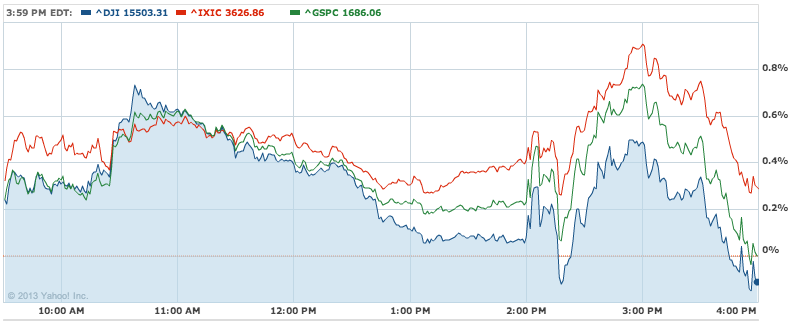 Gold: -0.17% to $1,322.60 per ounce  Oil: +2.07% to $105.21 per barrel  U.S. 10-Year: -0.38 to 2.593%
Payrolls Beat Expectations: Is the Labor Market on the Upswing?: The U.S. labor market is under a microscope right now. Headline unemployment broke 7.0 percent at the end of 2008 as the fallout from the financial crisis spread through the economy, and hit a recent high of 10 percent in October 2009… (Read more.)
At First Glance: Better-Than-Expected GDP Is Still Anemic: The United States economy grew faster than expected in the second quarter of 2013. However, the overall level of economic activity remained anemic, as consumers limited spending to necessities, and the federal government continued to cut back as well… (Read more.)
The Fed: We Can't Begin to Pull the QE Plug Yet: After a lengthy amount of chatter and speculation, the long-awaited statement from the Federal Open Market Committee is here. The arm of the U.S. Federal Reserve responsible for open market operations — i.e. quantitative easing — concluded its two-day meeting on Wednesday. Most people were not expecting a major change in the central bank's monetary easing programs, and that's exactly what the Fed delivered… (Read more.)
Here's your cheat sheet to today's top stocks stories: 
Dell (NASDAQ:DELL) has chosen not to accept Michael Dell's sweetened buyout offer. If Michael Dell's request for the voting standard to be changed in advance of Friday's shareholder vote was his trump card, his buyout offer could be in trouble. On Wednesday morning, the special committee of Dell's board of directors handed the founder and CEO a defeat in his quest to take the personal computer maker private… (Read more.)
Comcast Corp. (NASDAQ:CMCSA) reported earnings this morning that came out ahead of analyst expectations, driven by strong growth in Comcast's NBCUniversal. Comcast reported earnings per share of 65 cents, a 30 percent growth year-over-year that topped the average analyst estimate of 63 cents… (Read more.)
Facebook (NASDAQ:FB) will offer advertisers the opportunity to secure 15-second TV-style ads featured on users's Newsfeeds for anything from $1 million to $2.5 million a day starting later this year, according to a report from Bloomberg. Facebook is an especially good option for marketers trying to get their word out… (Read more.)
Mastercard (NYSE:MA) reported growth this quarter that beat analyst expectations despite slow economic growth around the world. The credit card company posted revenue of $2.1 billion, up 15 percent from last year and coming just ahead of estimates of $2 billion. Earnings per share rose 23 percent to $6.96, up from $5.65 in the second quarter of last year. The company reported increases in volume and transactions worldwide.
 Microsoft's (NASDAQ:MSFT) line of Surface tablets have been a problem for the company since the product line came out eight months ago. After putting a dent in the company's fiscal fourth quarter earnings, a filing with the U.S. Securities and Exchange Commission on Tuesday revealed that the company has only made a revenue of $853 million from the tablets… (Read more.)
Diageo Inc. (NYSE:DEO) reported 2013 pretax profit of 3.12 billion pounds, flat year-over-year. Operating profit, with the exclusion of some items, grew 10 percent to 3.53 billion pounds, above the consensus measure of 3.48 billion. Attributable profit grew 28 percent and net sales grew 6 percent, while organic sales rose 5 percent versus the consensus of 4.7 percent and the group medium-term target of 6 percent.
SodaStream International Ltd (NASDAQ:SODA) reported earnings that topped analyst expectations. The company reported earnings per share of 74 cents, a 64.4 percent increase from 45 cents in the second quarter of last year. That beat the mean analyst estimate of 57 cents per share. Revenue grew 30.5 percent to $134.4 million. That growth was fueled by the product's launch at Wal-Mart Stores (NYSE:WMT).
Follow Jacqueline on Twitter @Jacqui_WSCS
Don't Miss: Android's Imitation Apple App Returns to Google Play.