Dell Investors Displeased With Buyout Offer and 4 Morning Hot Stocks Trading Today
Melco Crown (NASDAQ:MPEL): Current Price $20.45
Casino resorts in Macau, the epicentre of global gambling, are fully booked going into the Lunar New Year, which is China's most important holiday and a busy travel time. The demand for hotel accommodation has reached the point where visitors are "literally physically fighting over rooms," says Melco Crown (NASDAQ:MPEL) chairman Lawrence Ho. According to estimates, revenue at casinos during February may rise 15% to $3.5 billion compared to the same month last year. Companies such as billionaire Sheldon Adelson's Sands China Ltd (NYSE:LVS), Melco Crown Entertainment and Asian group Galaxy Entertainment, which expanded into the recently developed Cotai Strip by adding rooms and attractions, could hit the jackpot during this period in more ways than one.

USAirways Group Inc (NYSE:LCC): Current Price $14.87
Airlines AMR Corp (AAMRQ.PK) and USAirways Group Inc (NYSE:LCC) are working overtime to finalise terms of their potential merger agreement in order that their boards could vote on the merger on February 11, which is also the date when bankrupt AMR Corp's creditors are scheduled to meet. If the deadlines are met, the merger could be announced as early as Tuesday, just in time before another deadline of February 15 when nondisclosure agreements with AMR's bondholders are set to expire. Though a deal looks increasingly likely, the situation is still in flux and might well collapse. Some of the contentious issues include the proportion of ownership of the merged company between the shareholders of US airwaves and the creditors of AMR, AMR's retiree liabilities excluding pensions, and the leadership of the new company.
Are these stocks a buy or sell? Let us help you decide. Check out our Stock Picker Newsletter now.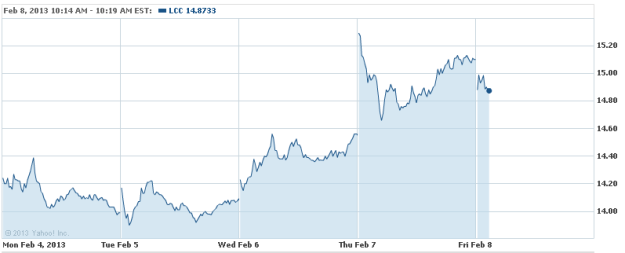 Western Union Company (NYSE:WU): Current Price $14.72
Shareholders at Western Union Company (NYSE:WU) are increasingly worried about the company's seeming unconcern about the rise of nimbler and more digital competitors that are taking away market share in emerging markets, forcing Western Union to cut prices to recoup its position. This factor, combined with the loss of exclusivity due to the lapse of long-standing agreements such as that with Mexican financial services group Grupo Elektra, means Western Union's best markets could be under threat. Competition from online rivals led Moody's to downgrade the company's ratings in November. According to analysts, chief executive Hikmet Ersek has about a year to tackle these issues failing which he may have to face shareholders' ire.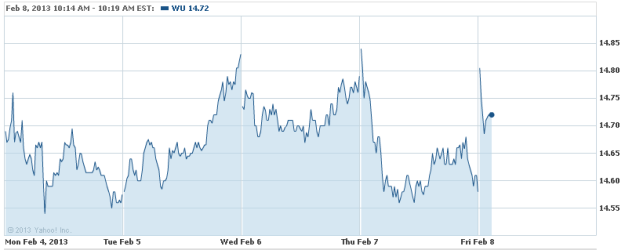 Dell Inc (NASDAQ:DELL): Current Price $13.51
Some of the larger investors in Dell Inc (NASDAQ:DELL) are unsatisfied with the buyout offer of $13.65 per share proposed by the consortium led by Michael Dell. South-Eastern Asset Management Inc, Dell's largest independent shareholder with a 7.5% stake in the company, has informed Dell in private discussions that the company is worth at least $20 a share. Another firm, Alpine Capital Research, which owns 2 million shares, will vote against the deal as will Schneider Capital Management, a holder of 350,000 shares. It is unlikely that a better bid will emerge during Dell's 45 day "go shop" period and the buyout consortium is likely to stick to its price because, in its opinion, investors do not have any other options.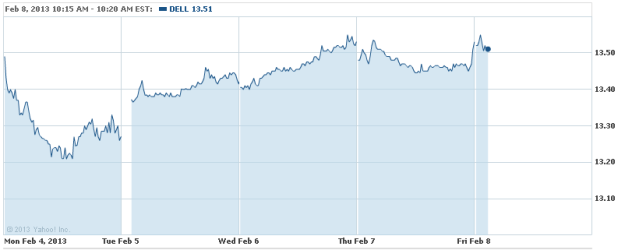 IMAX Corporation (NASDAQ:IMAX): Current Price $24.59
IMAX Corporation (NASDAQ:IMAX) replaces a previous $110 million credit facility with an amended senior secured credit facility for up to $200 million with Wells Fargo Bank (NYSE:WFC) and various participating Canadian financial institutions. The new facility will allow IMAX to undertake up to $150 million in stock buybacks and dividends subject to conditions. The facility could also be used for general corporate purposes, refinancing the existing revolving facility, global expansion and working capital requirements. "This new facility, coupled with the recurring cash generated by our business, will provide us with enhanced flexibility as we pursue our strategic initiatives and continue the global expansion of our business," said Richard L. Gelfond, CEO of IMAX.

Investing Insights: Is NVIDIA a Bargain Here?