Dell Launches Cloud Partner Program and 2 More Heavily Traded Stocks to Follow
Dell (NASDAQ:DELL): Current price $13.41
The company is introducing the Dell Cloud Partner Program to provide public cloud Infrastructure as a service via an ecosystem of partners. Dell is acting as a single-source supplier, and will offer customers a choice among vendors and tech; freedom from the necessity of lock-in to a single platform or pricing model; and a central point of solution integration and control. The sales of Dell's current in-house multi-tenant public cloud IaaS will be discontinued in the United States in favor of best-in-class partner offerings.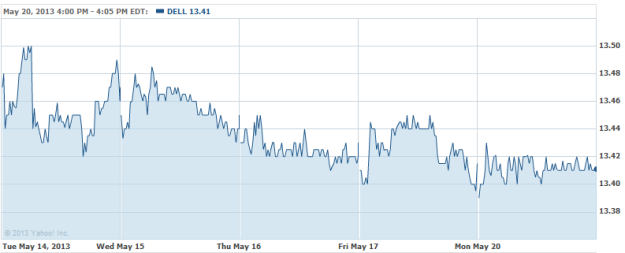 Microsoft Corporation (NASDAQ:MSFT): Current price $35.08
On Monday, Microsoft named the winners and finalists of the Microsoft Partner of the Year Awards 2013. The yearly awards honor Microsoft partners for providing innovative solutions in the past year that directly address customer challenges. Award winners and finalists are selected from worldwide nominations, and will be recognized at the 2013 Microsoft Worldwide Partner Conference, the firm's premier annual event for industry partners, to be held July 7th through the 11th in Houston.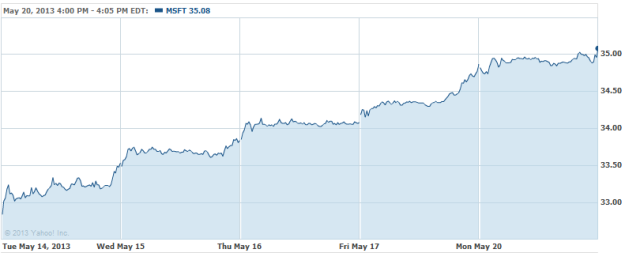 Cisco Systems (NASDAQ: CSCO): Current price $23.95
Robert Ciura at The Motley Fool says that this is a stock "on the comeback trail." The analyst remarked that following spending much of the last few years in the mid-teens, because of recurring disappointing earnings results, Cisco's shares are rebounding after a number of corporate developments indicating that the company has gotten back. Ciura commented in part that "Chief Executive John Chambers certainly took advantage of his company's solid quarterly report, which showed that third-quarter net sales increased 5 percent year over year and GAAP earnings per share increased an impressive 15 percent versus the same period in 2012."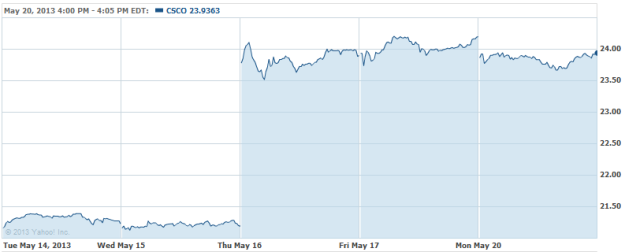 Don't Miss: Can Microsoft's Next XBox Be More Than a Game Console?