Dell Sees Carl Icahn Repeating His Bid and 2 More Heavily Traded Stocks to Follow
Dell (NASDAQ:DELL): Current price $13.41
The billionaire investor Carl Icahn has reiterated his desire to own Dell, and said that the $5.2 billion in financing he's setting up to support his offer for the company continues to move forward as intended. In a telephone interview on Tuesday, Icahn repeated statements he made earlier in the day in an open letter to Dell shareholders, remarking that, "Nothing has changed regarding the financing. We expect to have $5.2 billion in the next couple of weeks. Our investment bank is already committing $1.6 billion and my affiliates and I would provide $2 billion, if necessary."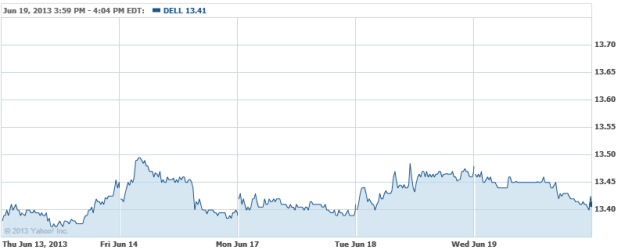 Rite Aid Corporation (NYSE:RAD): Current price $3.11
On Wednesday, Rite Aid reported the launch of wellness65+, which is the most recent extension of its free customer loyalty program, wellness+. Created to help Rite Aid address the health and wellness requirements of senior citizens, which is one of the quickest-growing and biggest populations in the United States, wellness65+ should benefit those seniors who choose Rite Aid as their drugstore-of-choice.

Adobe Systems (NASDAQ:ADBE): Current price $45.78
The graphic design software company now expects to add more subscribers to its Creative Cloud service in the current quarter than in the last, as its changeover from licensed software continues to gain speed. Adobe shares are nearing the market close up 6.5 percent, following the firm's fiscal second-quarter earnings report, released late Tuesday. Adobe posted better-than-anticipated sales and earnings for the quarter ended May 31st, and provided upbeat guidance for the third quarter and the full year. Adobe Chief Financial Officer Mark Garrett, in a conference call with analysts on Tuesday, said that the company expects to add more subscribers in the third quarter than in the second.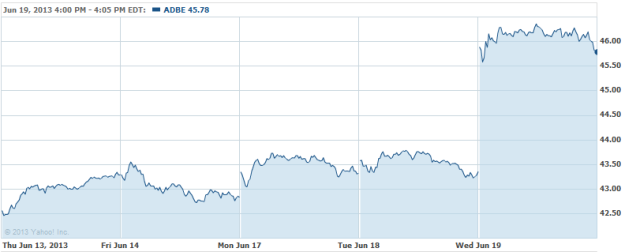 Don't Miss: Can Vodafone Acquire Germany's Largest Cable Provider?