Dell Shareholder Yacktman Backs Icahn Proposal and 2 More Heavily Traded Stocks to Follow
Dell Inc. (NASDAQ:DELL): Current price $13.38
Dell shareholder Yacktman Asset Management is now backing Carl Icahn and Southeastern Asset Management's takeover proposal for the company. Yacktman holds 14.8 million shares of Dell and said that it thinks Dell founder and CEO Michael Dell's $24.4-billion buyout offer is depressing the shares. In a Tuesday statement, Yacktman said, "A change in the board of directors could significantly improve this and other issues and lead to enhanced shareholder value." It is thought that Yacktman's support could boost Icahn's plan, but the firm's position in Dell is only around 0.85 percent, and is thus insufficient to make a material difference on its own. However, the psychological effects of the move could be a very different thing.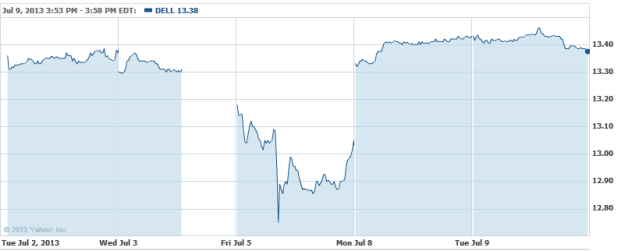 Yahoo Inc. (NASDAQ:YHOO): Current price $26.61
Kara Swisher at AllThingsD reports that Unified, which provides marketing cloud tech, has named Roger Clark as its chief financial officer. Clark most recently held that position at Interclick, the digital advertising tech division of Yahoo, and he also worked at IAC/InterActiveCorp. Unified also appointed four industry executives to its board of advisors, including President and Chief Operations Officer Wenda Harris Millard of MediaLink.

Apple Inc. (NASDAQ:AAPL): Current price $421.94
Apple and Amazon.com Inc. (NASDAQ:AMZN) have resolved their lawsuit as to whose right it is to use the "app store" name — both companies will employ it. On Tuesday, United States District Judge Phyllis Hamilton in Oakland ruled that the case be dismissed at the parties' request, making a trial set for August 19 unnecessary. This development was subsequent to Apple issuing to Amazon a covenant not to sue regarding the online retailer's use of the term, averting the need for Amazon to pursue a counterclaim requesting permission. Apple began selling applications for mobile devices through its App Store service in July 2008. Amazon debuted Amazon Appstore for Android in March 2011, and Apple brought the lawsuit that month.