Dell Shares Stumble Before Thursday's Crucial Vote and 2 Other Hot Stocks to Watch
Dell, Inc. (NASDAQ:DELL): Current price $12.80
In late morning trade on Wednesday, Dell shares were down about 1.7 percent, which might have something to do with the looming shareholder meeting on Thursday morning, where a vote will be held on a privatization bid from founder and Chief Executive Michael Dell worth $13.65 per share. The transaction is being opposed vociferously by billionaire activist Carl Icahn, and several other large shareholders. For his part, Icahn has proposed alternative arrangements that include public warrants, which Dell's board disagrees with. Additionally, a Bloomberg report on Wednesday morning cited an unnamed source as relating that Michael Dell and his private-equity partner Silver Lake is not going to hike their $13.65-per-share offer.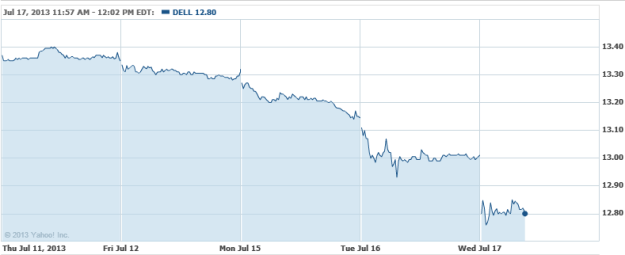 Tesla Motors, Inc. (NASDAQ:TSLA): Current price $116.03
Tesla shares are certainly resilient, up 8 percent so far on Wednesday, after almost collapsing on Tuesday. A note by analyst Patrick Archambault at Goldman Sachs revealed he was cutting the price target on the stock to $84, causing a 14-percent plummet at the close. Making matters worse, Archambault also presented his bear case for a price target at $58.

SIRIUS XM Radio Inc. (NASDAQ:SIRI): Current price $3.65
On Wednesday, AT&T reported an agreement with Sirius XM Radio that will provide mobile connectivity in support of a suite of security and services for Nissan automobiles in North America. SiriusXM's in-vehicle telematics solution will give Nissan vehicle owners stolen vehicle tracking and roadside assistance, 24/7 emergency support for accidents, and several additional services that will be announced at a later date. Moreover, Sirius will employ a combination of satellite and cellular networks to expand features for customers. This combination of networks will permit SiriusXM to exploit both one-to-many and one-to-one network connectivity.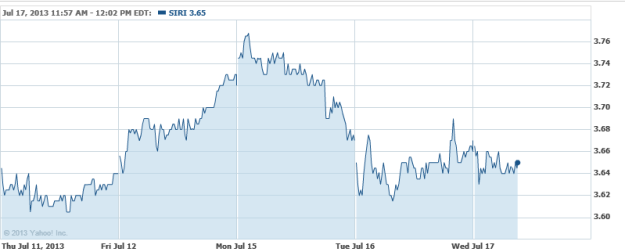 Don't Miss: Microsoft Claims Constitutional Right to Reveal Data.