Dell to Replace Part of Computer Workforce with Engineers and 2 More Heavily Traded Stocks to Follow
Dell Inc. (NASDAQ:DELL): Current price $13.77
Dell confirmed Tuesday that it will eliminate certain jobs in Texas as it tries to stay afoot with intensifying competition by replacing a portion of its traditional computer business workforce with tech and engineering talent. The company would not divulge the number of jobs that will be affected, but Dell spokesman David Frink told Fox Business that Dell has explained the "limited planned workforce actions" to the affected team members.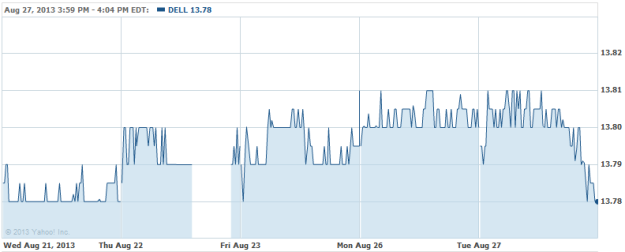 Kinross Gold Corp. (NYSE:KGC): Current price $5.64
Zachs Equity Research on Monday reaffirmed its Neutral rating on shares of the gold miner Kinross Gold Corp., saying: "While Kinross should gain from its exploration projects, we maintain a cautious stance considering the current weak gold price and demand environment. Kinross slipped to a sizable loss in second-quarter 2013 (reported on Jul 31) on a hefty impairment charge and write-off related to the discontinuation of its Fruta del Norte project in Ecuador. Revenues fell on lower gold prices. However, both sales and adjusted earnings beat Zacks Consensus Estimates. The company saw higher gold production in the quarter."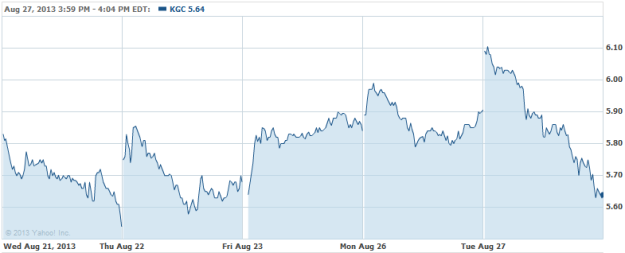 Yahoo Inc. (NASDAQ:YHOO): Current price $26.98
Yahoo announced Tuesday that its chief financial officer, Ken Goldman, will participate in a Q-and-A session at the Citi Global Technology Conference next week in New York. The session is set to begin on Tuesday at 2:20 p.m. EST. A live webcast of the session will be available on the investor relations website.