Dell's Market Shaking News and the Top M&A Stories from the Week
Here's your Cheat Sheet to this week's M&A headlines:
Are these stocks a buy or sell? Let us help you decide. Check out our Stock Picker Newsletter now >>
Flowers Foods (NYSE:FLO) Current Price $26.71
Late Friday, Flowers signed two asset purchase agreements with Hostess Brands as the "stalking horse bidder" for certain Hostess assets. One accord sets up the acquisition by Flowers of the Merita, Wonder, Nature's Pride, Home Pride and Butternut bread brands, 20 bakeries, and about 38 depots for the price of $360 million. The other agreement allows the purchase of the Beefsteak brand for $30 million.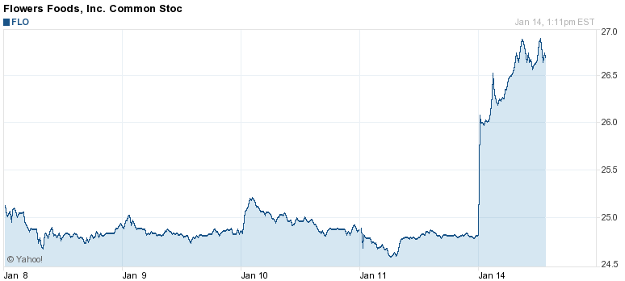 ConAgra Foods (NYSE:CAG) Current price $30.94
ConAgra and Ralcorp Holdings (NYSE:RAH) have reported that the waiting period under the Hart-Scott-Rodino Antitrust Improvements Act of 1976, as amended, in connection with the purchase of Ralcorp by ConAgra Foods, expired on January 10th. The expiry satisfies one of the conditions to the finalization of the transaction which remains subject to certain other closing conditions, including an approval by Ralcorp shareholders.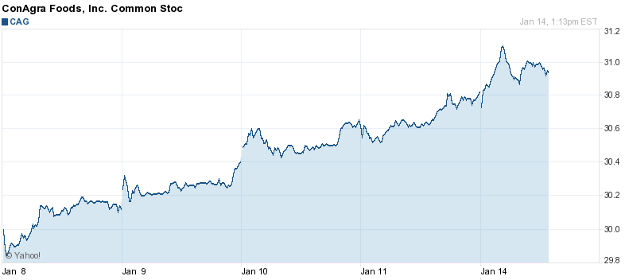 Groupon (NASDAQ:GRPN): Current price $5.29
Groupon purchases the Y Combinator company Glassmap, according to TechCrunch. A representative from Groupon says that it is "excited to bring the team aboard." Some observers think that the move is right for Groupon, as it needs information as to locations and other details about its potential and current customers, which is also an idea that Google is developing.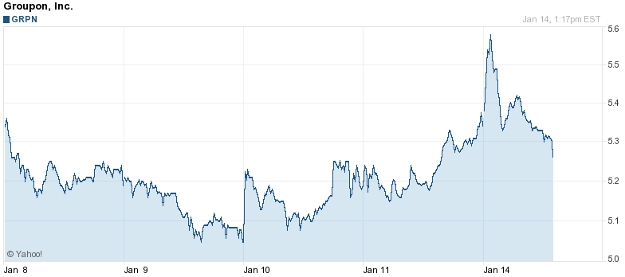 Sun Life Financial (NYSE:SLF) Current price $27.95
A consortium which includes Sun Life Financial and the Malaysian government investor Khazanah Nasional will acquire the United Kingdom insurer Aviva's Malaysian insurance joint venture with CIMB Group at a price of  roughly $563 million, according to sources on Sunday. The move is expected to aid the Canadian company to in growing its Asian foot print. Aviva, the UK's number two insurer, is getting out of marginal markets worldwide and its divestiture of the Malaysian division forms part of that remake. In December, Aviva sold its United States unit for $1.8 billion.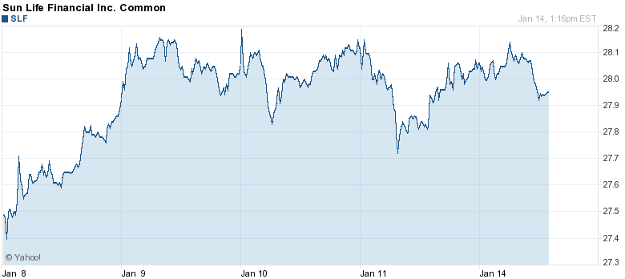 Transocean (NYSE:RIG): Closing price $53.93
The activist investor Carl Icahn returns: Transocean, the world's biggest offshore rig contractor, reported that the billionaire investor and his affiliates have purchased a 1.56 percent interest in the firm and intend to expand that to more than 3 percent. Icahn notified Transocean that he is requesting regulatory approval to potentially buy shares worth more than $682.1 million. The move was 10 days after the company agreed to pay $1.4 billion in penalties for its role in a 2010 spill in the Gulf of Mexico.
Molycorp (NYSE:MCP): Closing price $8.78
Chatter has it that the firm's recent drop below its net asset value is making the company into a prime takeover target. Recently, Molycorp, which boasts the biggest rare earth element deposit in the Western Hemiphere, grew its proven and probable reserves of rare earth minerals at its Mountain Pass, California site by 36 percent, with an updated estimate broadening the company's reserves to 18.4 million short tons of rare earth ore.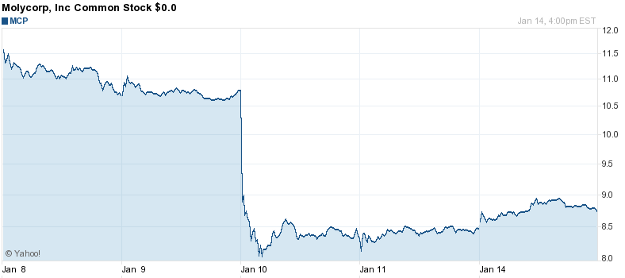 Are these stocks a buy or sell? Let us help you decide. Check out our Stock Picker Newsletter now.
MetLife (NYSE:MET): Closing price $36.30
On Monday, MetLife completed the divestiture of MetLife Bank's deposit business to GE Capital Retail Bank, which is a subsidiary of GE Capital, resulting in around $6.4 billion in bank deposits being transferred to the Bank. Chairman, President and Chief executive Steven A. Kandarian said that the finalization of the transaction with GE Capital helps MetLife exit retail banking, and allows it to maintain its strategic concentration as a world insurance and employee benefits leader.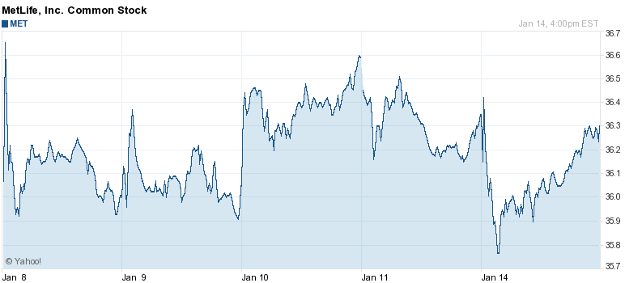 Centene Corporation (NYSE:CNC): Closing price $41.07
Centene reported Monday that it will purchase Specialty Therapeutic Care Holdings, from Enhanced Equity Funds and its affiliates for a price of $152 million. The transaction consideration should be financed through a combination of Centene common stock, cash on hand and existing credit facilities, and the deal is expected to close in the first quarter. The firm considers the purchase to be neutral to earnings per share in the first 12 months, excluding one-time transaction costs.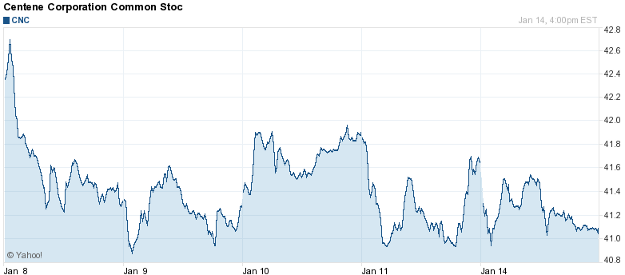 Dell (NASDAQ:DELL): Current price $12.82
The speculation that Dell is considering a voluntary sale of itself that would take it private, is igniting all sorts of number-crunching. Such an acquisition would indeed be huge and unlike anything that has been seen in at least five years. The standard takeover of 20 percent would raise the overall equity price to around $ 22.8 billion from the pre-rumor stock price, which would require equity of about $6.8 billion from the largest private-equity firms plus another $13.5 billion in debt financing from the world's biggest banks.
Are these stocks a buy or sell? Let us help you decide. Check out our Stock Picker Newsletter now.
Globecomm Systems (NASDAQ:GCOM): Current price $12.42
The communications solutions provider Globecomm announced Monday that it has retained Needham & Company for a review of potential strategic alternatives to improve shareholder value. There is not necessarily any assurance that this process will produce a transaction or any modification in the firm's overall structure or business model. The firm's refined expectations concerning its financial results for the fiscal year ending June 30th are, in part, consolidated revenues of between $320 million and $340 million when compared to the previous expectations of between $340 and $360 million.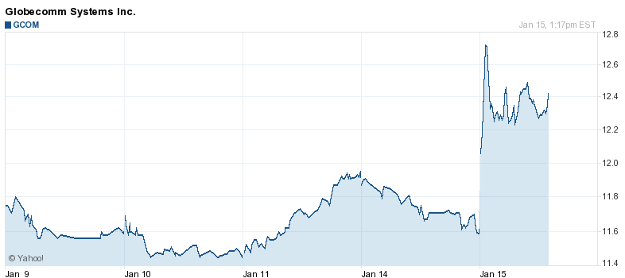 Alcatel-Lucent (NYSE:ALU): current price $1.65
The French phone- equipment manufacturer is doing a remake so as to stem losses, and wants to divest its submarine-cable division by the second quarter after luring some interest from potential suitors, according to inside sources. The investment funds Permira Advisers and PAI Partners, along with the French sovereign fund FSI, are mulling offers, say the sources. France Telecom said that it makes "industrial sense" to acquire the business, which Kepler Capital Markets believes could bring as much as $1.1 billion.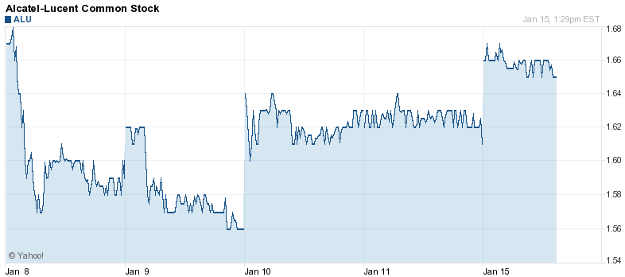 Georgia Gulf Corporation (NYSE:GGC): Current price $49.60
The company announced on Monday that upon completion of its pending merger with PPGs commodity chemicals division, it will change its name to Axiall Corporation. The new company will trade on the New York Stock Exchange under the ticker symbol AXLL. More than five months of effort and thought by a group of employees from both Georgia Gulf and PPG have gone into this decision, said President and Chief Executive officer Paul Carrico.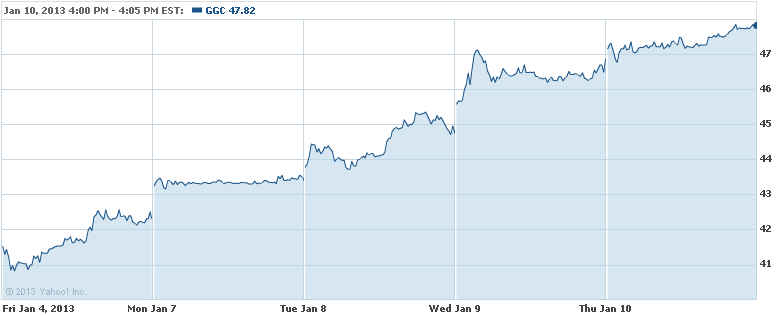 United Parcel Service (NYSE:UPS): Current price $79.47
Knowledgeable sources say that UPS will concentrate upon smaller European purchases and growth in its own business following its failed €5.16 billion, or $6.9 billion, acquisition of TT Express. On January 11th, UPS decided that the proposed deal would be rejected by the European Commission, which launched a weekend of planning sessions in which the Atlanta-based delivery giant decided to abandon the transaction. Searching out targets smaller than TNT could help UPS avert regulatory hurdles like those that disallowed what would have been the largest deal since its founding in 1907. UPS has operated on the Continent for 35 years and is shelling out $200 million to expand its air hub in Köln.
ConocoPhillips (NYSE:COP): Current price $58.92
On Tuesday, ConocoPhillips announced that it will divest its properties in the Cedar Creek Anticline, which comprise around 86,000 net acres in southwestern North Dakota and eastern Montana, to the principal operating subsidiary of Denbury Resources for a price of $1.05 billion before customary adjustments. ConocoPhillips saw a 2012 net output from these properties averaging 13 thousand barrels of oil equivalent per day through November. The transaction should closed in the first quarter.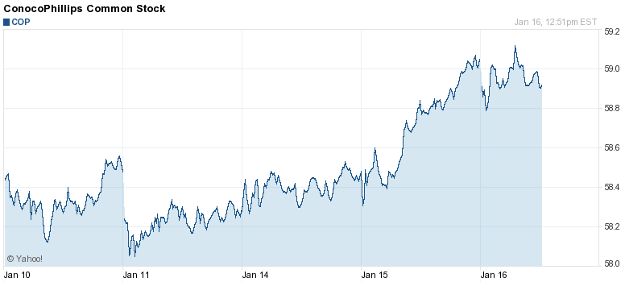 Are these stocks a buy or sell? Let us help you decide. Check out our Stock Picker Newsletter now.
GSI Group (GSIG): Current price $9.25
GSI has purchased the San Jose-based NDS Surgical Imaging, which leads in surgical and radiology displays and related peripherals, in a cash transaction of $82.5 million. The deal closed as of January 15th. GSI is a supplier of laser-based solutions, precision motion and optical technologies to electronics, worldwide industrial, medical, and scientific markets.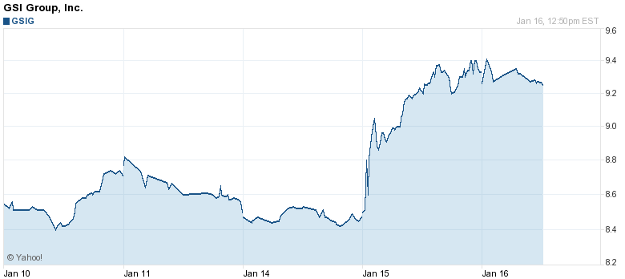 Symantec Corporation (NASDAQ:SYMC): Current price $20.74
The security software firm has put Altiris, a business it purchased for around $800 million in 2007, on the block and it is drawing interest from private-equity firms, according to inside sources. Altiris supplies information tech management software that aids companies in managing so-called "end point" connections like laptops and mobile devices, but it is expected to bring less than the amount it sold for, according to the same sources.
Micron Technology (NASDAQ:MU): Current price $7.79
Despite the opposition of bondholders in the United States, Elpida Memory has won court approval for tech deals linked to its proposed $2.5 billion sale to Micron. On Thursday, a U.S. Bankruptcy Court judge in Delaware found no evidence of collusion or improper motives in the company's tech licensing arrangements with Micron and a $15 million patent sale to Rambus. Bondholders contended that the agreements were an attempt to bind the bankrupt chipmaker to Micron and were also unfairly beneficial to the latter.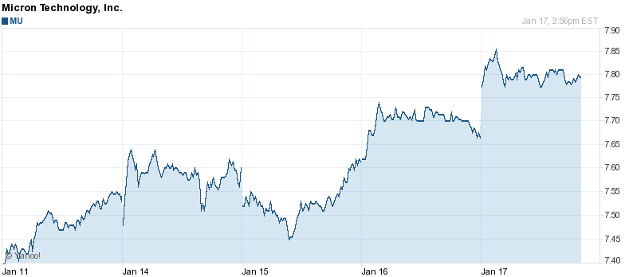 Are these stocks a buy or sell? Let us help you decide. Check out our Stock Picker Newsletter now.
K-Swiss (NASDAQ:KSWS): Current price $4.72
E.Land World will purchase all of the outstanding common stock of K-Swiss in a cash transaction of $4.75 per share, representing an aggregate equity value of about $170 million.

Stryker Corporation (NYSE:SYK): Current price $60.85
On Thursday, Stryker said it is proposing a voluntary general offer to acquire all the shares of Trauson Holdings Company Limited for HK$7.50 per ordinary share at a total cash consideration of $764 million, representing an enterprise value of around $685 million. Luna Group, Trauson's controlling shareholder, is tendering 61.7 percent of the Trauson shares towards the offer.
Dell (NASDAQ:DELL): Current price $12.85
While Dell explores a potential leveraged buyout by Silver Lake Partners, some of its customers are wondering how such a deal might affect their IT investments, says the Wall Street Journal. A number of CIOs worry that distractions from a deal could upset Dell's tech roadmap, but they also remarked they could easily switch to another supplier of computers, servers and storage such as Hewlett-Packard  if they must.