Dell's Thursday Vote Too Close to Call and 2 Other Hot Stocks to Watch
Dell Inc. (NASDAQ:DELL): Current price $13
Dell shareholders will vote Thursday on whether they should accept the Michael Dell and Silver Lake $24.4 billion offer for the company, but how the vote might go remains too close to call. Even with pressure from Carl Icahn, Michael Dell has thus far flatly refused to hike his bid for his firm, which would pay shareholders $13.65 per share. Last week, Michael Dell's proposal got a big boost when influential shareholder advisory firm Institutional Shareholder Services recommended that shareholders approve his bid, but the endorsement can only go so far.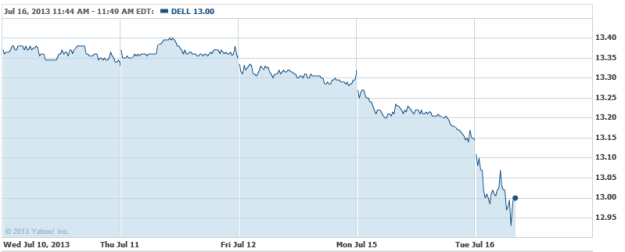 Citigroup Inc. (NYSE:C): Current price $51.71
Mirae Asset has chosen Citigroup to provide fund administration, custody, and index receipt services for a new ETF platform in the United States, under the Horizons brand. The initial ETF, the Horizons S&P 500 Covered Call ETF, debuted on June 24, and will be followed by a number of sector ETFs. Presently, Citi OpenInvestor supplies services to eleven ETF managers in nine countries. Citi supports both active and passive ETFs throughout multiple asset classes, offering index receipt agent, custody, administration, liquidity, and primary and secondary market trading through Citigroup Global Markets Inc. The firm concentrates on delivering solutions across the ETF manager's complete value-chain, from trading to the drawing board, to IPO and back and middle offices.

Yahoo! Inc. (NASDAQ:YHOO): Current price $27.24
The Foreign Intelligence Surveillance Court has said that it would unseal documents in connection with a case years earlier, which indicated Yahoo! objected to being part of PRISM, the National Security Agency's surveillance program. Arik Hessldahl in AllThingsD reports that the three-page order from the FISA court requires that the government review the case, and specify which documents from the docket may be declassified by July 29. Government attorneys took "no position" on whether the documents should be disclosed, according to the order.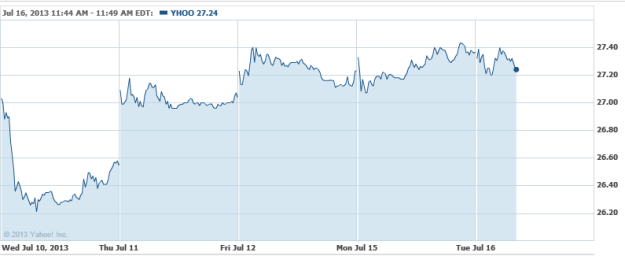 Don't Miss: Does Apple Really Need Help Selling iPhones?