Delta Air Lines Earnings: Stock is Flying the Clear Blue Skies
Delta Air Lines, Inc.'s (NASDAQ:DAL) loss widened in the first quarter, as the company's results were dragged down by higher costs. Delta Air Lines, Inc. operates as an airline, providing scheduled air transportation for passengers and cargo throughout the United States and around the world.
Don't Miss: Wall St. Cheat Sheet's newest Feature Trades of the Month!
Delta Air Lines Earnings Cheat Sheet for the First Quarter
Results: Loss widened to $318 million (38 cents/diluted share) from $256 million. That's a change of 24.2% YoY.
Revenue: Rose 13.1% to $7.75 billion YoY.
Actual vs. Wall St. Expectations: DAL beat the mean analyst estimate of a loss of 50 cents/share. Estimates ranged from a loss of 40 cents per share to a loss of 60 cents per share.
Quoting Management: "Based on the strength we are seeing in the revenue environment, we currently expect double-digit unit revenue growth for the June quarter," said Ed Bastian, Delta's president. "We believe our aggressive fare actions, combined with a four point capacity reduction for the back half of the year, will allow us to recover the higher costs of fuel in our ticket prices."
"Fuel is the biggest challenge facing this industry and Delta is actively reducing capacity, implementing fare actions, hedging our fuel needs and attacking our cost structure in order to offset fuel's impact on our earnings," said Richard Anderson, Delta's chief executive officer. "These actions would not be possible without the dedication and determination of Delta people worldwide, who are working every day to build the best airline in the world for our shareholders, our employees and our customers."
Key Stats:
DAL's loss in the latest quarter follows profits in the previous three quarters. The company reported a profit of $19 million in the fourth quarter of the last fiscal year, a profit of $363 million in the third quarter of the last fiscal year and $467 million in the second of the last fiscal year.
Over the last five quarters, revenue has increased 13% on average year over year. The biggest increase came in the third quarter of the last fiscal year, when revenue rose 18.2% from the year earlier quarter.
Competitors to Watch: AMR Corporation (NYSE:AMR), Southwest Airlines Co. (NYSE:LUV), United Continental (NYSE:UAL), JetBlue (NASDAQ:JBLU), US Airways (NYSE:LCC), Alaska Air (NYSE:ALK), and AirTran Holdings (NYSE:AAI).
Today's Performance: Shares of DAL are trading at $9.25 as of April 26, 2011 at 8:13 AM ET, up 2.78% from the previous close of 9.00.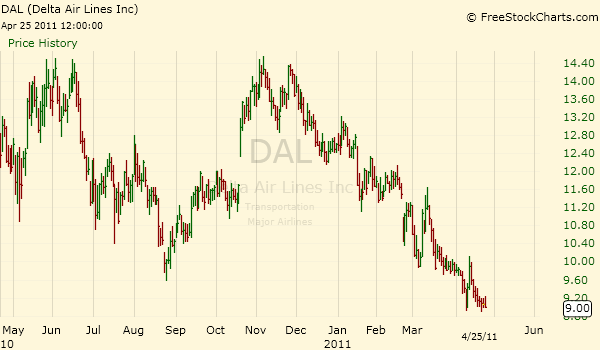 Don't Miss Wall St. Cheat Sheet's newest Feature Trades of the Month!