Delta Has Added the Boeing 717 to Its Radar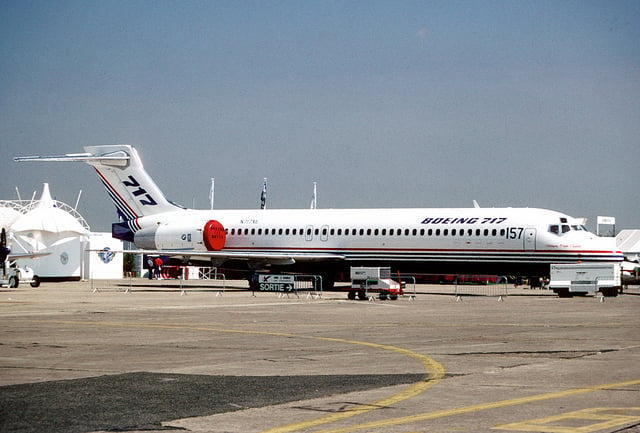 Delta Air Lines (NYSE:DAL) flew its first Boeing (NYSE:BA) 717 jet out of Atlanta on Friday, making it the official debut of Delta's newly acquired 717 twin-engine jets.
While Delta currently holds two Boeing 717s in its fleet, Delta spokesman Anthony Black told USA Today that the airline is hoping to have ten altogether by the end of 2013. The 717 is a twin-engine, single-aisle jet developed for the 100-seat market, and it first entered service in 1999 before production ended in May 2006. In the span of a little over ten years — preceding the jet's first order and ending at its discontinuation — 156 planes were produced by Boeing.
Delta's new Boeing 717 offerings are the result of Southwest Airlines Co. (NYSE:LUV) 2011 acquisition of AirTran. Southwest inherited about eighty-eight 717 jets, but later decided against integrating the model into its fleet, which consists entirely of Boeing 737s. Following that decision, Southwest entered discussions with Delta and ultimately decided to sell all eighty-eight of AirTran's 717s to Delta.
Under the terms of the agreement, Southwest agreed to pay $100 million to convert the planes to Delta's standards, which involved removing seven seats from AirTran's 117-seat configuration. The final configuration for Delta's Boeing 717s will include twelve first-class seats, fifteen Economy Comfort seats, and eighty-three seats in coach.
Delta's acquisition of Southwest's Boeing 717s will allow the airline to replace the fifty-seat regional jets and the DC-9s that it inherited once it merged with Northwest in 2008. While the fifty-seat regional jets have proven to be unpopular with fliers, airlines are also eager to phase out the jets due to their limited capacity, which has proven more and more unprofitable as jet fuel prices have risen over the past several years.
The DC-9s — 120-seat jets — most closely resemble the Boeing 717s that Delta is replacing them with. USA Today reports that Delta's phasing out of the DC-9s has less to do with any specific complaints and more to do with Delta's efforts to keep its fleet fresh.
Don't Miss: Beyond Baggage: United Airlines Slammed by Record Fine.