Delta Offers Smart Travel Pack for SkyMiles Customers and 2 Other Hot Stocks to Watch
Delta Air Lines Inc. (NYSE:DAL): Current price $22.32
The giant United States carrier will start offering a new travel option for SkyMiles customers that provides access to some of the airline's most popular enhanced travel extras — like checked bags, priority boarding, and seat selection at a fee of $199. The new package, Smart Travel Pack, brings in a practical and affordable way in which customers may add a suite of extra services and additional comfort for their business or personal travel. SkyMiles members can buy the Smart Travel Pack on delta.com for new or existing travel through Jan 5, 2014, regardless of the travel purchase date.

Ford Motor Co. (NYSE:F): Current price $17.38
The historic automaker has appointed a new United States sales chief and a number-two executive in Europe. The present domestic sales chief, Ken Czubay, is retiring, effective November 1, to be replaced by John Felice, according to a Friday Ford statement. The company also named the current chief of product development in Europe, Barb Samardzich, as chief operating officer for that region. The United States is Ford's best market while the European division is one of Chief Executive Alan Mulally's most difficult challenges.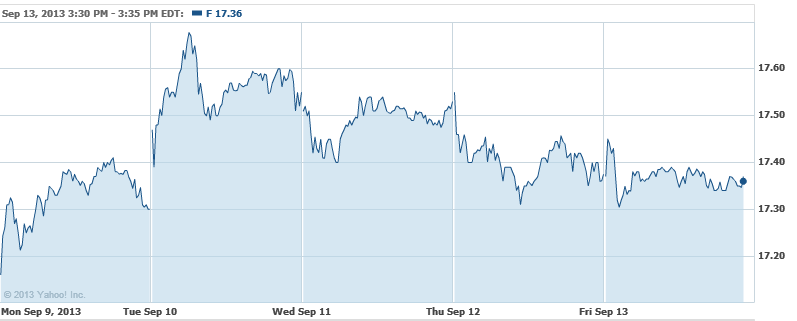 Bank of America Corp. (NYSE:BAC): Current price $14.53
BofA's hopes for its controversial $8.5-billion mortgage settlement saw a formidable challenge on Thursday when attorneys for AIG and others objecting to the deal questioned one of the crucial outside experts used to examine the reasonable nature behind that figure, before New York State Supreme Court Judge Barbara Kapnick. The proposed $8.5 billion resoluti0n between Bank of America and 22 key investors such as Goldman Sachs, BlackRock, PIMCO, and the Federal Reserve Bank of New York's Maiden Lane entities, pertains to $108 billion in losses on mortgage-backed securities. It was settled in June of 2011 but has yet to be confirmed. Hearings resumed this week after a 45-day hiatus.
Those opposing the proposed settlement, of which the bondholder AIG is the most prominent, argue that the $8.5-billion figure is too low and that Bank of New York Mellon, the trustee charged with protecting the interest of bondholders, is conflicted because of extensive business links with Bank of America.

Don't Miss: Will the Next Boeing Dreamliner See Air Time Next Week?