Delta Reaches Agreement With Pinnacle Airlines and 2 Stocks Enjoying 52-Week Highs
First Republic Bank (NYSE:FRC): Closing price $35.60
The Bank's Tier 1 leverage ratio rose at December 31st to 9.32 percent, compared to 8.81 percent year-over-year from 2011. Shares closed up 3.07 percent on the day at $35.60, having been traded in a 52-week range of $29.21 to $35.14.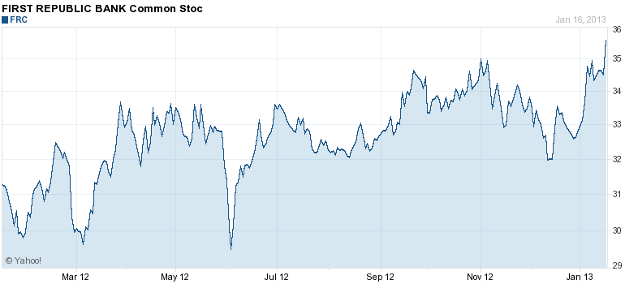 Intervest Bancshares Corp. (NASDAQ:IBCA): Closing price $4.39
The company posted fourth quarter loan charge-offs ay $676,000, compared to $2.04 million for the same period in 2012. Shares closed up 10.03 percent on the day at $4.39, and have traded in a 52-week range of $2.75 to $4.23.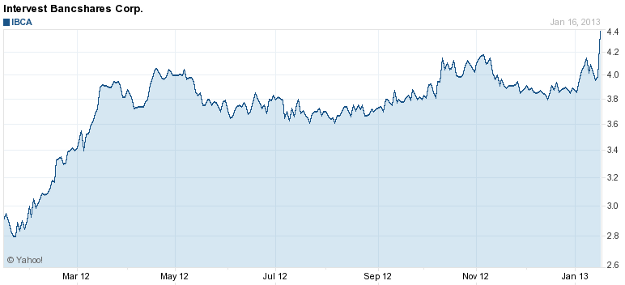 Start 2013 better than ever by saving time and making money with your Limited Time Offer for our highly-acclaimed Stock Picker Newsletter. Click here for our fresh Feature Stock Pick now!
Delta Air Lines (NYSE:DAL): Closing price $13.92
Pinnacle Airlines (PNCLQ) said that the comprehensive agreements it reached with Delta, the Air Line Pilots Association, International and the official committee of unsecured creditors in Pinnacle's Chapter 11 cases have been okayed by the bankruptcy court overseeing Pinnacle's cases. Taken together, the agreements provide a path for the firm to emerge from bankruptcy. Under Pinnacle's new business plan, it will phase to operating a fleet of 81 fuel-efficient, two-class regional jets for Delta. The comprehensive agreements include an amendment to the firm's existing debtor-in-possession credit facility to supply Pinnacle with $30 million of additional liquidity in support of its ongoing operation through emergence from Chapter 11 and an additional $22 million to fund certain required payments to Pinnacle's pilots. The firm will receive Delta Connection's next 40 CRJ-900 aircraft awarded, setting Pinnacle's long-term fleet plan at 81 CRJ-900 aircraft. The 40 additional CRJ-900 aircraft deliveries should commence in the fall of 2013 and are expected to be finished by year-end 2014. Meanwhile, Pinnacle's 140 CRJ-200 aircraft will be taken from operation during the next two to three years. Shares closed up 2.13 percent on the day at$13.92, and have been traded in a 52-week range of $8.42 to $13.74.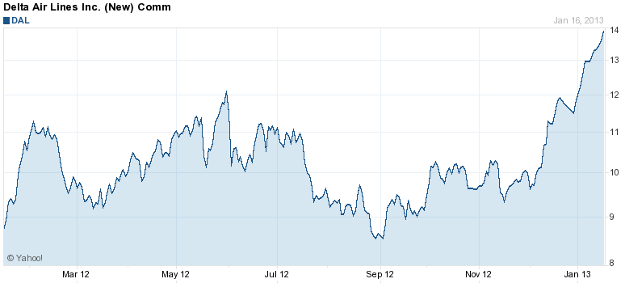 Don't Miss: What Does GM's 2013 Look Like?