Delta's Soaring Quarter, Caesar's New Growth Strategy, and 3 Hot Stocks to Watch
Delta Airlines (NYSE:DAL): Its been a strong quarter for airlines, and Delta is leading the charge with its strongest quarterly results in a decade. Earnings per share of $0.10 beat estimates by $0.03, equating to a $124 million improvement in the year-over-year. Revenue of $8.5 billion just missed estimates by $0.01 billion. While the company's investment in an oil refinery has not yet paid off, it appears that the rest of the Delta's financial bricks are falling into place.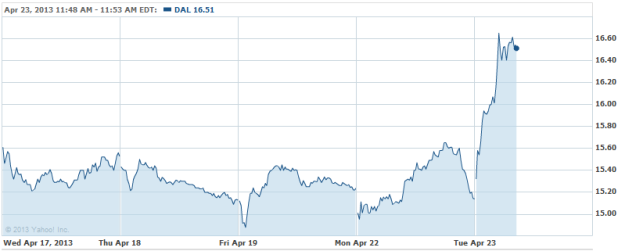 RadioShack (NYSE:RSH): It's been a rough quarter for the electronics retailer — revenues of $849 million missed by $114.97 million — as the company struggled to cut expenses faster than the decline in sales, and earnings fell at -$0.35, missing the mark by $0.24. CEO Jospeh Magnacca, who has only been in the position for a few weeks, says he sees "significant opportunity" to refresh the brand, although no indication of future guidance was provided.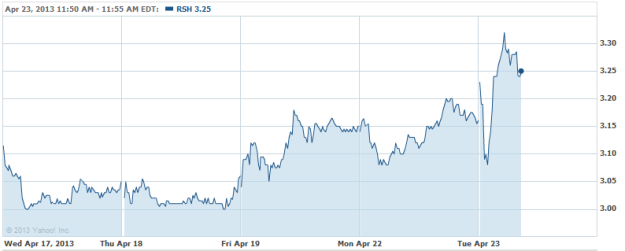 Arm Holdings, Plc. (NASDAQ:ARMH): Shares of Arm Holdings are soaring, following a strong quarterly report indicating that revenue beat estimates by $13.19 million (the company made $263.9 million, a 26 percent year-over-year increase), while earnings came in at $0.17 per share. Operating margins grew 6 percent over the first quarter of 2012, and adjusted pretax profit fell grew 44 percent, whereas analysts had pegged the growth at 25 percent.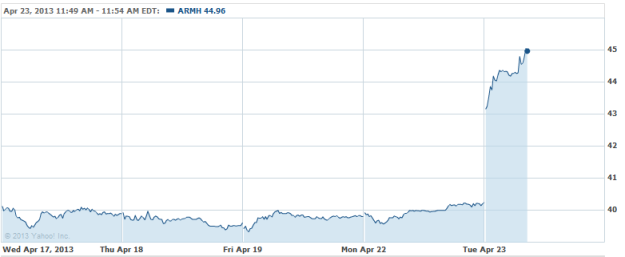 Caesars Entertainment (NASDAQ:CZR): Shares of Caesars are flying on the news that the company will be forming a joint venture, Caesars Growth Partners LLC, designed specifically to improve the company's capital structure and provide support for new projects. Sluggish growth in Las Vegas has given the company a disadvantage against its rivals, which have established locations in Macau to offset slowing American casino revenues.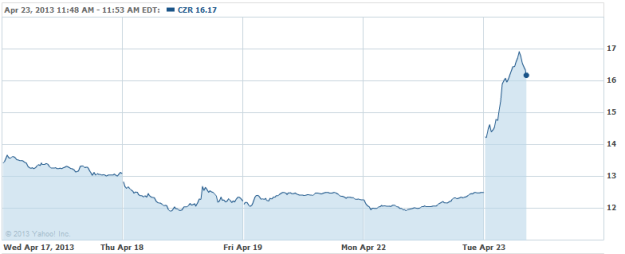 Ironwood Pharmaceuticals (NASDAQ:IRWD): Shares of Ironwood are nosediving following a significant miss in revenue and earnings for the quarter, with revenues plummeting 73 percent year-over-year and coming in at $3.26 million, $5.68 million below estimates. Earnings didn't fare any better, at -$0.87 — $0.18 short of projections. Weak sales of IBS drug Linzess exasperated an already suffering bottom line, as total costs rose 92 percent, as a result of rolling out the drug.

Investing Insights: Will Phillips 66 See Higher Prices?