Demand Media Earnings: Losses Get Steeper Year-over-Year
Demand Media, Inc. (NASDAQ:DMD) reported its results for the first quarter.
Don't Miss: Wall St. Cheat Sheet's newest Feature Trades of the Month!
Demand Media Earnings Cheat Sheet for the First Quarter
Results: The company reported a loss of $5.6 million (loss of 13 cents/share) vs. a loss of $4.1 million (loss 94 cents/share) the year earlier.
Revenue: Rose 48 percent to $79.5 million.
Actual vs. Wall St. Expectations: DMD reported adjusted net income of of 6 cents/share. By that measure, the company beat the mean estimate of 4 cents/share. Estimates ranged from 3 cents per share to 5 cents per share.
Quoting Management: "We reported better-than-expected results in Q1 2011, driven primarily by continued momentum from our owned and operated sites," said Richard Rosenblatt, Chairman and CEO of Demand Media. "We also continued to invest in Demand Media's long-term success, enhancing our consumer offerings through new partnerships with Rachael Ray, Tyra Banks and Getty Images. We believe our publishing platform is the most comprehensive and effective of any online publisher and our focus on delivering relevant, valuable content that makes consumers' lives better will continue to drive our success."
Competitors to Watch: Google Inc. (NASDAQ:GOOG), AOL, Inc. (NYSE:AOL), Yahoo! Inc. (NASDAQ:YHOO), IAC/InterActiveCorp (NASDAQ:IACI), Answers Corporation (NASDAQ:ANSW), WebMD Health Corp. (NASDAQ:WBMD), Baidu.com, Inc. (NASDAQ:BIDU), Microsoft Corporation (NASDAQ:MSFT), Ancestry.com Inc (NASDAQ:ACOM), and WebMediaBrands Inc (NASDAQ:WEBM)
Stock Performance: Shares of DMD are trading up 10% from the previous closing price of $15.75.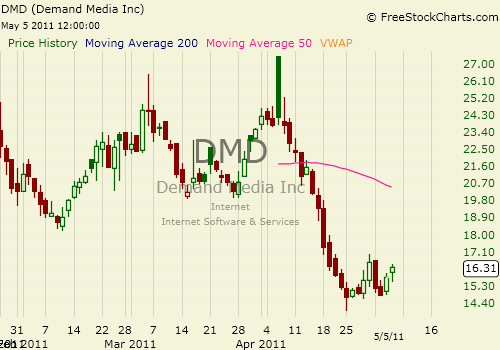 Don't Miss Wall St. Cheat Sheet's newest Feature Trades of the Month!