PATHETICALLY DESPERATE: Facebook and Groupon Throw Spaghetti at the Wall
It has been a rough trading environment for the markets recently, but the desperation at some internet companies are reaching unavoidable levels. Companies such as Facebook (NASDAQ:FB) and Groupon (NASDAQ:GRPN) have seen their shares get taken to the cleaners since going public. Now, the two appear willing to do anything to stop Mr. Market from finishing the job.
Don't Miss: More Bad News for Facebook and Advertisers.
Facebook's glory began with its initial public offering at $38 per share, valuing the company at $104 billion. It was the largest valuation ever given to an internet company, far outpacing Google's Inc. (NASDAQ:GOOG) $23 billion valuation when it went public in 2004. However, the glory did not last long as Facebook's debut on the Nasdaq (NASDAQ:QQQ) was anything but successful. Shares were delayed and trading errors ensued, but Facebook managed to make a quick pop to $45 per share. By the end of the first trading day though, shares had fallen to $38.23. In fact, it is widely believed that underwriters such as Morgan Stanley (NYSE:MS) had to step in and support shares just to maintain the $38 level.
On May 21, the first trading day without the full support of underwriters, shares sank 11 percent and paved the way for Facebook to post the worst two week performance following an IPO in over a decade. Since its IPO, the social media giant has plummeted nearly 30 percent. A decline of that magnitude prompted a lot of questions from the financial community. Since Mark Zuckerberg remained in the shadows of the media spotlight, investors had to settle for an interview with Morgan Stanley CEO James Gorman. His investment firm was the lead underwriter in the Facebook deal and has come under fire for the IPO debacle. In an interview with CNBC on May 31, Gorman defended Facebook by saying, "We just all need to settle down a little bit, find the right base. Get back to the fundamentals of what is this great company doing and capable of doing with its 900 million active users that they have out there and give this a little bit of time. Let's have this discussion again in 12 months."
Don't Miss: Is TV the Next Bullish Catalyst for Apple's Stock?
While the public trading of Facebook is still in the early stages, the most interesting and perhaps the largest act of desperation came from the activity shortly before Gorman's interview. On the final trading day of May, Facebook shares hit as low as $26.83, but miraculously reversed more than 9 percent higher on very strong volume to close at $29.60, its best trading day since hitting the open market. The turnaround conveniently provided Gorman something to fall back on during the interview. He said, " I think this is a very complicated story. By the way, we're on day 7 or 8 of the story and I think the stock was up 10 percent from the lows just today. This is one of the most volatile openings to an IPO ever." Much like its efforts to keep Facebook shares above $38 in its Nasdaq debut, did some entity step in to support shares again, so the CEO had an excuse?
On Monday, the investment firm released a statement explaining, "Morgan Stanley denies taking any action that pumped up the price of the stock. Morgan Stanley's equity traders attribute the move in Facebook shares during James Gorman's interview on CNBC last week to the rebalancing of major indices where Facebook has a major weighting." Judging by the stock's performance, investors were not pleased with the reason.
Facebook shares hit a new low of $25.75 in trading Tuesday.
Don't Miss: LinkedIn Takes Facebook to School
In addition to possible acts of desperation made to support share price, Facebook is developing technology that would allow children younger than 13 years old to use the social-media's site. The addition of preteens may be implemented by adding children to their parents' account in order to allow for tighter supervision and content control. Facebook currently bans children users under 13, but the change could open a new revenue source for the company as kids gain access to fee-based games via mom and dad's wallet.
Groupon's act of desperation is a bit more obvious. Since going public last November at a price of $20 per share, its stock has fallen to under $10. The company has been plagued with accounting problems and false hope for investors. As the picture below shows, the company recently launched a special deal that involves Groupon taking matters into their own hands, literally.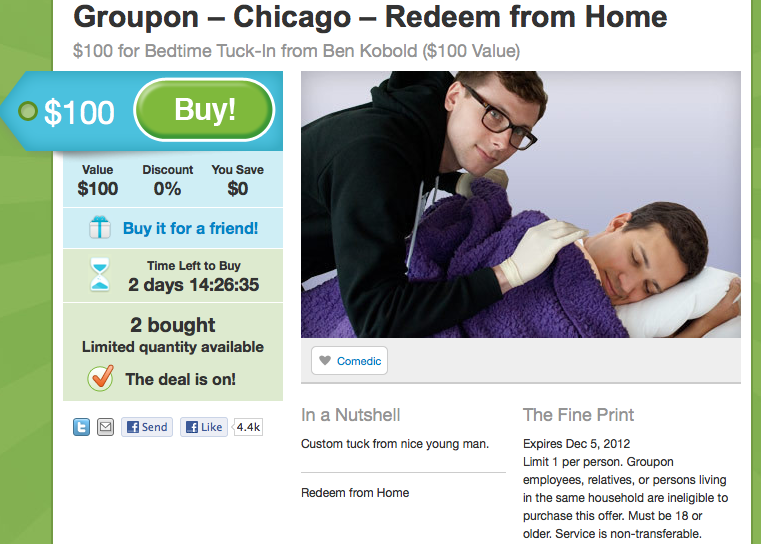 For $100, customers can have Groupon writer Ben Kobold tuck them into bed. The description explains, "Upon entering your bedroom, Ben Kobold immediately begins to analyze your linen seams and pillow placement, planning a tucking strategy as you enjoy a glass of water he has poured for you. After you hydrate, Ben's sinewy, well-groomed fingers delicately raise each sheet and blanket over your body until you're comfortably bundled. Careful not to disturb any children who may be in the adjacent room, Ben leans in and uses his summer-breeze-like voice to gently sing you one of the five lullabies he has authored. Once your body temperature has fallen and your breathing has slowed, Ben and his legally required entourage of two or three companions will slip soundlessly out the front door and into the night. He'll return to his sleeping barracks, where he'll tuck himself in and whisper his lullabies to himself."
Investor Insight: Apple's iPad is Creating This List of LOSERS in the PC Space