Despite High Oil Prices, Shell Gives Investors a Warning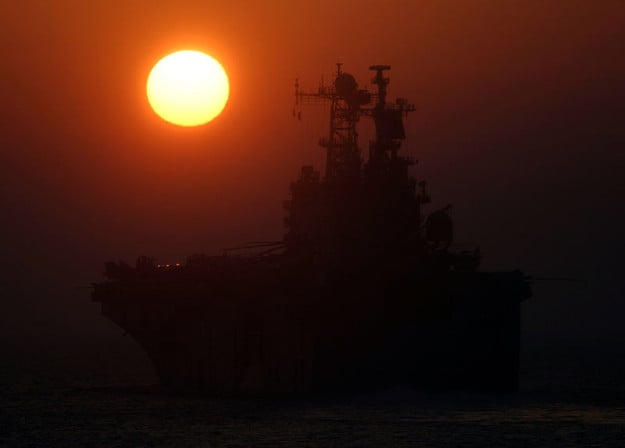 Europe's largest oil company — Royal Dutch Shell (NYSE:RDSA)(NYSE:RDSB) — gave its first profit warning since 2004. "It's a shock," Banco Santander analyst Jason Kenney told Bloomberg. Shell had "to pre-announce to get the market to reality, but even so it's a very weak set of results." For now, the weaker-than-expected results are by no means part of an industry-wide trend. Such an announcement is even more surprising because profit warnings are generally rare for oil producers, companies that investors value for their slow but steady growth.
Still, the announcement is an inauspicious start to the earnings season for energy producers. The price of Brent crude prices, the benchmark for more than half the world's oil, dropped 0.3 percent in 2013, the first time since 2008 that global oil prices did not increase. But despite relatively high and stable oil prices, Royal Dutch Shell had numerous issues in 2013.
The fourth-quarter's weak performance had its origins in numerous aspects of the oil producer's business. For the poor results, Shell blamed higher exploration costs, lower volumes of natural gas and oil, and "weak industry conditions in downstream oil products," including refining. As investors in the company and oil industry analysts well known, the overarching problem with Shell is its cost structure — meaning the expenses the company incurs during the production of oil and natural gas. The problem is by no means a new one for Shell, but it does mark the first occasion newly appointed Chief Executive Ben van Beurden has addressed the issue.
"Our 2013 performance was not what I expect from Shell," he said in the announcement. "Our focus will be on improving Shell's financial results, achieving better capital efficiency and on continuing to strengthen our operational performance and project delivery." On January 17, the company said that it expects to report fourth quarter earnings of $2.2 billion on a current-cost-of-supplies basis — an accounting figure that factors out the impact of inventories, making it equivalent to the "net profit" figure reported by U.S. energy companies.
In the year-ago quarter, Shell reported earnings of $7.3 billion. Full-year earnings are expected to total $16.8 billion, a dramatic decrease from the $27.2 billion earned in 2012. Since hefty costs and lower volumes, the company stated it would take a $700 million charge on its core exploration and production unit.
Shell's business strategy is largely at fault for the company's falling profits and revenues. The oil producer has only focused investment on large and complex projects — causing 2013 capital expenditures to total $45 billion, $10 billion more than initially projected. Plus, even though natural gas is less profitable than oil, it has also boosted its production of natural gas. Shell now produces more gas than oil. Shell's focus on large projects and on natural gas combined to form the perfect storm in North America; the company took notice of the shale gas boom too late, paying too much for natural gas assets while prices for the fuel dropped drastically. Those investments are now a drag to the energy producer's bottom line.
Of course, it is important to bear in mind, that all major oil companies have faced increasing costs for many of their projects in recent years, although Shell has been forced to perform more maintenance than expected. Even though oil prices have been high, oil companies have struggled to keep profitability strong because of these rising costs. Kenney told the Wall Street Journal that he expects BP (NYSE:BP) to report fourth-quarter earnings below 2012's results. "Everyone is going to be looking at the oil companies and say that they can't deliver" value even with oil prices high, he explained.
Investors, who bid shares of the company's class B stock up 6.21 percent throughout 2013, responded to the news with some negativity, bidding shares down as much as 1.67 percent on Friday. Comparatively, Shell rivals — Exxon Mobil (NYSE:XOM) and even BP have fared better on the stock charts. Shares of Exxon Mobil advanced nearly 19 percent in 2013, and investors bid BP up close to 18 percent. While those stocks are clearly outperforming Shell, the anglo-dutch company's shares could have taken a worse hit from Friday's announcement, which suggests investors believe the company is working through its problems.
At least, that is the opinion of RBC Capital Markets analyst Peter Hutton, who thinks the impact of higher exploration expenses, rising costs of new projects, and stagnant oil prices on Shell's performance in 2014 will be "relatively limited." Despite the weaker-than-expected fourth-quarter profits, the firm is "quite sanguine about Shell," he told Bloomberg. "It's a reminder that Shell are tackling the issues. It's an opportunity to get the store ready for the new CEO coming in." Fourth-quarter results will be reported on January 30.
More From Wall St. Cheat Sheet:
Follow Meghan on Twitter @MFoley_WSCS