Despite Modest Recovery, Manufacturing Employment Is Struggling
The Manufacturing Report on Business, compiled by the Institute for Supply Management, showed a modest improvement in manufacturing conditions in the United States in August.
The overall Purchasing Managers' Index increased from 55.4 to 55.7, indicating expansion of manufacturing activity at a faster rate than in July. The gain was led by a substantial increase in the new orders component, from 58.3 to 63.2, and a change in direction for the prices component, which increased from 49 to 54.
The ISM manufacturing report was broadly consistent with Markit's final PMI report for August, released Tuesday morning. Because each index weights components differently, the headline PMI sometimes moves in different directions as the strength of underlying components ebb and flow — this was true in August. However, both headline PMI readings showed that the manufacturing sector as a whole expanded modestly in August, led by strong growth in new orders, a proxy for demand.
The production component of the ISM index slowed from 65 in July to 62.4 in August but still showed expansion and, next to new orders, was the highest reading of any index for the month. Consistent with Markit's report, the ISM report showed a contraction in inventories. Data from the report suggest that there may be an increase in production in the coming months to replace inventory and satisfy the incoming demand.
The highly watched employment component declined by 1.1 points to 53.3 in August, still indicating growth but at a slower rate than before.
Overall employment conditions in the manufacturing sector have been relatively weak as the recovery to date has been too modest to support substantial job growth. Increased demand is an encouraging sign, but economic uncertainty on both the fiscal and monetary fronts could suppress hiring activity.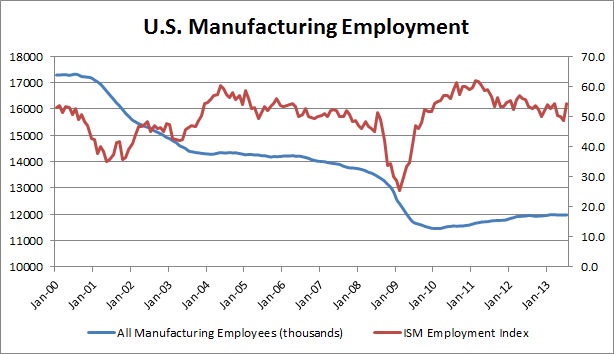 Don't Miss: Can BofA Continue Its Resurgence?