Despite Slow Hiring, Jobless Claims Linger Near 2007 Levels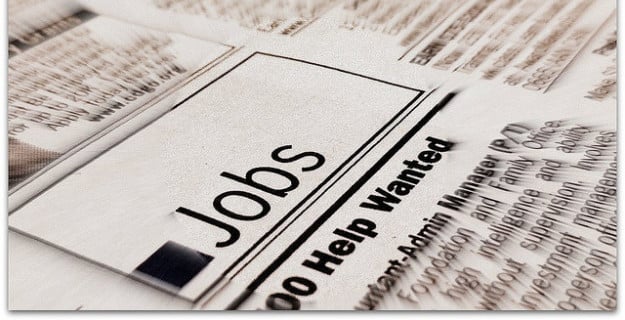 The number of Americans filing for initial unemployment benefits is one of the few reports trickling out of the shutdown federal government. Other reports, including the much-analyzed Employment Situation Report from the Department of Labor's Bureau of Labor Statistics, will be delayed — meaning that Thursday's jobless claims report will likely provide the strongest guidance this week of the health of the United States economy.
While jobless claims are only a small piece of the labor market puzzle, Federal Reserve policy makers do examine the numbers closely because the weekly report is the most frequent reading of the health of the labor market, according to Patrick O'Keefe. Thursday's weekly jobless claims report reflected what has become the common narrative for the employment story in the United States. As Moody's Analytics chief economist Mark Zandi, whose firm helps compile payroll processor ADP's National Employment Report, said in Wednesday's release, "The job market appears to have softened in recent months. Fiscal austerity has begun to take a toll on job creation."
However, "while job growth has slowed, there remains a general resilience in the market. Job creation continues to be consistent with a slowly declining unemployment rate," he added. Initial applications for unemployment benefits say far less about job creation than they do about layoffs, but the fact that for most of September first-time claims for unemployment benefits have been trending down is evidence of the resilience that Zandi described.
While the Labor Department's report showed that initial jobless claims — which serve as a proxy for layoffs — increased by 1,000 for the week ended September 28 to a seasonally adjusted 308,000, application levels remained near six-year lows, indicating that employers have ended the long cycle of elevated layoffs that characterized the 2007 to 2009 recession.
The increase was also smaller than expected — economists had forecast 314,000 new claims would be filed. On an unadjusted basis, 252,092 new applications were filed last week, which compares against 301,054 initial claims in the comparable week in 2012.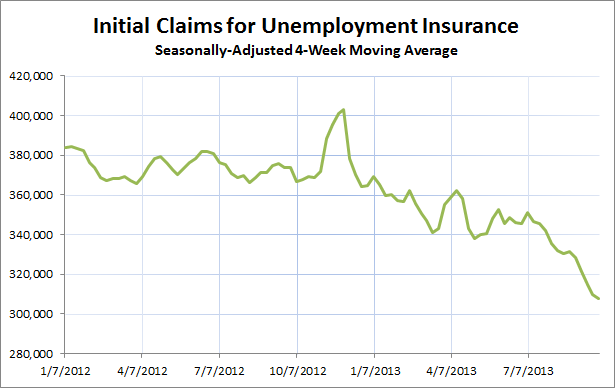 Jobless claims provide the first look at the employment situation for any given month, but since the weekly figures can be volatile, economists use the four-week moving average to understand wider trends. Last week, the figure plummeted 3,750 to 305,000, the lowest level recorded since May 2007, seven months before the recession began.
The smaller-than-expected increase in jobless claims shows that business confidence has not be shaken enough by the less-than-stellar economic growth and political gridlock in Washington to begin laying off workers in greater numbers. A Thursday report from the global outplacement consultancy firm Challenger, Gray & Christmas, showed that even though planned layoffs have outpaced year-ago levels for four consecutive months, job cuts did fall to their lowest level in three months in September.
Fewer layoffs mean that companies have pared their workforces about as much as possible, which puts employers in position to boost payrolls should business improve. Furthermore, a strengthening labor market is necessary to end income growth stagnation and spur consumer spending, which accounts for about 70 percent of the U.S. gross domestic product. But employers are still behaving as they did during the recession, keeping their workforces — and therefore labor costs — as low as possible.
In 2006, jobless claims averaged around 300,000, and even temporarily dipped below that level. The low level of claims was accompanied by an average addition of 193,000 jobs per month during the first eight months of the year and an unemployment rate below 5 percent. Jobless claims are hovering near similar levels, but hiring is not. The general tenor of ADP's Wednesday jobs report was that the labor market struggled to make progress in the past month.
Even though September's 166,000 payroll additions were greater than the previous month's gain, job growth is weakening. ADP's data shows that over the past three months, the economy has added an average of just 162,000 private jobs per month, which compares to 220,000 at the beginning of the year. When Department of Labor statistics are used instead, the numbers are even worse — job growth averaged 148,000 jobs per month over the past three months and 224,000 at the beginning of the year.
"Companies are lean and mean, but the hiring that usually goes along with claims like these just isn't happening," Maria Fiorini Ramirez chief economist Joshua Shapiro told Bloomberg. "The claims data are flashing a much stronger signal" than other data such as payrolls, he added.
Improvements in jobless claims are often hard to see on a week-by-week basis, especially as the numbers are still slightly volatile. In the week ended September 14, the total number of people claiming benefits in all programs was 4,002,455, an increase of 81,089 from the previous week.
While it was second consecutive increase in that metric, the total number of people claiming benefits  is still below year-ago levels. There were 5,088,619 persons claiming benefits in all programs in the comparable week in 2012. Other unemployment data has been steadily increasing for the past several weeks as well. The number of people continuing to receive jobless benefits increased by 104,000 to 2.9 million in the week ended September 21.
Also, those individuals who have used up traditional benefits and are collecting emergency and extended payments rose 121,500 to 1.47 million in the week ended September 14, the most recently available data.
Follow Meghan on Twitter @MFoley_WSCS
Don't Miss: Report: Sequestration and Obamacare Pushing Up Layoffs.