Detroit's Bankruptcy Is Toxic For Surrounding Wayne County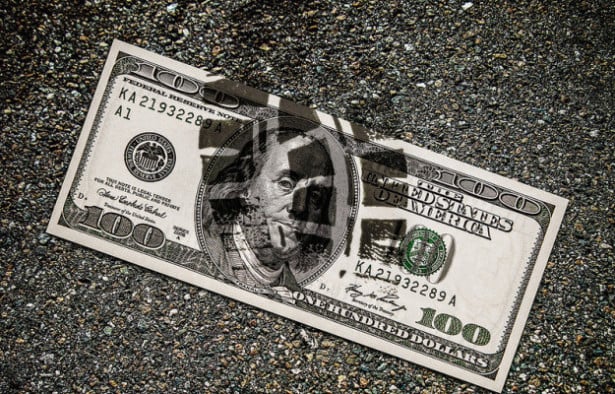 "Let me be blunt," Michigan Gov. Rick Snyder said in a video statement on July 18. "Detroit's broke." That same day, Snyder authorized the emergency manager for the city — Kevyn Orr — to seek municipal bankruptcy protection.
With as much as $18 billion in debt, Detroit is the largest U.S. municipality to ever file for bankruptcy protection. Broadly speaking, the city's problems are a fairly textbook function of declining revenues and out-of-control costs. The city's population has declined by nearly half over the past 60 years, which means tax revenues have all but evaporated. And Detroit has been underfunding its pensions for decades — it's short as much as $3.4 billion in retirement benefits for police and firefighters.
The bankruptcy has sent shock waves throughout the municipal bond market, but most affected is Michigan's Wayne County, which contains Detroit. At the beginning of August, Moody's Investors Service downgraded the county's long-term general obligation limited tax debt from Baaa2 to Baaa3, just one rung above junk status.
"The downgrade to Baa3 reflects sustained pressure on the county's financial operations due to continued depreciation of the tax base coupled with a lack of sufficient control over annual spending," Moody's said in its report. "After falling to a deficit position at the close of fiscal 2010, the county's General Fund balance has further weakened in each of the past two fiscal years."
The county is suffering from a fairly botched prison construction project that — like so many municipal initiatives at the heart of bankruptcies — went way over cost, the Detroit Free Press reports.
Wayne County backed plans for a $200 million, 2,000-bed prison in 2010, and approved up to $300 million in bond sales to finance it. However, after $120 million was sunk into the project — pushing the site to about 25 percent completion — the cost estimate was revised up to $391 million.
The downgrade has helped drive the county's cost of borrowing through the roof. Thanks to Detroit's bankruptcy and the county's own unique and ongoing economic problems, recently issued bonds have traded with yields of up to 8.879 percent.
"The current rating also incorporates the county's very large tax base that encompasses the City of Detroit (GO rated Caa3, under review for downgrade), persistent economic challenges within the region as evidenced by a multi-year trend of material tax base depreciation and an elevated unemployment rate within the county, a moderate debt profile, and an above average adjusted pension liability relative to county resources," Moody's wrote.
Wayne County has more than $800 million in unfunded pension liabilities, which critics have argued is largely a result of mismanagement by county executives. The county also has a headline unemployment rate of nearly 12.5 percent, compared to the national average of 7.4 percent.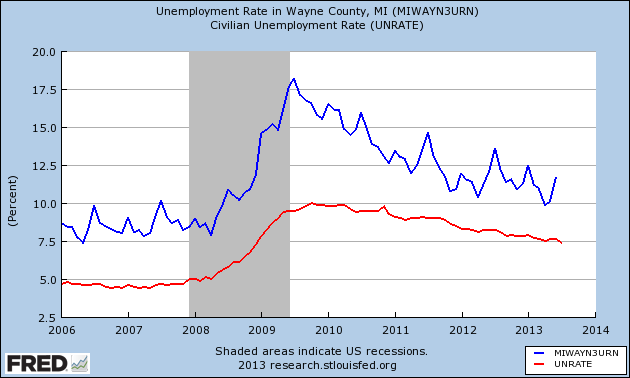 Don't Miss: Investigators Find Another Skeleton in JPMorgan's Closet.