Deutsche Bank Takes Opposition View on Treasury Yields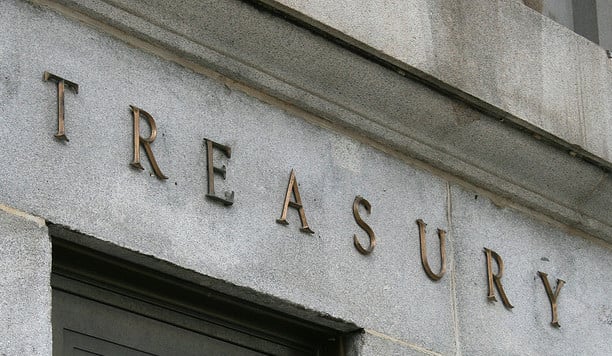 Deutsche Bank AG (NYSE:DB) is forecasting low yields on U.S. Treasury bonds in a Bloomberg survey, predicting year-end yields of 2.25 percent. One of only four other banks who predicted the trouncing of the Treasury market earlier this year in Bloomberg, Deutsche Bank is again in the minority with this prediction. Out of 65 estimates, only one other comes in lower than Deutsche Bank's.
The media outlet spoke with Dominic Konstam, global head of interest-rate research at Deutsche Bank, on Tuesday. "The idea that we have very strong growth and that they're trying to have a meaningful reduction in monetary policy accommodation, that hypothesis is looking very damaged," Konstam said.
The other firms that joined Deutsche Bank's correct prediction earlier this year are not siding with Deutsche Bank this time around, Bloomberg reports. Instead, most analysts believe that bond yields will rise at year's end for a variety of factors including rapid economic momentum, kicked off by factories hiring more workers, or upon solid indications that the Federal Reserve will begin tapering.
Yields did tick higher last week, after the Institute for Supply Management released its October report. In October, the manufacturing sector economically expanded for the fifth consecutive month, and 14 out of 18 industries reported growth.
Eric Green, global head of rates and currency research and strategy at TD Securities, told CNBC the result was "ridiculously strong" but should not be taken as a sign of things to come when other economic data has been much less positive.
There was a sharp decrease in consumer confidence in October. Consumer confidence is the measure of Americans' willingness to participate in the economy and if Americans have a positive overall outlook concerning it. Last month, the reading was 71.2, according to The Conference Board's report, compared to 80.2 in September.
Conference Board  Director of Economic Indicators Lynn Franco said it "deteriorated considerably as the federal government shutdown and debt-ceiling crisis took a particularly large toll on consumers' expectations. … However, given the temporary nature of the current resolution, confidence is likely to remain volatile for the next several months."
The Treasury market has been boosted by weakness in the economy, as well as the Fed's decision to hold off on easing its bond-buying program. Bloomberg reported that demand for Treasuries spiked during the first several weeks of October because many saw the conditions created by the government shutdown as a buying opportunity.
Sean Simko, a money manager at SEI Investments Co., said to Bloomberg that Treasuries gained investment stature given the "overall backdrop of softer economic data that we've been starting to see."
Whether Deutsche Bank will be two-for-two in going against the grain on Treasury predictions will be seen in the coming months. For now, investors will scramble to get their hands on Treasuries as the U.S. economy struggles to find its footing.
Don't Miss: Citigroup & JPMorgan: Wrapped Up in Another International Investigation.