DFC Global Lowers Outlook and 2 Other Stocks At 52-Week Lows
DFC Global Corp. (NASDAQ:DLLR): Closing price $13.04
Shares of DFC Global and those of a few of its peers in the alternative financial services ("payday lending") industry slid after DFC posted worse than anticipated earnings per share guidance for its third quarter, and reduced its profit outlook for the full year. On Monday, the firm said it expects earnings per share for the three months ended March 31 at between 20 and 24 cents, versus the consensus forecast of 63 cents; DFC also dropped its fiscal 2013 earnings per share guidance to between $1.70 and $1.80 from its prior estimate of $2.35 to $2.45. The firm cited problems caused by new regulations in the United Kingdom. Shares closed down 21.63 percent on the day at $13.04, but have been traded in a 52-week range of $15.06 to $20.50.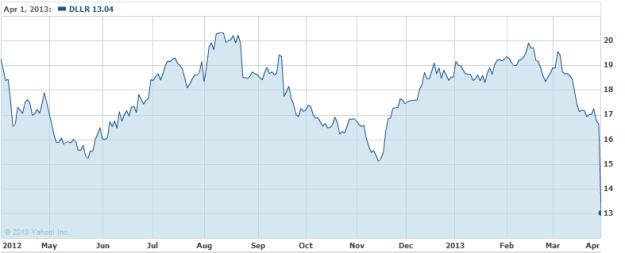 Molycorp (NYSE:MCP): Closing price $4.91
The 2013 target for China rare earth mining stands at 46,900 tons, while the actual export volume is projected at around 60 percent of the export quota, says DigiTimes Research. Light and heavy rare earth exports might comprise 87 and 13 percent, respectively, of the total 2013 export quota. Shares closed down 5.58 percent on Monday at $4.91, having been traded in a 52-week range of $5.07 to $35.79.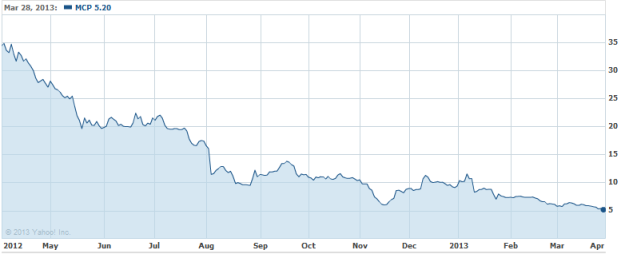 Idenix Pharmaceuticals (NASDAQ:IDIX) Closing price $3.36
Idenix recently suffered a blow when the United StatesPatent and Trademark Office Patent Trial and Appeal Board issued a verdict against it in the first phase of its patent dispute with Gilead Sciences (NASDAQ:GILD). The USPTO decided that Gilead filed its application requesting a patent pertaining to hepatitis C virus therapies prior to Idenix Pharma. The ruling has impacted Idenix Pharma's shares quite negatively. Shares closed down 5.08 percent on the day at $3.36, having been traded in a 52-week range of $3.21 to $11.30.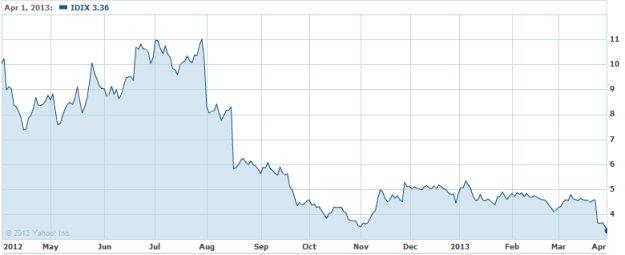 Don't Miss: Here are the Top 5 Blue-Chips of the Year.