Diamond Foods Inc. Earnings Cheat Sheet: Five Quarters of Double-Digit Revenue Growth
Diamond Foods, Inc. (NASDAQ:DMND) reported its results for the third quarter. Diamond Foods, Inc. is a food company deals in processing, marketing and distributing culinary, in-shell, ingredient nuts and snack products.
Don't Miss: Wall St. Cheat Sheet's newest Feature Trades of the Month!
Diamond Foods Earnings Cheat Sheet for the Third Quarter
Results: Swung to a profit of $7.7 million (34 cents/diluted share) in the quarter. Diamond Foods, Inc. had a net loss of $4.3 million or a loss 22 cents per share in the year earlier quarter.
Revenue: Rose 60.7% to $223 million YoY.
Actual vs. Wall St. Expectations: DMND reported adjusted net income of of 52 cents/share. By that measure, the company beat the mean estimate of 48 cents/share. Estimates ranged from 45 cents per share to 50 cents per share.
Quoting Management: "Our business performed well during the quarter, including double digit organic growth in our snack portfolio," said Michael J. Mendes, Chairman, President and CEO. "Based on our strong overall performance and effective integration of Kettle, we have increased our financial guidance for the year. We're off to a strong start in planning for the integration of Pringles, and are encouraged by the prospects for the new combined entity."
Key Stats:
The company has enjoyed double-digit year-over-year revenue growth for the past five quarters. Over that span, the company has averaged growth of 44.1%, with the biggest boost coming in the most recent quarter when revenue rose 60.7% from the year earlier quarter.
The company's cost of sales rose 51.8% from a year earlier. Last quarter, cost of sales was 73.3% of revenue versus 77.6% a year earlier.
Competitors to Watch: John B. Sanfilippo & Son, Inc. (NASDAQ:JBSS), Ralcorp Holdings, Inc. (NYSE:RAH), Snyder S Lance Inc (NASDAQ:LNCE), The Procter & Gamble Co. (NYSE:PG), Inventure Foods, Inc. (NASDAQ:SNAK), The Hershey Company (NYSE:HSY), Long An Food Processing Export JSC (LAF), C. Cardassilaris & Sons – Cardico S.A. (KARD), and Nestle Foods Nigeria PLC (NESTLE).
Stock Performance: Shares of DMND are down 1.78% from the previous close.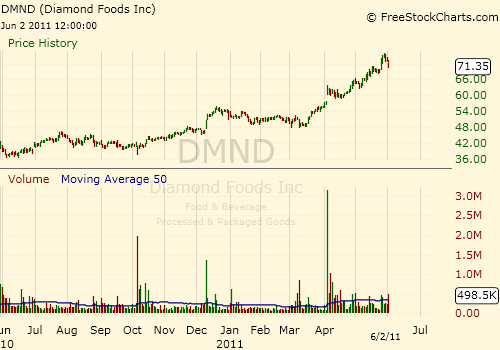 Don't Miss Wall St. Cheat Sheet's newest Feature Trades of the Month!
(Sources: YahooFinance, Xignite Financials)