Did American Employers Look Through October's Political Battle?
The United States labor market got a piece of good news Wednesday morning in the form of payroll processor ADP's National Employment Report. November was not only the strongest month for job growth in 2013, but the report also showed that employers added workers to their payrolls at the most robust pace in a year. Surpassing economists expectations, private-sector employment in the United States grew by 215,000 jobs last month. Combined with the Department of Labor's October Employment Situation Report — which revealed total nonfarm payroll employment rose by 204,000 — ADP's data provided evidence that job growth is picking up.
Moody's Analytics chief economist Mark Zandi, whose firm helps compile payroll processor ADP's National Employment Report, commented after the data was released that the labor market remained surprisingly resilient to the government shutdown and brinkmanship over the treasury debt limit. Similarly, Societe Generale economist Brian Jones told Bloomberg that, "Not only is the job market healthy, but it's improving going into year-end." The story growing out of the government's official numbers and ADP's private payroll data is one of improvement and growth, descriptors employed by prominent economists analyzing current labor market conditions.
However, the way Americans describe their experiences in the labor market is not quite as optimistic. Although, given the strict parameters of Gallup's job creation survey and the different perspective on the labor market it provides, respondents' answers are no reason for concern. Rather, the results show far less evidence of growth and improvement than do the hard numbers because it is a specific one-month analysis, while economists are fitting recent data into a longer-term narrative. The November reading of Gallup's Job Creation Index indicated that job growth remains flat with October. That is not a surprising outcome, given October's 204,000 job gain and November's 215,000 job gain, even though comparing ADP's numbers with government data is not the most accurate of computations.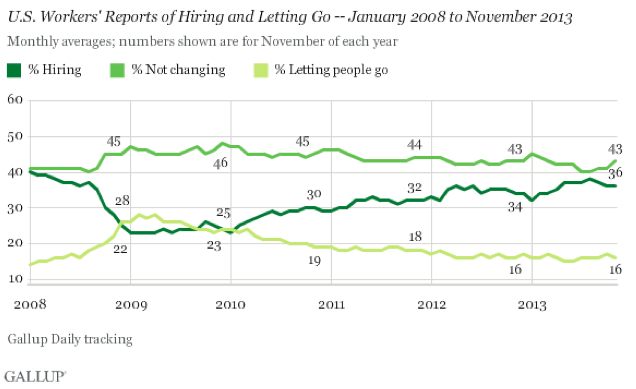 Research firm Gallup conducts a monthly survey to determine how the American public views labor market conditions. Gallup's Job Creation Index is derived by subtracting the percentage of workers who say their place of employment is letting workers go and reducing the size of its workforce from the percentage who say their employer is hiring and expanding the size of its workforce. In general, the index represents employee perceptions of "net hiring" at their workplaces.
For the month of November, the index returned a reading of plus 20 — a slight improvement from the previous month. That reading reflects the difference between the 36 percent of United States workers who say their employer is expanding its workforce and the 16 percent of workers who reported their employers were letting people go. Forty-three percent of respondents reported no employment change, a share that has remained fairly constant for the past few years.
In October, Gallup's data reflected the impact of the government shutdown. The Job Creation Index dropped from plus 21 to plus 19 — representing the first time since April that the gauge registered below plus 22. "Net hiring fell slightly in October, entirely due to less hiring at all levels of government, while private-sector hiring held steady," noted Gallup's Lydia Saad. Yet, despite the fact that Moody's Zandi opined that companies had "looked through the political battle in Washington," Gallup's index showed only modest growth from last month.
"After falling slightly in October, the jobs situation in the U.S. showed little change in November, but it stands above levels from recent Novembers," wrote Gallup's Joy Wilke regarding the November results. But still, "job creation remains higher than it was from late 2008 through early 2012," although it "has not yet rebounded to the pre-recession levels seen in early 2008," when a reading of plus 24 was recorded.
Even last month, despite the dip, Saad wrote that, "The hiring picture remains stronger than it has been in recent years, with only federal workers reporting more layoffs than hiring, on balance." The phrase "stronger than it has been in recent years" is not a very high bar to surpass, considering that the labor market was depressed through 2011, but job growth is ever-so-modestly picking up, according to Zandi and Gallup.
"Job growth is happening at different paces across the country, with the rate in the Midwest remaining comparatively high, and job creation in the South sliding continuously since June," added Wilke.
Follow Meghan on Twitter @MFoley_WSCS
Don't Miss: 4 Ways Sequestration Gets Worse in 2014.